If you are interested in covering this event or would like to receive more information, contact: Daniela Perez, daperez@univision.net. 
"UNIVISIONARIOS" Announces List of Presenters that Include Journalists, Actors, an Astronaut, and a Sports Legend that Encapsulate Hispanic Excellence
The talented presenters demonstrate the dynamic strength within the Hispanic community in the nation.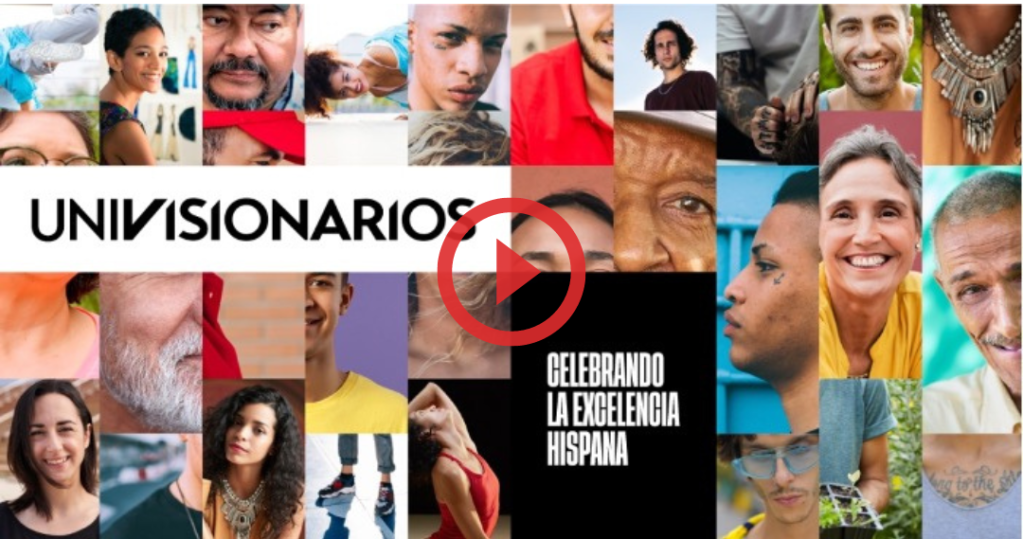 MIAMI – SEPTEMBER 13, 2022 – Today, TelevisaUnivision announced the diverse list of presenters participating in the first edition of UNIVISIONARIOS, the Univision Noticias' initiative that celebrates Hispanic excellence.
The accomplished figures that will recognize the UNIVISIONARIOS honorees and finalists include KATYA ECHAZARRETA, the first Mexican-born woman to travel into space; ORLANDO "EL DUQUE" HERNÁNDEZ, former baseball pitcher from the New York Mets, Arizona Diamondbacks, Chicago White Sox, and New York Yankees; ADRIÁN URIBE, actor, comedian, and television host; ADRIANA MONSALVE sportscaster and journalist on TUDN; BORJA VOCES, anchor and presenter on Univision Noticias' NOTICIERO UNIVISION EDICION DIGITAL, NOTICIAS UNIVISION 24/7 MEDIODIA, and PRIMER IMPACTO; CLARISSA MOLINA, co-host on EL GORDO Y LA FLACA on Univision; CLAUDIA MARTÍN, actress, starring on TelevisaUnivision's LOS RICOS TAMBIEN LLORAN; ILIA CALDERÓN, anchor on Univision Noticias' NOTICIERO UNIVISION; MAITY INTERIANO, anchor on Univision Noticias' NOTICIERO UNIVISION FIN DE SEMANA; MARÍA ANTONIETA COLLINS, co-anchor on Univision Noticias' DESPIERTA AMERICA EN DOMINGO; PAMELA SILVA, presenter on Univision Noticias' PRIMER IMPACTO and the UFORIA podcast, MOTHERISH; RAFAEL ARANEDA, presenter on ENAMORANDONOS and TU CARA ME SUENA on UNIMÁS; RAÚL DE MOLINA co-host of EL GORDO Y LA FLACA on Univision; SANDRA ECHEVERRÍA, actress, playing 'María Félix' on MARÍA FÉLIX: LA DOÑA on ViX+; TONY DANDRADES presenter on Univision Noticias' PRIMER IMPACTO.
The presenters, along with the opening act, hosts, and honorees, represent the inspiring and versatile talent that envelops the celebration of Hispanic excellence that is UNIVISIONARIOS. Viewers can watch live on September 22 at 8 p.m. ET on Univision.
For more information, visit Univisionarios.com. The event will be hosted by trailblazing TERESA RODRÍGUEZ, Univision Noticias journalist; ALEJANDRA ESPINOZA, model, TV presenter, and the first winner of Univision's NUESTRA BELLEZA LATINA; and DAVID ZEPEDA, actor, model, and singer.
UNIVISIONARIOS is a Univision Noticias initiative that celebrates Hispanic community leaders in the United States and how their contributions advance our community and the nation. An esteemed advisory board selected nine finalists, with our audience choosing one finalist in the MiUnivisionario category – voting ended on August 27 – that will ultimately be awarded $10,000 to the foundation of their choice as they continue to strive for a stronger community.
UNIVISIONARIOS goes beyond announcing an annual list of the most influential Hispanics – it is a conversation about their contributions to strengthening their communities. This initiative will recognize and celebrate scientists, entrepreneurs, educators, artists, and advocates, as each plays a vital role in the prominent and growing Hispanic cultural landscape.
In addition to the MiUnivisionario finalist selected by our audience, the nine remaining finalists will be chosen by an independent committee; the ten finalists will attend the UNIVISIONARIOS gala on September 22 in Washington, D.C. The aforementioned committee includes GLORIA and EMILIO ESTEFAN, GRAMMY award-winning artists; DOLORES HUERTA, community leader; JOSE ANTONIO TIJERINO, President and CEO of Hispanic Heritage Foundation; DR. JULIO FRENK, President of University of Miami; DR. PEDRO GREER, Professor, and Dean at Roseman University; MARK HUGO LOPEZ, Director of Research on Race and Ethnicity at the Pew Research Center; SYLVIA ACEVEDO, technology leader; ALBERTO MENDOZA, Director of the John S. Knight Journalism Fellowships at Stanford University; CLAUDIA ROMO, founder of the "We Are All Human Foundation."

Visit televisaunivision.com for more information on TelevisaUnivision and follow us on Twitter and Instagram.
Contact: Daniela Perez daperez@univision.net
About Univision News
TelevisaUnivision's award-winning News division is committed to informing one of the country's fastest-growing segments of the population across all media platforms, including TV, Radio, and Digital. Hispanics count on the latest and most relevant content that impacts the community through: "Noticiero Univision," the Network's noon, evening, late evening and weekend national newscast; Sunday public affairs program "Al Punto" (To The Point); newsmagazine shows "Aquí y Ahora" (Here and Now) and "Primer Impacto" (First Impact); as well as morning news segments on "Despierta América" (Wake Up America), and its newly launched streaming news channel "Noticias Univision 24/7" on ViX. Univision has strengthened its news team and expanded its news operations by adding Investigative, fact-checking, and Infographics Units.
About TelevisaUnivision
As the leading Spanish-language media and content company in the world, TelevisaUnivision features the largest library of owned content and industry-leading production capabilities that power its streaming, digital and linear television offerings, as well as its radio platforms. The Company's media portfolio includes the top-rated broadcast networks Univision and UniMás in the U.S. and Las Estrellas and Canal 5 in Mexico. TelevisaUnivision is home to 36 Spanish-language cable networks, including Galavisión and TUDN, the No. 1 Spanish-language sports network in the U.S. and Mexico. With the most compelling portfolio of Spanish-language sports rights in the world, TelevisaUnivision has solidified its position as the Home of Soccer. TelevisaUnivision also owns and manages 59 television stations across the U.S. and four broadcast channels in Mexico affiliated with 222 television stations, Videocine studio, and Uforia, the Home of Latin Music, which encompasses 57 owned or operated U.S. radio stations, a live event series and a robust digital audio footprint. TelevisaUnivision is home to the global streaming services ViX and Blim TV, which altogether host over 50,000 hours of high-quality, original Spanish-language programming from distinguished producers and top talent. The company's prominent digital assets include Univision.com, Univision NOW, and several top-rated digital apps. For more information, visit televisaunivision.com. 
###
"UNIVISIONARIOS" Anuncia Lista de Presentadores que Incluyen Periodistas, Actores, un Astronauta y una Leyenda del Deporte que Encapsulan la Excelencia Hispana
 Los presentadores talentosos demuestran la fuerza dinámica dentro de la comunidad hispana en la nación.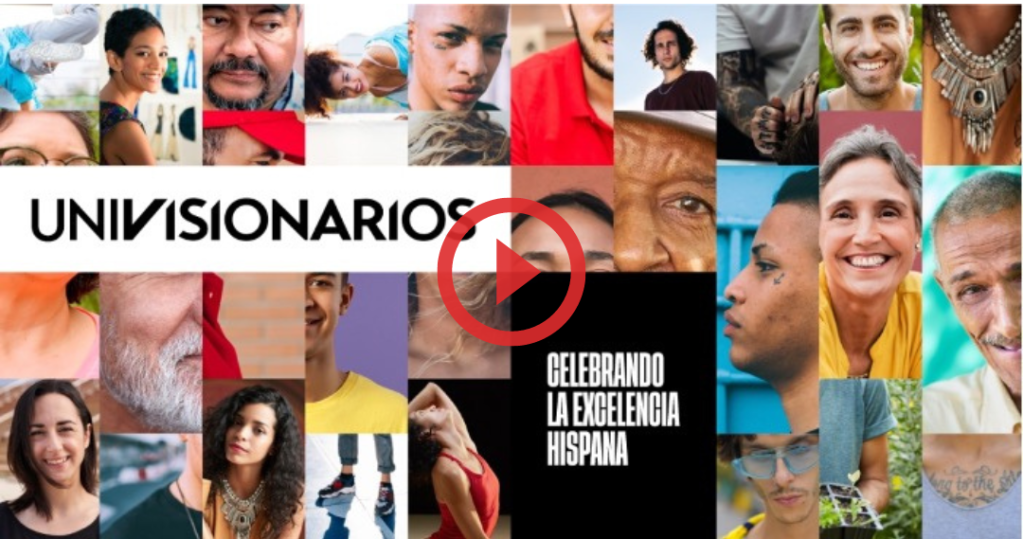 MIAMI – 13 DE SEPTIEMBRE DE 2022 – Hoy, TelevisaUnivision anunció la diversa lista de presentadores que participarán en la primera edición de UNIVISIONARIOS, la iniciativa de Univision Noticias que celebra la excelencia hispana.
Las figuras consumadas que reconocerán a los homenajeados y finalistas de UNIVISIONARIOS incluyen a KATYA ECHAZARRETA, la primera mujer nacida en México en viajar al espacio; CLAUDIA MARTÍN, actriz y protagonista de TelevisaUnivision's LOS RICOS TAMBIÉN LLORAN; SANDRA ECHEVERRÍA, actriz, 'María Félix' en MARÍA FÉLIX: LA DOÑA en ViX+; ; ORLANDO " EL DUQUE " HERNÁNDEZ, ex lanzador de béisbol de los Mets de Nueva York, Diamondbacks de Arizona, Medias Blancas de Chicago y Yankees de Nueva York; ADRIAN URIBE, actor, comediante y conductor de televisión; BORJA VOCES , presentador de NOTICIERO UNIVISIÓN EDICIÓN DIGITAL, NOTICIAS UNIVISIÓN 24/7 MEDIODIA y PRIMER IMPACTO de Univision Noticias; MAITY INTERIANO, presentadora de NOTICIERO UNIVISIÓN SEMANA de Univision Noticias; ILIA CALDERÓN , presentadora de NOTICIERO UNIVISIÓN de Univision Noticias; PAMELA SILVA, presentadora en PRIMER IMPACTO y el podcast de UFORIA, MOTHERISH, de Univision Noticias; MARÍA ANTONIETA COLLINS  co-presentadora en DESPIERTA AMERICA ES DOMINGO de Univision Noticias; TONY DANDRADES presentador en PRIMER IMPACTO de UNIVISION NOTICIAS; RAÚL DE MOLINA copresentador de EL GORDO Y LA FLACA por Univisión; CLARISSA MOLINA, copresentadora de EL GORDO Y LA FLACA en Univision; RAFAEL ARENEDA , presentador de ENAMORANDONOS y TU CARA ME SUENA en UNIMÁS; ADRIANA MONSALVE locutora deportiva y periodista de TUDN.
Los presentadores, junto con el acto de apertura , los anfitriones y los homenajeados , representan el talento inspirador y versátil que envuelve la celebración de la excelencia hispana que es UNIVISIONARIOS . Los televidentes pueden ver en vivo el 22 de septiembre a las 8 pm ET por Univision.
Para más información, visita Univisionarios.com. El evento será presentado por la pionera TERESA RODRÍGUEZ,  periodista de Univision Noticias; ALEJANDRA ESPINOZA, modelo, presentadora de televisión y primera ganadora de NUESTRA BELLEZA LATINA de Univision; y DAVID ZEPEDA, actor, modelo y cantante.
UNIVISIONARIOS es una iniciativa de Univision Noticias que celebra a los líderes de la comunidad hispana en los Estados Unidos y cómo sus contribuciones hacen avanzar a nuestra comunidad y la nación. Una junta asesora estimada seleccionó a nueve finalistas, y nuestra audiencia eligió a un finalista en la categoría MiUnivisionario (la votación finalizó el 27 de agosto) que finalmente recibirá $10,000 para la fundación de su elección mientras continúan luchando por una comunidad más fuerte.
UNIVISIONARIOS va más allá de anunciar una lista anual de los hispanos más influyentes: es una conversación sobre sus contribuciones al fortalecimiento de sus comunidades. Esta iniciativa reconocerá y celebrará a científicos, empresarios, educadores, artistas y defensores, ya que cada uno desempeña un papel vital en el prominente y creciente panorama cultural hispano.
Además del finalista de MiUnivisionario seleccionado por nuestra audiencia, los nueve finalistas restantes serán elegidos por un comité independiente; los diez finalistas asistirán a la gala de UNIVISIONARIOS en septiembre 22 en Washington, DC. El comité mencionado incluye a GLORIA y EMILIO ESTEFAN, artistas ganadores del GRAMMY; DOLORES HUERTA , líder comunitaria; JOSÉ ANTONIO TIJERINO, presidente y director general de la Fundación Herencia Hispana; DR. JULIO FRENK, Presidente de la Universidad de Miami ; DR. PEDRO GREER , Profesor y Decano de la Universidad Roseman; MARK HUGO LOPEZ , Director de Investigación sobre Raza y Etnicidad en el Centro de Investigación Pew; SYLVIA ACEVEDO , líder en tecnología; ALBERTO MENDOZA, Director de las Becas de Periodismo John S. Knight de la Universidad de Stanford; CLAUDIA ROMO, fundadora de la "Fundación Todos Somos Humanos".