If you wish to cover this event or have additional press inquiries, contact: Daniela Perez daperez@univision.net 
"UNIVISIONARIOS" Announces Hosts that Will Present the Awards Celebrating Hispanic Excellence
The first edition of UNIVISIONARIOS will air live on September 22 at 8 p.m. ET on Univision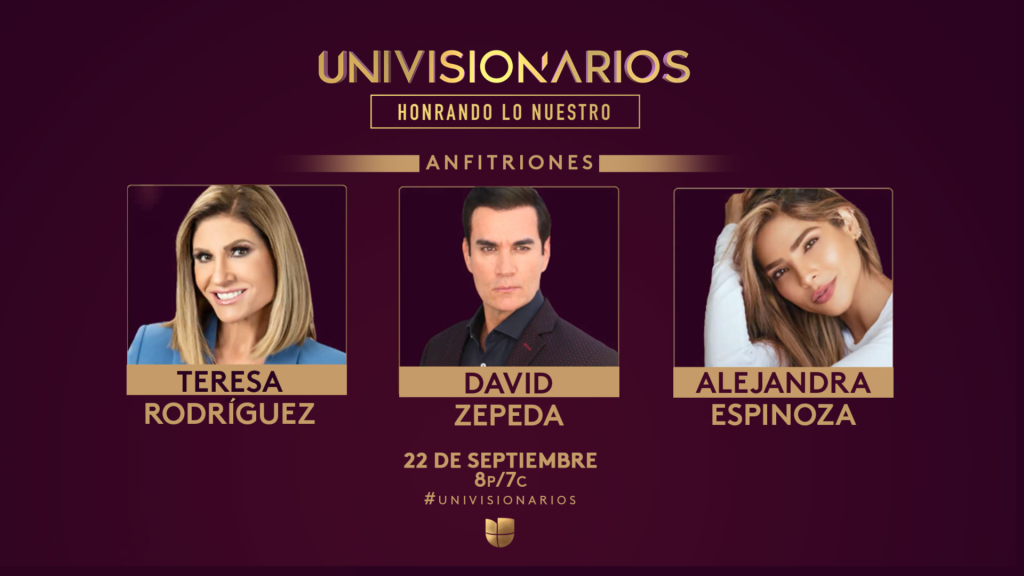 Click here to watch the video.
MIAMI, FL. – AUGUST 30 – Today, TelevisaUnivision announced the figures joining trailblazing journalist Teresa Rodriguez to host UNIVISIONARIOS, the Univision Noticias' initiative that celebrates Hispanic excellence. The hosts that will join Rodriguez are David Zepeda, actor, model, and singer, and Alejandra Espinoza, model, TV presenter, and the first winner of Univision's beauty contest, NUESTRA BELLEZA LATINA. 
The hosts, announced today on DESPIERTA AMERICA, are distinguished members of the Hispanic community. Rodriguez was the Univision Noticias journalist behind this campaign; she interviewed all the selected nominees and has a notable history as the first Latina journalist to host a national newscast in the United States. Espinoza, brings forth her experience as a Mexican immigrant succeeding in the United States, advocating for her community to thrive. Zepeda, who is the protagonist of TelevisaUnivision's VENCER LA AUSENCIA, shares Espinoza's journey toward success in this nation. The hosts' voices, impact, and personalities continue to captivate and inspire our communities.
Viewers can watch UNIVISIONARIOS live on September 22 at 8 p.m. ET on Univision. For more information, visit Univisionarios.com.  
UNIVISIONARIOS is a Univision Noticias initiative that celebrates Hispanic community leaders in the United States and how their contributions advance our community and the nation. An esteemed advisory board will choose ten finalists – and our audience chose one finalist in the MiUnivisionario category, voting ended on August 27 – that will ultimately be awarded $10,000 to the foundation of their choice as they continue to strive for a stronger community.
UNIVISIONARIOS goes beyond announcing an annual list of the most influential Hispanics – it is a conversation about their contributions to strengthening their communities. This initiative will recognize and celebrate scientists, entrepreneurs, educators, artists, and advocates, as each plays a vital role in the prominent and growing Hispanic cultural landscape.
The ten finalists will attend the UNIVISIONARIOS gala on September 22 in Washington, D.C. The gala will feature performances from top artists, participation from Univision Noticias anchors, journalists, and talent, and engagement from notable Hispanic community leaders. Viewers can watch live on September 22 at 8 p.m. ET on Univision.
In addition to the MiUnivisionario finalist selected by our audience, the nine remaining finalists will be chosen by an independent committee. The committee includes Gloria and Emilio Estefan, GRAMMY award-winning artists; Dolores Huerta, community leader; Jose Antonio Tijerino, President and CEO of Hispanic Heritage Foundation; Dr. Julio Frenk, President of University of Miami; Dr. Pedro Greer, Professor, and Dean at Roseman University; Mark Hugo Lopez, Director of Research on Race and Ethnicity at the Pew Research Center; Sylvia Acevedo, technology leader; Alberto Mendoza, Director of the John S. Knight Journalism Fellowships at Stanford University; Claudia Romo, founder of the "We Are All Human Foundation."
Visit televisaunivision.com for more information on TelevisaUnivision and follow us on Twitter and Instagram.
Contact: Daniela Perez daperez@univision.net
About Univision News
TelevisaUnivision's award-winning News division is committed to informing one of the country's fastest-growing segments of the population across all media platforms, including TV, Radio, and Digital. Hispanics count on the latest and most relevant content that impacts the community through: "Noticiero Univision," the Network's noon, evening, late evening and weekend national newscast; Sunday public affairs program "Al Punto" (To The Point); newsmagazine shows "Aquí y Ahora" (Here and Now) and "Primer Impacto" (First Impact); as well as morning news segments on "Despierta América" (Wake Up America), and its newly launched streaming news channel "Noticias Univision 24/7" on ViX. Univision has strengthened its news team and expanded its news operations by adding Investigative, fact-checking, and Infographics Units.
About TelevisaUnivision
As the leading Spanish-language media and content company in the world, TelevisaUnivision features the largest library of owned content and industry-leading production capabilities that power its streaming, digital and linear television offerings, as well as its radio platforms. The Company's media portfolio includes the top-rated broadcast networks Univision and UniMás in the U.S. and Las Estrellas and Canal 5 in Mexico. TelevisaUnivision is home to 36 Spanish-language cable networks, including Galavisión and TUDN, the No. 1 Spanish-language sports network in the U.S. and Mexico. With the most compelling portfolio of Spanish-language sports rights in the world, TelevisaUnivision has solidified its position as the Home of Soccer. TelevisaUnivision also owns and manages 59 television stations across the U.S. and four broadcast channels in Mexico affiliated with 222 television stations, Videocine studio, and Uforia, the Home of Latin Music, which encompasses 57 owned or operated U.S. radio stations, a live event series and a robust digital audio footprint. TelevisaUnivision is home to the global streaming services ViX and Blim TV, which altogether host over 50,000 hours of high-quality, original Spanish-language programming from distinguished producers and top talent. The company's prominent digital assets include Univision.com, Univision NOW, and several top-rated digital apps. For more information, visit televisaunivision.com. 
### 
"UNIVISIONARIOS" anuncia anfitriones quien presentarán los premios celebrando la excelencia hispana
 La primera edición de UNIVISIONARIOS se transmitirá en vivo el 22 de septiembre a las 8 p.m. hora del este en Univisión.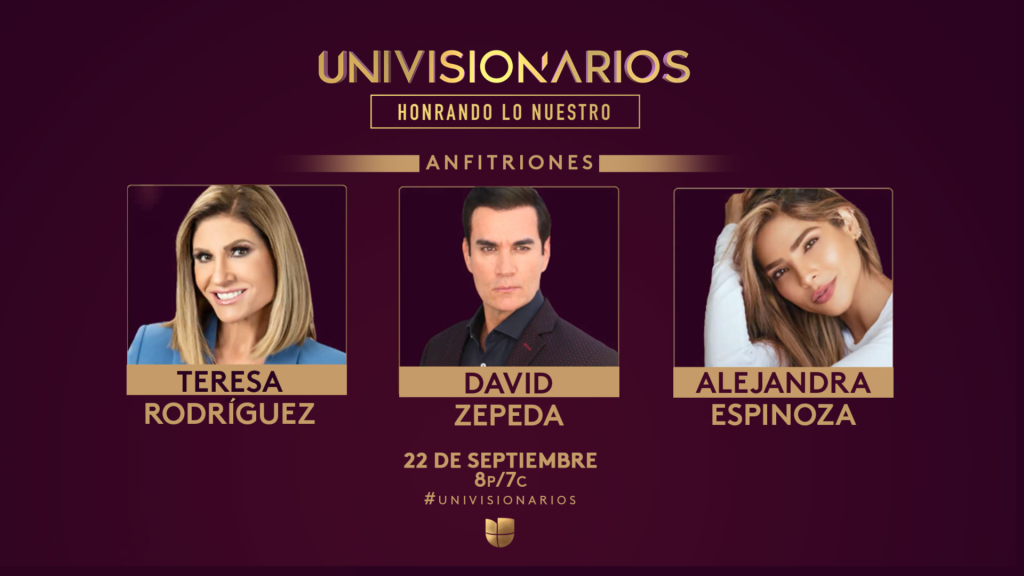 Haz click aquí para ver el vídeo.
MIAMI, FL. – 30 DE AGOSTO – Hoy, TelevisaUnivision anunció las figuras que se unirán a la periodista pionera Teresa Rodríguez para presentar UNIVISIONARIOS, la iniciativa de Univision Noticias que celebra la excelencia hispana. Los conductores que acompañarán a Rodríguez son David Zepeda, actor, modelo y cantante, y Alejandra Espinoza, modelo, presentadora de televisión y primera ganadora del concurso de belleza de Univision, NUESTRA BELLEZA LATINA.
Los anfitriones, anunciados hoy en DESPIERTA AMERICA, son miembros distinguidos de la comunidad hispana. Rodríguez es la periodista de Univision Noticias detrás de esta campaña; entrevistó a todos los nominados seleccionados y tiene un historial notable como la primera periodista latina en presentar un noticiero nacional en los Estados Unidos. Espinoza, presenta su experiencia como inmigrante mexicana que tuvo éxito en los Estados Unidos, abogando por que su comunidad prospere. Zepeda, quien es el protagonista de VENCER LA AUSENCIA de TelevisaUnivision, comparte el viaje de Espinoza hacia el éxito en esta nación. Las voces, el impacto y las personalidades de los anfitriones continúan cautivando e inspirando a nuestras comunidades.
Los televidentes podrán ver UNIVISIONARIOS en vivo el 22 de septiembre a las 8 p.m. hora del este en Univisión. Para más información, visita Univisionarios.com.
UNIVISIONARIOS es una iniciativa de Univision Noticias que celebra a los líderes de la comunidad hispana en los Estados Unidos y cómo sus contribuciones hacen avanzar a nuestra comunidad y la nación. Una junta asesora estimada elegirá a nueve finalistas, y nuestra audiencia eligió a un finalista en la categoría MiUnivisionario – la votación finalizó el 27 de agosto – que finalmente recibirá $10,000 para la fundación de su elección mientras continúan luchando por una comunidad más fuerte.
UNIVISIONARIOS va más allá de anunciar una lista anual de los hispanos más influyentes: es una conversación sobre sus contribuciones al fortalecimiento de sus comunidades. Esta iniciativa reconocerá y celebrará a científicos, empresarios, educadores, artistas y defensores, ya que cada uno desempeña un papel vital en el prominente y creciente panorama cultural hispano.
Los diez finalistas asistirán a la gala de UNIVISIONARIOS el 22 de septiembre en Washington, D.C. La gala contará con la actuación de los mejores artistas, la participación de presentadores, periodistas y talentos de Univision Noticias, y la participación de destacados líderes de la comunidad hispana. Los espectadores pueden ver en vivo el 22 de septiembre a las 8 p.m. hora del este en Univisión.
Además del finalista de MiUnivisionario seleccionado por nuestra audiencia, los nueve finalistas restantes serán elegidos por un comité independiente. El comité incluye a Gloria y Emilio Estefan, artistas ganadores del premio GRAMMY; Dolores Huerta, líder comunitaria; José Antonio Tijerino, presidente y director ejecutivo de la Fundación Herencia Hispana; Dr. Julio Frenk, Presidente de la Universidad de Miami; el Dr. Pedro Greer, Profesor y Decano de la Universidad Roseman; Mark Hugo Lopez, Director de Investigación sobre Raza y Etnicidad en el Centro de Investigación Pew; Sylvia Acevedo, líder de tecnología; Alberto Mendoza, Director de las Becas de Periodismo John S. Knight de la Universidad de Stanford; Claudia Romo, fundadora de la "Fundación Todos Somos Humanos".
Visiten televisaunivision.com para más información sobre TelevisaUnivision y pueden seguirnos en Twitter e Instagram.
Contacto: Daniela Perez daperez@univision.net
Acerca de Noticias Univision
La galardonada división de Noticias de TelevisaUnivision se compromete a informar a uno de los segmentos de la población de más rápido crecimiento del país en todas las plataformas de medios, incluidas TV, Radio y Digital. Los hispanos cuentan con el contenido más reciente y relevante que impacta a la comunidad a través de: "Noticiero Univision", el noticiero nacional del mediodía, la tarde, la noche y los fines de semana de la Cadena; programa dominical de asuntos públicos "Al Punto"; los noticieros "Aquí y Ahora" y "Primer Impacto"; así como segmentos de noticias matutinas en "Despierta América" (Wake Up America), y su nuevo canal de transmisión de noticias "Noticias Univision 24/7" en ViX. Univision ha fortalecido su equipo de noticias y ha ampliado sus operaciones de noticias al agregar unidades de investigación, verificación de datos e infografía.
Sobre TelevisaUnivision
Como la compañía líder de contenidos y medios en español en el mundo, TelevisaUnivision cuenta con la biblioteca de contenido propio más grande y capacidad de producción líder en la industria, mismas que impulsan sus ofertas de transmisión digital y lineal, así como sus plataformas de radio. La cartera de medios de la Compañía incluye las cadenas de transmisión líderes Univision y UniMás en Estados Unidos, y Las Estrellas y Canal 5 en México. TelevisaUnivision es el hogar de 36 canales de televisión de paga en español, incluidos Galavisión y TUDN, el canal de deportes en español número 1 en Estados Unidos y en México. Con la cartera de derechos deportivos en español más atractiva del mundo, TelevisaUnivision ha consolidado su posición como la Casa del Fútbol. TelevisaUnivision también posee y administra 59 estaciones de televisión en Estados Unidos y cuatro canales de transmisión en México con 222 estaciones de televisión asociadas, los estudios de Videocine y Uforia, the Home of Latin Music, que abarca 57 estaciones de radio propias u operadas en Estados Unidos, una serie de eventos en vivo y una sólida huella de audio digital. TelevisaUnivision es el hogar de los servicios de transmisión digital premium ViX y Blim TV, que en conjunto presentan más de 50,000 horas de programación original en español de alta calidad de productores distinguidos y talento destacado. Los activos digitales más relevantes de la empresa incluyen Univision.com, Univision NOW y varias aplicaciones digitales de primera categoría. Para obtener más información, visite www.televisaunivision.com.