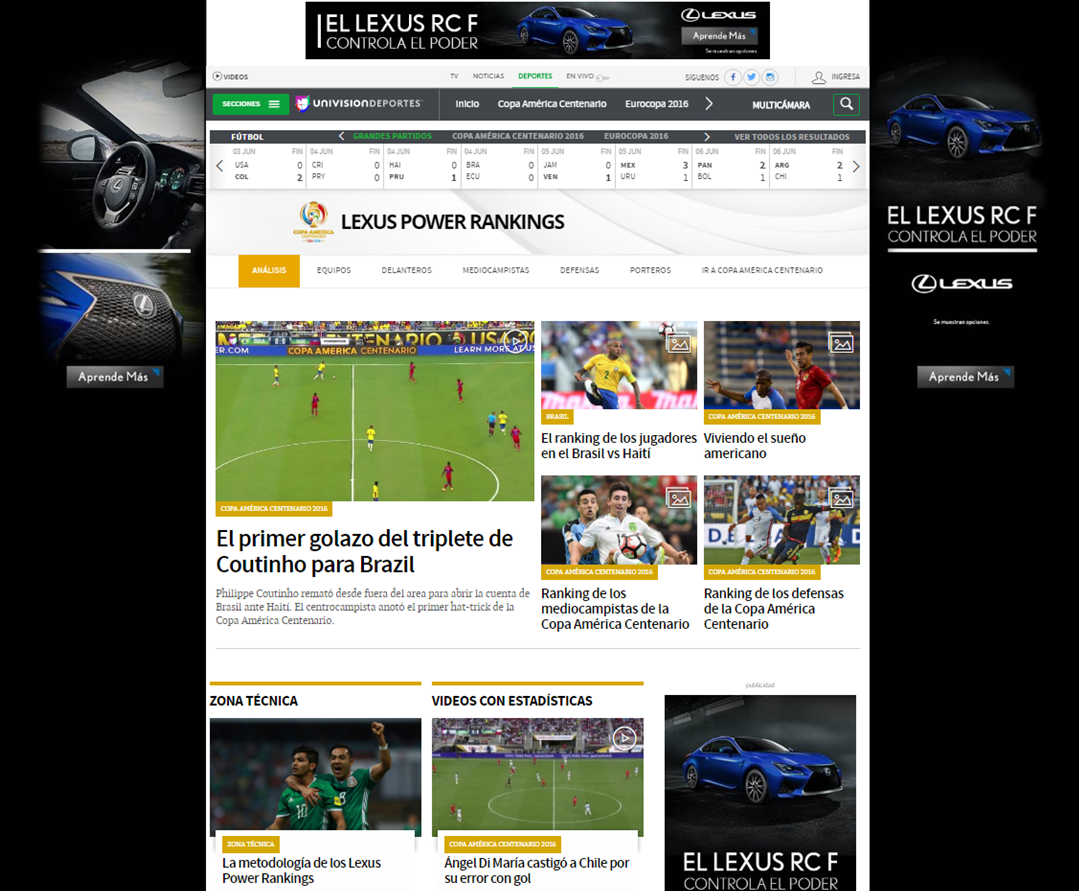 The right content, to the right audience, through the right medium. It sounds simple, but crafting a solid engagement and growth strategy requires an intimate knowledge of your consumer.
Lexus knows this well. Since 2012, the luxury brand has made concerted efforts to target the Hispanic segment, including increasing their Spanish-language TV investment nationally and into key markets (for a total of $28M since 2012 ¹), as well as building an in-language digital destination. In turn, Hispanic affinity and purchase has paid off for the luxury brand; in 2015, Hispanics contributed 26% of year-over-year sales growth for the brand.² As they continue to grow their investment in the market, a key component of Lexus' Hispanic strategy has been identifying cultural passion points, like soccer. And in 2016, Lexus knew that there was no bigger soccer event than Copa America Centenario; it was the tournament that brought Hispanic America's favorite teams and players to the U.S. to battle for the title of the best in the Americas.
To offer fans an innovative experience, Lexus focused on Hispanics' penchant for competition and partnered with Univision to offer the most comprehensive Centenario statistical analysis out there: The Lexus Power Rankings gave fanaticos real time stats, analysis, and infographics on their favorite teams and players as well as robust content on all the matches. Taking into account Hispanic digital behaviors, the custom destination was built as a second screen experience, with responsive web browsing, and promotion from the uber-popular Univision Deportes app. From Dempsey's opening goal for USA to Messi's final penalty shootout, Lexus provided fans the in-depth Centenario analysis they craved, instantaneously.
With the right content (Copa America Centenario) the right audience (futbol fanaticos), and the right medium (Univision Deportes digital), Lexus pushed the boundaries to provide fans with an unprecedented way to live and love futbol.
Sources: (1) Ad Intel, 2012 – 1-2Q 2016 U.S. Totals include SL Network and Cable spending. KANTAR, Stradegy 2012 – 1-2Q 2016. Totals include Spot TV spending. Tier 1 & 2. No individual dealers. (2) IHS Automotive Driven by Polk New Vehicle Registrations (Personal including Lease): Enhanced Ethnic Data; U.S.; CY15 vs. CY 14