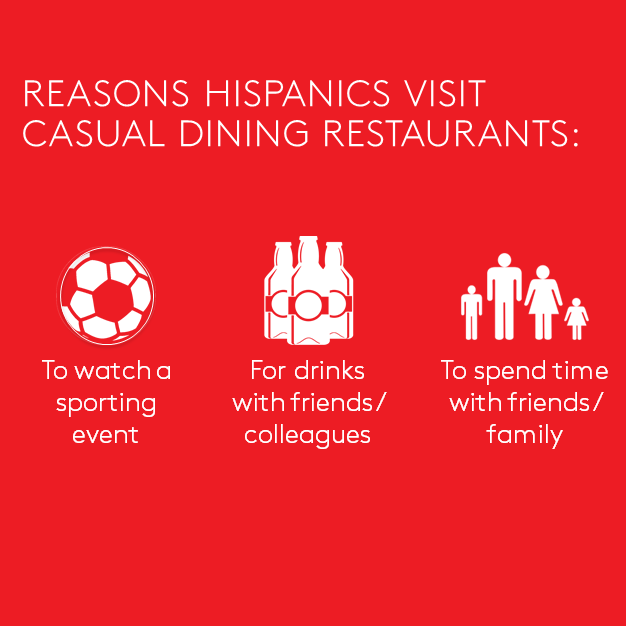 For restaurant chains, a large part of successful marketing is knowing and understanding what drives your customers to visit. For Hispanics, one of the main drivers is the social experience. And with El Super Clásico, the biggest rivalry match between Mexico's two most prestigious soccer teams (Chivas vs. Club America), just a few days away, where do you think soccer fans will go to watch? Most likely, the restaurant that invites them in.
Hispanic sports fans are spending more time watching sporting events, and they do so in the company of others. According to our Fanático research, Hispanic fans consume 30 more minutes of sports content each week than non-Hispanics, and they are 13% more likely to say they watch sports with other people. This reinforces what we learned in our Casual Dining Study as some of the top reasons Hispanics visit a CDR is to watch a game and enjoy drinks with friends and colleagues.
Not surprisingly, family also plays an important role in getting Hispanic sports fans through the door. According to Simmons, in 2015 26% of Hispanics who watch sporting events visited a CDR with children under 12 years vs. 18% of non-Hispanics.
For Hispanics, when a Super Clásico match is happening, nothing else matters except where and with whom they're going to watch the game— and of course, who wins. Last year's two Super Clásico games averaged 1.4 million viewers 18-49.  By capitalizing on Hispanic' passion for soccer, restaurant chains can provide customers with a great experience and encourage repeat visits tied to the most watched soccer matches of the year. It's time to get in the game.