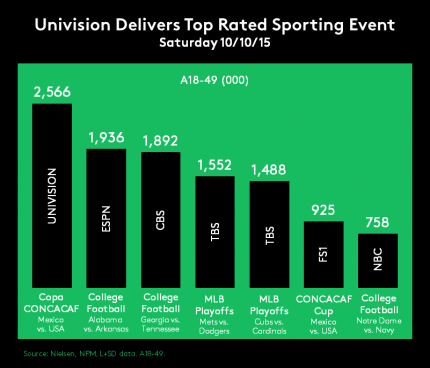 Capping an unprecedented day of coverage, Univision Deportes delivered blockbuster viewership numbers for the inaugural CONCACAF Cup on Oct. 10, 2015. As Mexico edged the U.S. in overtime – in front of 93,000 at the Rose Bowl – some 8.7 million people watched at least part of the contest on television.
With an average of 5.1 million Total Viewers and 2.6 million Adults 18-49 on Univision Network, it was the most-viewed soccer match regardless of language (excluding tournaments) since the March 26, 2013 World Cup qualifier between the same two teams.
The Adult 18-49 audience was nearly three times larger than FS1's English-language broadcast of the match, and nearly two times larger than the New York Mets vs. Los Angeles Dodgers MLB playoff game on TBS, a contest that took place at the same time and about 10 miles away.
The TV coverage on Univision Deportes began days before the match, and really kicked up a notch on gameday, live from the Rose Bowl. The lineup included Fiestón at 5pm (ET), Futbol Club at 6pm, a special edition of El  Gordo y La Flaca at 7pm, Futbol Central at 8pm and then the match at 9pm – which was simulcast on UDN and streamed live on the Univision Deportes App.
The next high profile national team matches take place on November 13, on UniMás and UDN. That night, both USA and Mexico kick off their 2018 World Cup qualification efforts, with the U.S. hosting St. Vincent & the Grenadines, followed by Mexico taking on El Salvador.
Source: Nielsen, NPM, L+SD data