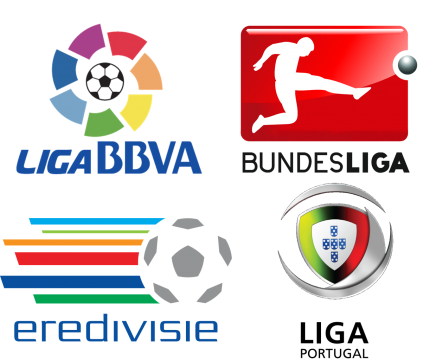 Univision Deportes Network, the No. 1 Spanish-language sports network, can now provide a powerful European soccer opportunity to marketers looking to reach passionate futbol fans.
New for the 2015-16 season, UDN will have content and matches from four top European leagues:
Spain's La Liga (ranked No. 1 in Europe): Barca TV is a show highlighting the European and Spanish champions, FC Barcelona
Germany's Bundesliga (ranked No. 2): Bayern TV showcases the German champions, Bayern Munich
Portugal's Primeira Liga (ranked No. 5): Approximately two live games per weekend, focusing on top teams Porto, Sporting and Benfica
Holland's Eredivisie (ranked No. 10): Approximately two live games per weekend, focusing on top teams PSV Eindhoven, Ajax and Twente
In addition, Univision Deportes Digital boasts a robust European soccer section online and in the Univision Deportes App with coverage of the top national league, the UEFA Champions League, and the 2016 European championships.
Barca TV and Bayern TV are both twice-weekly shows dedicated to their specific team. The programs combine a magazine show (behind-the-scenes, team training, press conferences, player profiles, etc.) with a re-air of a recent match from domestic and international competitions.
Portuguese Primeira Liga matches featuring Porto give fans a chance to see three Mexican National Team (MNT) players – midfielder Hector Herrera, forward Jesus Corona and defender Miguel Layun. Dutch Eredivisie matches featuring PSV give fans the opportunity to watch two MNT players – defender Hector Moreno and winger Andres Guardado, the reigning Eredivisie Player of the Year.
A wide range of advertiser integrations are available within a comprehensive TV/digital package.