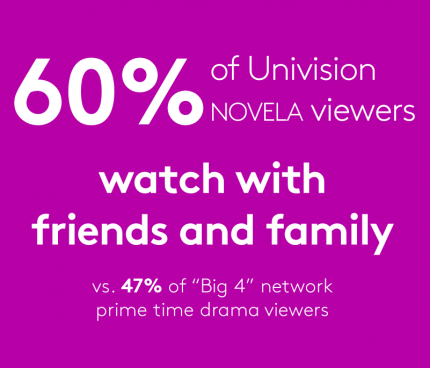 Hispanics love novelas. Whether a dramatic story of love and revenge or a romantic comedy with everyone's favorite couple, millions of Hispanics around the country watch nightly not just for the plot twists, but for the sense of community novelas inspire. The genre has multi-generational appeal, so you'll often find the entire family watching together live. In fact, Nielsen shows that 60% of adults 18-49 who watch novelas on Univision do so with another person, as opposed to 47% for English-language prime time dramas.
But how do you please abuela, papi and the gen z teen all at once?
That's where Univision's newest telenovela, "Antes Muerta Que Lichita" (I'd Rather be Dead than Ordinary), comes in. Featuring a star-studded cast including Maite Perroni and Arath del Torre, this comedy follows Lichita as she finally puts her foot down and transforms herself into an empowered advertising executive.
Simply watching a novela is no longer enough for Hispanic viewers to get their "fix," and executive producer Rosy Ocampo knows it.  She understands the tech-first nature of her audience and employs multiple storytelling techniques to expand the world of "Lichita" in a way that is relevant to every member of the family: there's the novela-within-a-novela for millennials, the advice blog for teens, and the technology tutorial series for abuelos. Plus, there's Lichita's blog on relationships and the workplace to complement the watercooler conversation.
Novela fans have been asking for more content to satisfy their cravings. We're delivering that across platforms. The world's #1 genre just got a little more robust.
Source: Nielsen. NPM, NPOWER Co-Viewing Report  (09/22/2014-08/30/2015) Prime Time Defined as Mon-Sat 8pm-11pm /Sun 7pm-11pm . Based on A18-49  who watched network/program with one or more persons 2+.  General Dramas only.  Excludes specials and repeats.  Live+7.