Four billion. That is how many more hours of connected TV we are watching every week [1].  It's a mindboggling number which reflects the undeniable fact that current media consumption in the U.S. has reached historical highs.  According to the Nielsen 2020 Total Audience Report, U.S. consumers are spending almost 12 hours a day with a variety of media platforms [2] and 75% are broadening their media options with streaming subscriptions and TV-connected devices [3].  The pervasiveness and penetration of OTT and streaming platforms continues to amplify and disrupt the record-breaking media consumption across all platforms.
The U.S. Hispanic community has always led when it comes to overall media consumption, and this now also includes OTT usage. 79% of Hispanic TV viewers stream versus 68% of total market [4], and U.S. Hispanics spend 71% more time per week watching video via smartphone than non-Hispanics [5].  And over the past year, as average weekly streaming has increased 74%, Hispanics have increased their number of streaming services at a significantly higher rate than non-Hispanics [6].  The significant growth in digital usage also reflects how U.S. Hispanics over-index in terms of TV weekly reach when compared to non-Hispanics across A18-34 and A18-49 demos [7].  It is clear that Hispanics can't get enough video content.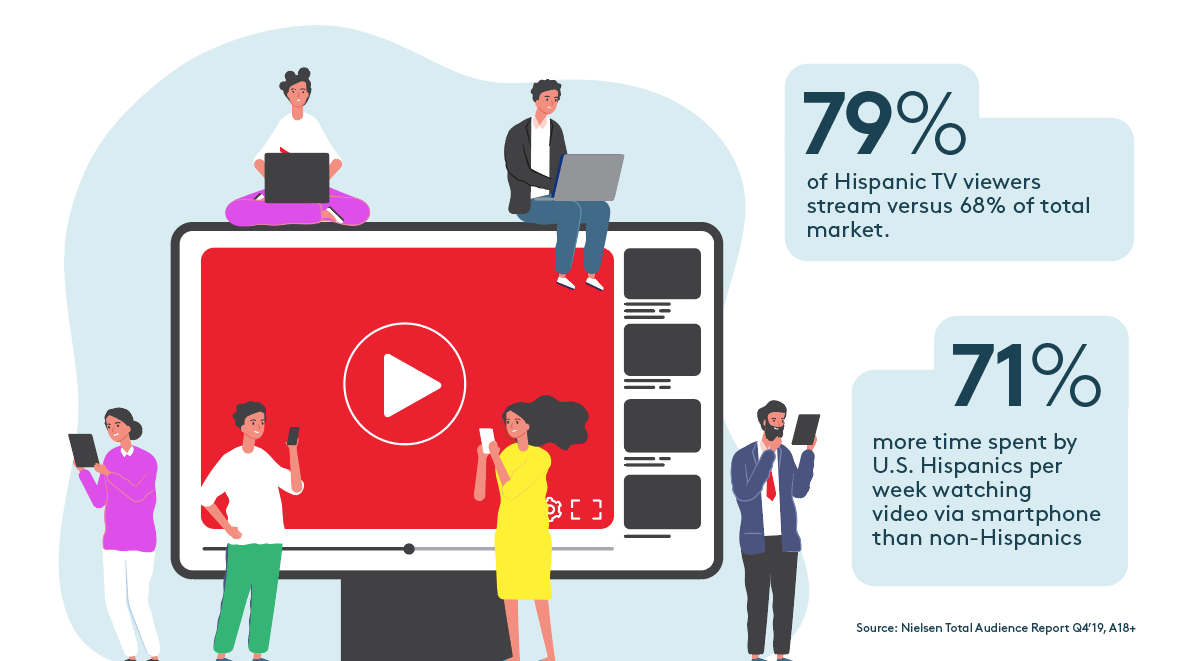 It is in this context that in my conversations with agencies one question keeps coming up: How can I reach U.S. Hispanics everywhere to achieve the impressions I need with one single buy? The answer is actually quite simple: if you are looking to effectively reach U.S. Hispanics across a wide variety of OTT platforms, screens and devices in every market, then Univision's CONEXO is your solution.
Just as U.S. Hispanics are adding to the ways they consume video, Univision is enhancing the way advertisers can reach this community. In the same way we responded to the market and created the first premium, Spanish-language streaming video service made for U.S. Hispanics with UNow, we now offer CONEXO: a first-of-its-kind ad network platform that builds on our UNow service and integrates other premium publishers to offer 90% of available Spanish-language OTT video inventory.
By bringing together these publishers and inventory under one umbrella, we have also made the task of reaching the U.S. Hispanic audience for our clients more reliable, as messages are guaranteed to be delivered in a brand-safe, fraud-free environment that offers 95% completion rates. CONEXO is quite simply your one-stop-shop for reaching U.S. Hispanics, offering targeted reach, premium content and engaged audiences across a whole host of industry-leading publishers.
The importance of reaching the Hispanic consumer market cannot be overstated. Hispanics are driving outsized growth in all ten of the top ten product categories [8].  They are the fastest growing segment of the U.S. economy, growing 32% faster than the GDP rate of non-Hispanics [9], and they are increasing in affluence with households of $100K+ income growing more than 2.2X faster than non-Hispanics [10].  Through CONEXO, we have helped many brands tap into America's growth engine. If you would like to discuss how Univision and CONEXO can help you achieve the business growth you seek, we are ready to partner with you.
Sources: [1] Nielsen, June 2020;  [2], [3] Nielsen, June 2020; [4], [5] Nielsen Total Audience Report Q4'19, A18+; [6] Nielsen Total Audience Report, August 2020; [7] Nielsen Total Audience Report, Q4 2019  [8] IHS Markit – Hispanic Market Monitor 2019 (Global Insights) (Consumer Spending Forecast 2018-2023); [9], [10] Geoscape, American Marketscape Datastream 2020 series.
Michelle Savoy is SVP of Digital Advertising Sales for Univision, and can be reached at msavoy@univision.net