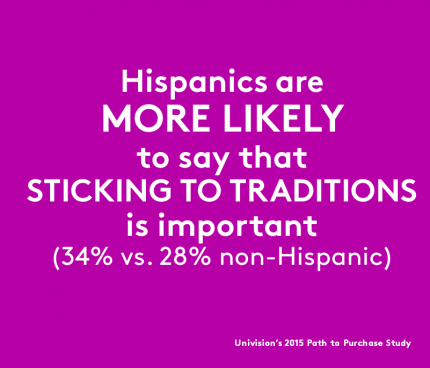 According to a VozLatinum panel, Thanksgiving is the second most widely celebrated holiday (sandwiched between Christmas and New Year's) among Hispanics. This might come as a surprise to some, given Thanksgiving's U.S.-based roots.
But, where's the surprise? It's a holiday that involves expressing gratitude for friends and family over a plentiful meal. It's become a Hispanic tradition, and Univision's 2015 Path to Purchase study shows that Hispanics are more likely than non-Hispanics to say that sticking to traditions is important (34% vs 28%, respectively).
CPG and retail marketers, among others, have an opportunity to extend their holiday messaging to Hispanics, who typically celebrate in a big way. These insights will help you nuance your campaigns, putting your brand front and center when family and good feelings abound.
The "Cooking Enthusiast" Mentality. A recent Mintel report categorized Cooking Enthusiasts as people who cook because they want to, not because they have to. About 20 million Hispanic adults fall into this category (23% more likely than the Total U.S. population).
Thanksgiving is made for the Cooking Enthusiast, so understanding her thinking is imperative. For her, cooking is enjoyable and allows her to express her creativity and celebrate her culture. While she cooks with her family in mind, she makes the ultimate decisions.
 Your Takeaway: Don't make Thanksgiving prep feel like a stressful chore.
The Influencers. Let's get specific on family. Who is influencing the Cooking Enthusiast most? The Mintel report shows that it's mom – before her spouse/significant other or her kids – but that changes over time depending on where she is in her life's journey. The report also shows that two media influences take precedence over people: cooking websites and blogs, followed closely by cooking shows on TV.
Your Takeaway: Insert multigenerational Thanksgiving scenes in the media that Hispanics love. An authentic mother-daughter moment may help your brand stand out in a sea of crowded "family" messages.
"Fusing" Food. The VozLatinum panel found that 73% of Hispanics fuse traditional Thanksgiving recipes like turkey and mashed potatoes with Latin American dishes like rice and beans, tamales and flan. Much of this mixing of cultures comes to life in the spices/preparation and the side dishes, but you'll also see the main course become an and vs. an or opportunity. This means Hispanics don't always choose between the turkey and pernil (pork), they go for both.
Your Takeaway: Inspire the food fusion. Suggest ways to bring Hispanic cultural duality to life with recipes like Chorizo Cornbread Stuffing, Pumpkin Empanadas or using Sazón spice on your turkey.