For many Hispanics, music is a language of passion, entertainment and cultural connection—from salsa and cumbia to merengue and bachata. Today, there's one music genre that's making waves and hitting home for U.S. Hispanics: Regional Mexican.
According to a recent article in the New York Times, Regional Mexican (including Banda) is the most popular Latin music genre in the country. It originated from the rugged northern Mexican state of Sinaloa, and traces back to the 19th century when German immigrants bought their polkas to Mexico. To put it in perspective, "it's Mexico's hip-hop…with tubas"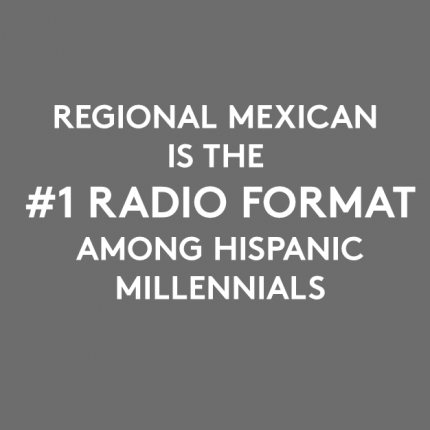 Here's more on the most popular music you've probably never listened to:
A Younger Fan Base
Although Hispanic Millennials listen to American mainstream music, they're also big fans of the sounds and songs from their families' native lands. In fact, according to Nielsen's latest Audio Today report, Regional Mexican is the #1 radio format among Hispanic Millennials, and it's male-skewed (60% men).
In addition, more than half of Hispanic Banda fans are U.S. born. This isn't too surprising since more hit songs are now being produced and sung by Mexican-Americans, like Gerardo Ortiz and Luis Coronel, who grew up speaking English and listening to rock and rap.
Top of the Charts
Regional Mexican artists often rank at the top of Billboard's Latin music charts— 10 of the top 20 "Hot Latin Songs" were by Regional Mexican artists. And when it comes to the most popular songs played on Latin radio, 54% of the top 100 are Regional Mexican, as well as 8 of the top 10 most played songs.
Social Heavy
Hispanic Banda fans also keep track of their favorite groups online using social media platforms like Instagram, Facebook and YouTube. In fact, 10 of the most popular Banda groups, including Banda Sinaloense, Arrolladora Banda El Limon and Banda El Recodo have generated more than 3 billion video views on YouTube/Vevo—a testament to the incredible popularity of this music genre.
There's still a lack of understanding on how popular and strong this genre is in terms of demographics in the U.S. That's why Univision's cable network Bandamax is the #1 destination for audiences seeking authentic Regional Mexican lifestyle and music programming. In addition, 19 of Univision Radio's owned and operated stations offer Regional Mexican music 24/7—most of which are #1 or #2 among Hispanic listeners in their respective markets. Music, when used appropriately, can be one of the most effective elements in Hispanic marketing.
Sources:1. Billboard Latin Charts as of 10/17/15 – Latin Albums/Hot Latin Songs. Nielsen BDS Radio Airplay Latin Chart Ending 10/5/15 (Currents Only). 2. 2015 Nielsen Audio Today (Regional Mexican Format)/2015 State of the Media Audio Today Hispanic. Simmons Spring 2015 NHCS FY, Hispanic A18+ Types most like Tejano/Banda. 3. Nielsen Audio Nationwide Spring 2015. Hispanic M18-49 Rankings MSu 6a-7p (Regional Mexican Radio Stations).