Key Learnings from the Univision News Hispanic Electorate Poll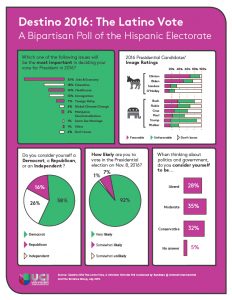 (click infographic to expand)
The number of registered Hispanic voters in this country is projected to hit 16.7 million by 2016. With a 1 in 6 ratio in key swing states, it's clear that the path to victory in the 2016 Presidential election cycle must include a smart strategy for winning the Latino vote. The Hispanic electorate doesn't just have potential; it's wielded its power for several cycles now, helping to swing seven states between 2004 and 2012. Candidates who have won the Latino vote in past elections already know that the key to their success was to engage Latino voters early and often. Just ask Governors Chris Christie of New Jersey or Terry McAuliffe of Virginia.
As we move into this already contentious (and crowded!) election cycle, Univision Communications Inc. is dedicated to tracking the public opinions of the Hispanic electorate. This July, Univision News issued a bipartisan, bilingual poll conducted in partnership with Bendixen @ Amandi International and The Tarrance Group.  The first of its kind in this political season, this poll zeroes in on four key findings:
Hispanics are ready to head to the polls. A whopping 92% of those surveyed said they were "very likely" to vote in the Presidential election, and only 1% responded that they were "somewhat unlikely" to vote. That intention outpaces the already strong turnout from 2012, where 82% of registered Hispanic voters showed up at the polls, according to the Census.
Top three issues for Latino voters are "kitchen table" issues, not immigration. When it comes to determining their vote, Latinos rarely turn to immigration first. In fact, though it is a wedge issue with a tendency to alienate this demographic, "Immigration" clocks in at #4, with only 13% of respondents listing it as the top issue determining their vote. Far more important issues to Latino voters are "Jobs and the Economy" at 36%, followed by "Education" and "Healthcare" in the #2 and #3 spots.
Latino voters can be persuaded. While 58% percent of Hispanic voters identified as Democrats and 16% identified as Republicans, an additional 26% are Independents. The poll also revealed an interesting juxtaposition among Latino registered voters with 32% identifying themselves as "conservative" while only 28% consider themselves to be "liberal."  This disconnect between affiliation and political POV suggests that the GOP in particular could benefit from advertising to Latinos with messages that highlight their shared conservative values, helping to sway persuadable voters.
Low awareness offers room for candidates to position themselves with the Hispanic voter. As we all know, name recognition can be both a blessing and a curse, as voters may have already formed a favorable or unfavorable view of the candidate. Hillary Clinton leads the pack with 68% reporting a "favorable" view of her candidacy, while 71% report an "unfavorable" view of Donald Trump's. However, it's notable that for several candidates from both parties, a large percentage of Latino voters were either unaware of the candidate or had yet to form an opinion ("Don't know"). For example, both Martin O'Malley and Scott Walker received considerable "Don't know" responses, with 74% and 62%, respectively, of Hispanic voters left to persuade. Marco Rubio has his work cut out for him, as 31% of registered Hispanic voters said they did not have an opinion. The same goes for Joe Biden, with nearly a quarter of respondents reporting indifference. While this is a challenge to Democrats and Republicans alike, it also offers a substantial opportunity to influence votes.
With six months until Super Tuesday and 15 months until the general election, the findings of this poll reveal that candidates must engage Hispanic voters starting now in order to win key states.
For more on the Hispanic vote, visit our dedicated site and follow @hispanic411.
* In this post, the terms "Hispanic" and "Latino" are used interchangeably.
Sources: Destino 2016 The Latino Vote, a Univision Noticias Poll conducted by Bendixen @ Amandi International and The Tarrance Group, July 2015; U.S. Census Bureau CPS November Supplements, 2000, 2004, 2008, 2016. Projected 2016 based on past growth; Federal Election Commission, Election Results for the U.S. President 2004 and 2012; Audience Partners Labels and List As Of 9-23-2014.