We all know how the saying goes: "it doesn't matter what you look like on the outside. It's what's on the inside that counts." This may be true for some but, according to our recent beauty study in partnership with Vital Findings, for Latinas, what's on the outside is also important because it empowers her on the inside.
In this, our latest Hispanic 411 webinar, I was joined by Amanda Hirsch, Vice President at Vital Findings, the research firm that helped us conduct both quantitative and qualitative analysis of beauty consumers. Our research, and this webinar, explored the attitudes and behaviors of Latinas when purchasing across key beauty categories like cosmetics, hair care, and skin care. In addition, we garnered and shared insights on how marketers can build relationships with Latinas to drive future growth. Here's more of what we uncovered about this beauty-obsessed consumer:
Latinas are Driven by Cultural Beauty Norms
According to our study, 75% of Latinas agree that beauty is an important part of their culture compared to 56% of non-Hispanics. Latinas learn about beauty from their moms at a young age, the love for beauty is passed down from mothers to daughter. In fact, 66% say that they were taught at an early age that maintaining their appearance is important. And it's not just about looking good for themselves: Latinas are more likely to say they want to look good so their family will be proud of them (67% vs. 48% for non-Hispanics).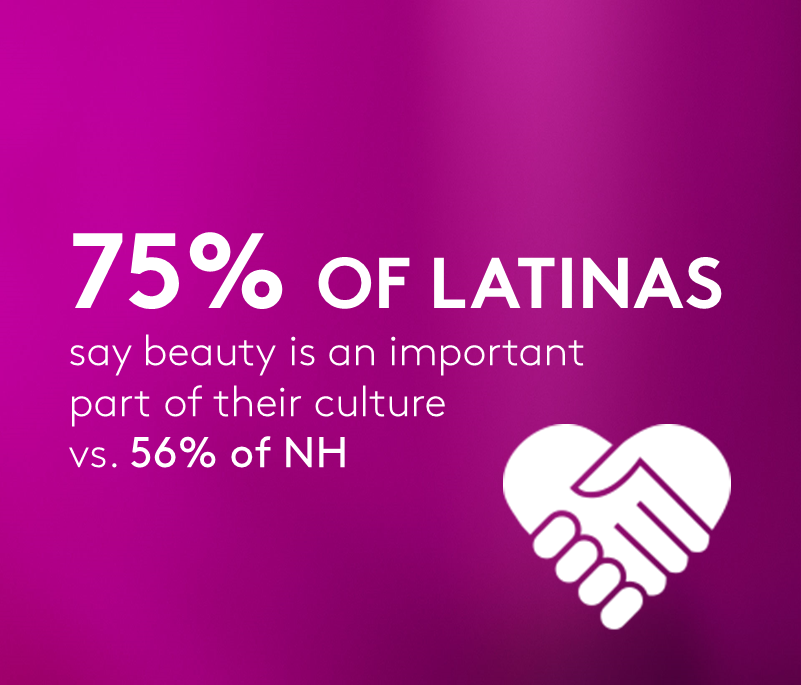 More Beauty Products More Often
Latinas' exploratory nature and the high standards Hispanic culture places on beauty plays a role on beauty routines, which means Latinas end up using more beauty products. In fact, 96% of Latinas say they need at least one product before leaving their home vs. 24% of non-Hispanics who are willing to leave their home with nothing on. This leads to Latinas spending an average of 40 more minutes getting ready on a daily basis versus their non-Hispanic counterparts.
This is the first of two articles on our beauty study. Stay tuned next week where we'll share additional insights on the Latina beauty consumer's shopping habits and how to effectively engage her.