By Salvador Rodriguez – @sal19 – June 09, 2015
Netflix this month began turning its attention to Spanish-speaking consumers by adding a flurry of popular Spanish TV shows, telenovelas, movies and documentaries to its U.S. catalog. The influx of Spanish content is an effort by the online streaming giant to spark U.S. growth after nearly completely saturating the English-speaking portion of the market.
The new content, which was added earlier this month, includes "El Chapulín Colorado," which stars the late Mexican comedian Roberto Gómez Bolaños, more commonly known as "Chespirito." Other big titles include "El Señor de los Cielos" and "La Reina del Sur," two recent telenovelas, as well as "La Familia P. Luche," which stars popular Mexican comedian Eugenio Derbez.
Netflix also announced "Club de Cuervos," a new original series in Spanish from Mexican filmmaker Gaz Alazraki, that will debut Aug. 7 in every territory where Netflix operates. Besides adding and creating more Spanish content, Netflix said it will also be adding Spanish dubs to a number of its hit original series, including "House of Cards," "Orange is the New Black" and "Marvel's Daredevil."
"We're thrilled to be working with Univision and Telemundo as well as a range of amazing Latin American content creators to enrich our Hispanic content mix in the U.S., allowing families to watch some of their favorite shows together when and how they want," Netflix Chief Content Officer Ted Sarandos said in a statement.
Looking For Growth
Although Netflix is the king of the online streaming, the Los Gatos, California, company struggled to add new members in the U.S. last year. Growth was particularly slow in the third quarter when Netflix saw growth of 11.4 percent year-to-year, down 12.5 percentage points from the growth it saw a year prior.
At the same time, the Hispanic demographic is one of the fastest growing portions of the U.S. population, increasing sixfold since 1970 from 9.1 million to 53 million in 2012, according to the Pew Research Center. By adding more Spanish content to its repertoire, Netflix may be able to put a spark back in its U.S. growth.
"It's one of the fastest-growing segments in America, and it's a segment that absolutely cannot be ignored," said Johnny Won, founder of Hyperstop, a consultancy firm. Won added HBO and Hulu already have a good selection of Spanish content, so it was important for Netflix to follow suit. "Netflix needs to have as much robust content as possible."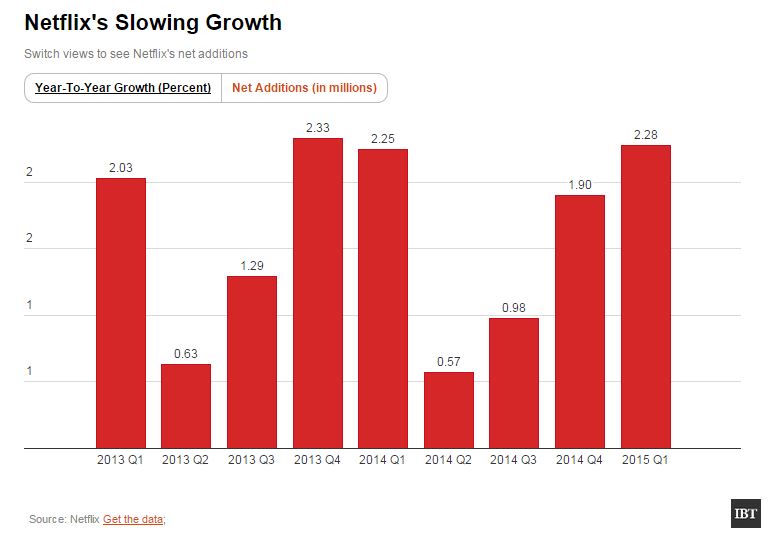 Good For International Too
Beyond the U.S., adding Spanish content to the mix should help Netflix attract more subscribers in its international markets, said Adam Sarhan founder and CEO of Sarhan Capital. Already, Netflix is available in Mexico, Central America and South America, and in October, the service will launch in Spain.
Additionally, Spanish is the second-most spoken language in the world, ahead of English and behind Chinese, so it is paramount that Netflix grow its selection of content in that language if it hopes to serve consumers worldwide.
"The English content is working, so if they do the Spanish content it'll appease their U.S. audience that speaks Spanish and also allow them to seamlessly transition into international markets that are heavy in Spanish," Sarhan said, adding that eventually, Netflix should add even more languages so it can keep growing.
"There's billions of people in the world who don't speak English, and if you want to provide content to them, it behooves Netflix to be able to reach them in a language that they understand," Sarhan said.
Source: International Business Times.
###