ACC Golden Beacon Goes to Univision
'Semana de la Salud 2014' Campaign Honored at Ceremony
By: Kent Gibbons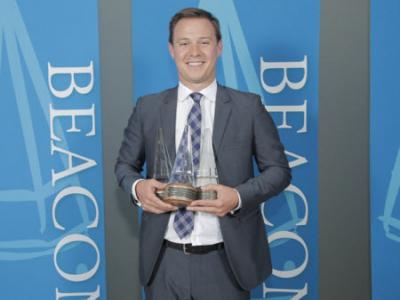 The Association of Cable Communicators (ACC) at a dinner ceremony last night (June 4) announced the winners of the 2015 Golden Beacon and Beacon Awards, honoring excellence in cable communications and public affairs. The Golden Beacon, the association's highest honor, went to Univision Contigo's Semana de la Salud 2014, a Latino-focused health and wellness campaign by Univision Communications Inc.
The campaign also won a Community Relations Beacon, while Univision's Contigo's Pequeños y Valiosos – Accioìn por los Niños campaign won a Beacon for Integrated Communications. Stephen Keppel, Univision's senior director, empowerment initiatives (pictured), accepted the awards.
ACC also presented 49 Beacon Awards representing work by MSOs, cable systems, programming networks, and cable associations in categories such as community relations, public service announcements and social media communications, the association said in a release. The Beacon Awards Ceremony rounded out Thursday events during ACC's annual conference FORUM 2015: Innovation and Disruption: Telling Cable's Story in Times of Change, in Silver Spring, Md.
"This year's Beacon Award winners have affected change by using cable as a tool to provide access and education, not only empowering the communities they serve, but showcasing the power of cable on a national platform" Chris Albert, 2015 Beacon Awards chair and senior vice president, communications worldwide and talent relations, National Geographic Channels, said in the release. "The Beacon Awards celebrate the significant role cable communicators play in our industry's success and recognize the best of those efforts."
The 2015 Golden Beacon honors a communications or public affairs initiative that has made an impact within the cable industry and enhanced cable's image nationwide.
Here's what ACC had to say about the campaign and other Beacon honorees:
Univision is the most-watched Spanish-language broadcast television network in the country, reaching 96% of U.S. Hispanic households. As the heartbeat of Hispanic America, Univision has earned a special trust and unequalled connection with this community. Hispanics today have higher rates of high cholesterol, diabetes and obesity, compared to their Caucasian counterparts. In 2014 for example, one-in-four Hispanics in the U.S. lacked health insurance, the highest rate of any racial or ethnic group in the country. In an effort to reverse these trends, the company held its second annual week-long health and wellness effort "Semana de la Salud 2014" (Health Week 2014), a weeklong multiplatform campaign under the health umbrella of the company's Univision Contigo empowerment initiative. In partnership with The California Endowment, Covered California, and the Ford Foundation, "Semana de la Salud 2014" took place between August 23-30, aimed to inform the U.S. Hispanic community about important health and wellness topics, give access to exclusive health-related online and mobile tools, and empower the community by providing free health screenings and other valuable resources in markets across the nation.
ACC members chose the 2015 Beacon Award winners during an extensive two-round judging process. The high-quality Beacon Award entries submitted this year continue to demonstrate the cable industry's commitment to communications and public affairs and represent company initiatives implemented over the past year in areas such as events and observances, integrated communications and Web sites.
For the 2015 Beacon Awards Winners list, please click here.
Source: Multichannel News