Univision Tells Its Audience That 'Everything Is Possible' 'Todo Es Posible' campaign includes inspiring stories
By Chris Ariens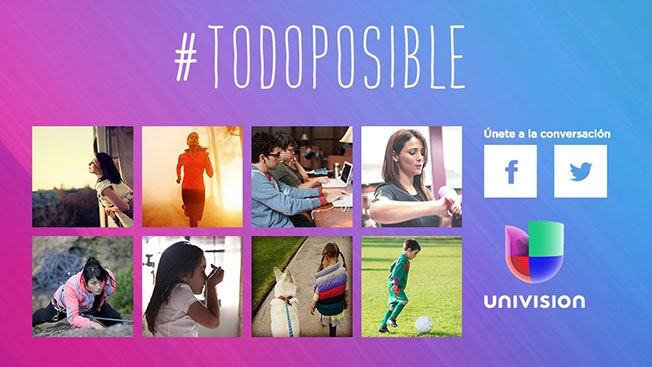 Unision will launch a new uplifting branding campaign today called "Todo Es Posible" (everything is possible).
The new campaign, which Univision teased at its upfront presentation last week, is a multiplatform initiative the network says will "bring to life the core values of the Univision Network brand and the journeys of Hispanics in the U.S."
"Our viewers not only tune in to watch our programming, but they invite us into their homes, their families and their lives," said Jessica Rodriguez, chief marketing officer at Univision Communications.
The multiyear campaign begins with seven spots showcasing inspiring stories. They will be accompanied by a dedicated website and social storytelling across Instagram, Facebook, Twitter and YouTube. Viewers will also be able to join the conversation by using the hashtag #TodoPosible.
"This campaign touches on the powerful brand affinity Hispanics have for Univision Network and reflects the core values that make up not only our network but the audience and communities we serve," Rodriguez said.
Univision is the leading Spanish-language broadcaster in the U.S. and, on some nights, the most-watched network in any language on broadcast TV.
Source: Adweek