'Lo Imperdonable' Premiere On Univision: Actor Iván Sánchez Tells Us All About It! [EXCLUSIVE]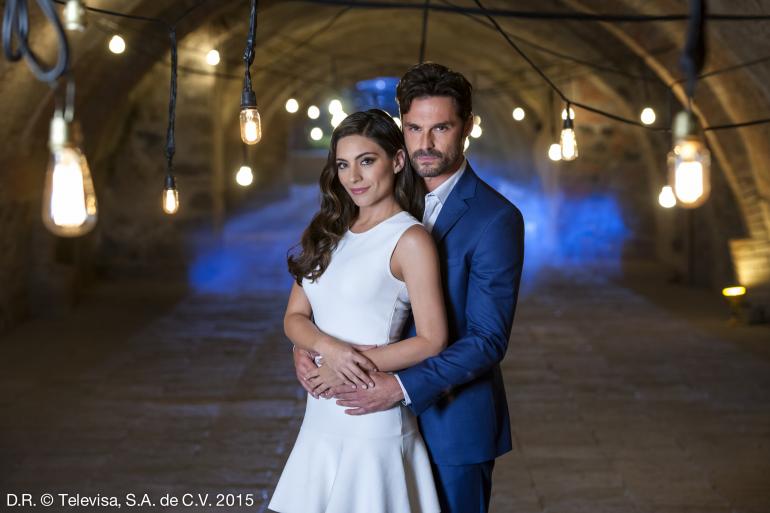 Ana Brenda and Iván Sánchez are the protagonists of "Lo Imperdonable" which premieres on Univision May 18. Courtesy of Univision/Televisa
Univision new primetime novela, "Lo Imperdonable" (Unforgivable), from producer Salvador Mejía, premieres Monday, May 18 at 9 p.m. ET/PT (7 p.m. Central). The plot begins with Martín San Telmo (Iván Sánchez) getting an urgent plea from his brother Demetrio, only to find out when he gets to Mina Escondida, México, that it is too late. Demetrio has committed suicide. The story continues as Martín tries to unveil the reason behind his brother's suicide which leads him to Verónica (Ana Brenda Contreras), the woman he falls in love with and who might also be the woman who caused his brother's death.
The stellar cast of the Telenovela also includes Grettell Valdez, Sergio Sendel, Juan Ferrara,Sebastián Zurita, Alicia Machado, Claudia Ramírez, among others. Latin Times had the opportunity to talk to Iván Sánchez, who was extremely nice to give us some time to talk about "Lo Imperdonable" and his character, despite having a very hectic day. Here is what he shared with us.
Latin Times: How do you feel with your first lead role in a Mexican Telenovela?
Iván Sánchez: Very well, to tell you the truth, just like any other role. To me, every project I get involved in is the most important thing at the time of the shooting. I'm always giving it my 100%. I'm very professional in what I do, I'm very detail oriented and truth to be told, it doesn't matter if I'm playing a lead, or a secondary role, or doing an appearance, I give them all the same importance. In this case, I think there is most responsibility because I'm still the "visible head" but that's it. I also feel very lucky to keep getting work on "this side of the pond" as I say, and it gives me the possibility to work here, and there and be involved in very nice and interesting projects.
LT: What can you tell us about your character in "Lo Imperdonable"?
IS: Well, Martín San Telmo is shown in the first episode wanting to help his brother who asks him to go see him urgently, and well, when he arrives to the place he finds out that not only is his brother death, but he committed suicide. Later on, he finds out that it might've been a woman who drove him to such thing. And well, for me, for Martín, his brother is like a son because their mother passed away when they were 12, and 16, and well somehow I took care of my brother and helped him move on. And well, Martín starts plotting his revenge against the woman who hurt his brother. Then, he goes back to the city and meets this woman, and he falls madly in love with her only to find out, an episode later, that the woman he fell in love with might be the woman who caused his brother's death. And from that point on, there are a lot of things that happen in this love/hate relationship.
LT: How was the chemistry between you and Ana Brenda during the shooting?
IS: I feel very lucky because Ana is a fantastic actress. We understand each other's work very well, and that's pleasant. We have a lot of scenes together and it's a pleasure to be able to work with her.
LT: What were some of the challenges that you faced during the filming of "Lo Imperdonable"?
IS: Well, getting there on time with all my lines memorized (laughs) that is our challenge, and then well, play. Play a lot, have a good time, find the details on everything, and enjoy the work. And then well, there are some things that are specific from my character such as riding horses, fencing, we have scenes on the river too. We have been lucky, though. We filmed in so many beautiful places, and I'm personally very thankful for that. I love traveling, so it has been a good way of getting to know more parts of México.
LT: What has been one of your favorites scenes so far?
IS:  There are so many! Yesterday, I think a scene was released in México where you can see a fencing scene between Martín and Ana Brenda´s character, Verónica, and I think that scene turned out pretty great. Actually, I've said it before, that sequence practically tells you everything that's going to happen in the Telenovela. That relationship that the two of them will have of love, and revenge.  The way the scene is put together, you can see that perfectly.
LT: What can people expect from "Lo Imperdonable"?
IS: Well, I think it's a very nice story, honestly, for us actors, we have the opportunity to play awesome text. I hope people end up loving this characters, and the love story, which is a beautiful love story, very human. Also we have beautiful scenarios, and a lot of subplots with wonderful actors. I really hope the audience can enjoy "Lo Imperdonable" because that's what we are here for, doing this with all our love, our professionalism, our love for the work, and without an audience none of this would make sense. So, I hope everyone will like it, and enjoy it. 
Source: Latin Times