Univision Local Media joined St. Jude Children's Research Hospital to host the annual Promesa y Esperanza (Promise and Hope) radio event, helping to raise $3.5 million on February 5-6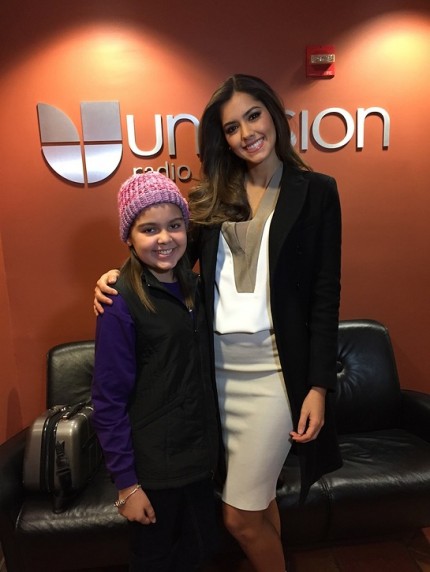 St. Jude patient Neisha and Miss Universe 2014 Paulina Vega
---
Millions of Hispanic radio listeners tuned in to Univision Radio and their broadcast aimed at raising awareness and support for St. Jude, which is leading the way the world understands, treats and defeats childhood cancers and other life-threatening diseases.
"I am very proud of how every year the community rallies around such an important cause by supporting the St. Jude Promesa y Esperanza radio event," said Randy Falco, president and CEO of Univision Communications Inc. "As a mission-driven Company, we value the work of the St. Jude Children's Research Hospital team and are privileged to share these efforts with thousands of radio listeners."
Univision Local Media dedicated more than 30 hours of radio programming to support St. Jude. During the event, listeners were asked to call in to their local Univision Radio stations and become Angeles de Esperanza (Angels of Hope) by pledging to make a monthly donation of $20. Thanks to individual contributions, such as listener pledges, families never receive a bill from St. Jude for treatment, travel, housing or food – because all a family should worry about is helping their child live.
"The dedication and support we receive from Univision and its staff allow us to reach Hispanic radio listeners across the country and create awareness about our lifesaving research and treatments," said Richard Shadyac Jr., President and CEO of ALSAC/St. Jude Children's Research Hospital. "Every Angel de Esperanza that pledges their support is helping St. Jude fight childhood cancer and other life-threatening diseases. The financial support and the commitment of the Univision family and their listeners will help us reach the day when every child can be saved."
Social media was also a very active platform for the radio event this year, where fans joined in the conversation on Twitter and Facebook via @StJude and using the hashtag #StJudeUnivision. The St. Jude Promesa y Esperanza radio event was also supported by Univision Local Media's portfolio of media platforms, including Univision America, Univision Radio's AM radio network, its local television stations, online, mobile and social media channels using the official hashtags #StJudeUnivision.
Several Univision popular on-air personalities supported the event including: Javier Romero of Desayuno Musical, Dra. Isabel of Univisión América, Raúl Brindis of El Show de Raúl Brindis, Alberto Sardiñas of Intimo, Enrique Santos of El Show de Enrique Santos, Omar Velasco and Argelia Atilano of El show de Omar y Argelia, Raúl Molinar, Sylvia del Valle and Andrés Maldonado of El Bueno, La Mala y El Feo, Rene Pineda and Pancho Mercado of Uforia Nation, Pamela Silva Conde of Primer Impacto, Lily Estefan of El Gordo y La Flaca and Ilia Calderón of Noticiero Univision Edición Nocturna.
Among the participating Hispanic artists were: Luis Fonsi, Chino y Nacho, Grupo Intocable, Barbara Padilla, Ismael Cala, Frankie J., A.B. Quintanilla, Los Huracanes del Norte, Grupo Control, Duelo, Leslie Grace, Gerardo Ortiz, Banda El Recodo, Ricardo Montaner, Roberto Tapia, Saúl "El Jaguar," 3BALLMTY, Kevin Ortiz, El Dasa, Regulo Caro, Banda Los Recoditos, among others.
To learn more or pledge a donation, visit promesayesperanza.org.
###