The $50,000 Prize Will Go to Ola del Cielo, a Non-Profit Organization based in Puerto Rico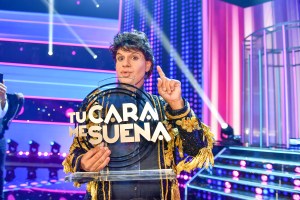 MIAMI – MAY 8, 2022 – After seven weeks of amazing transformations, Puerto Rican salsa singer and songwriter Michael Stuart wins the second season of Univision's "Tu Cara Me Suena" with the highest total score of the season. Gala after gala, Stuart's performances dazzled and impressed the judges and audience, making him a favorite in this highly contested season.
This final gala featured a sensational performance by Stuart as legendary singer Juan Gabriel which earned him a perfect score from the judges and praises from his fellow contestants. During the seven galas he achieved best of the night in two occasions receiving a perfect score from all four judges, Charytín, Eden Muñoz, Victor Manuelle and Angélica Vale and winning $5,000 per winning night. Stuart received the grand prize of $50,000 for winning "Tu Cara Me Suena" season 2, bringing his win to a total of $60,000 to benefit his charity of choice Ola del Cielo, an organization based in Puerto Rico, which provides youth with special needs including Down Syndrome and Autism access to water sports and other activities such as art, and dance as a therapeutic and fun experience for enjoyment, confidence, and self-esteem. 
Other top performances of the night included Helen Ochoa as Yuri, Christian Daniel as Sebastián Yatra, Kika Edgar as Natalia Jimenez, Sherlyn as Shakira, Manny Cruz as Carlos Vives, Ninel Conde as Gloria Trevi and Yahir as Maluma.
For their duet numbers Helen and Ninel performed with the popular Mexican cumbia band Los Ángeles Azules. Christian performed with Manny, Sherlyn with Yahir, and Kika with Michael.
"Tu Cara Me Suena" is a co-production of TelevisaUnivision and Endemol Shine Boomdog.
Viewers can relive the performances by visiting YouTube.com/Univision and Univision.com/TuCaraMeSuena. To join the conversation use #TuCaraMeSuenaMXUS on Instagram and Facebook.
Visit corporate.televisaunivision.com for more information on TelevisaUnivision and follow UnivisionPRTeam on Twitter and Instagram. 
CONTACT: Laura Paez lpaez@univision.net
###
Michael Stuart se coronó ganador del programa "Tu cara me suena" de Univision en una noche increíble repleta de actuaciones fantásticas
El premio de $50,000 se entregará a Ola del Cielo, una organización sin fines de lucro de Puerto Rico
MIAMI – 8 DE MAYO DE 2022 – Después de siete semanas de fantásticas transformaciones, Michael Stuart, el compositor y cantante de salsa puertorriqueño, ganó la segunda temporada del programa de Univision "Tu cara me suena" tras obtener el puntaje total más alto de la temporada. En cada una de las galas, las presentaciones de Stuart deslumbraron y asombraron a los jueces y la audiencia, por lo que se convirtió en uno de los favoritos de esta temporada donde el nivel de competencia estuvo muy alto.
En la gala final, Stuart ofreció una actuación sensacional personificando al legendario cantante Juan Gabriel, lo que le valió un puntaje perfecto de los jueces y los elogios de los demás competidores. Durante las siete galas del programa, Stuart se consagró como el mejor de la noche en dos oportunidades al recibir un puntaje de calificación perfecto por parte de los cuatro miembros del jurado (Charytín, Edén Muñoz, Víctor Manuelle y Angélica Vale) y obtuvo $5,000 por cada noche de victoria. Stuart recibió el gran premio de $50.000 por ganar la segunda temporada de "Tu cara me suena", por lo que en total se llevó $60,000 para donar a la entidad de beneficencia que había elegido, Ola del Cielo. Esta es una organización de Puerto Rico que asiste a jóvenes con necesidades especiales, lo que incluye síndrome de Down y autismo, y les brinda acceso a deportes acuáticos y otras actividades como arte y danza en forma de experiencias terapéuticas y recreativas, con el fin de estimular el bienestar, la seguridad y la autoestima.
Otras actuaciones brillantes de la noche fueron las de Helen Ochoa como Yuri, Christian Daniel como Sebastián Yatra, Kika Edgar como Natalia Jiménez, Sherlyn como Shakira, Manny Cruz como Carlos Vives, Ninel Conde como Gloria Trevi y Yahir como Maluma.
Para los dúos, Helen y Ninel actuaron con el conocido grupo de cumbia mexicana Los Ángeles Azules. Además, Christian cantó con Manny, Sherlyn con Yahir, y Kika con Michael.
"Tu cara me suena" es una coproducción de TelevisaUnivision y Endemol Shine Boomdog.
Los espectadores pueden volver a disfrutar de las actuaciones en YouTube.com/Univision y Univision.com/TuCaraMeSuena. Quienes quieran unirse a la conversación, pueden usar el hashtag #TuCaraMeSuenaMXUS en Instagram y Facebook.
Para obtener más información sobre TelevisaUnivision, visita corporate.televisaunivision.com y sigue la cuenta UnivisionPRTeam en Twitter e Instagram.
CONTACTO: Laura Paez lpaez@univision.net
###