Free Spanish-Language AVOD Tier is Available Now, Featuring More than 100 Streaming Channels and Over 40,000 Hours of Entertainment, Live Sports and News Content  
Highlights of New Service Include 24/7 Sports Channel "Zona TUDN," Live Soccer Matches, a Music Special Featuring Global Superstar Bad Bunny, and Original Live News Programs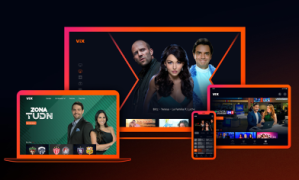 MIAMI, FL – MARCH 31, 2022 – TelevisaUnivision Inc., the world's leading Spanish-language media and content company, today announced that ViX, the streaming service with the world's largest offering of Spanish-language entertainment, news and sports content, is now available to all users in the U.S., Mexico and most of Spanish-speaking Latin America. The free AVOD tier is accessible across all major mobile platforms, connected TV devices and via web on vix.com. ViX is a two-tier service in one single app, comprised of the free AVOD product launched today and an SVOD option, ViX+, coming in the second half of 2022 with 10,000 additional hours on its first year.
Starting today, ViX is available for free on Apple iOS and tvOS, Android mobile and Android TV OS devices, Amazon Fire TV, Roku devices, Samsung Smart TVs and via web on vix.com.
"Today marks a new dawn in Spanish-language streaming with the launch of ViX, adding another giant step in the transformation of the new TelevisaUnivision: Hundreds of millions of Spanish-speakers in the U.S. and most countries in Latin America will have a dedicated streaming platform that's made for Spanish speakers  and made by Spanish speakers," says Pierluigi Gazzolo, President and Chief Transformation Officer of TelevisaUnivision. "We are so proud to be able to offer this amazing content with a broadcast-like experience across all genres, in the form of linear channels as well as on-demand. All advertising supported, and importantly… for free."
"The ad-supported tier of ViX is the ideal way for viewers to first experience our brand, our content and our vision. This incredible collection of live news, sports, and entertainment programming for the whole family, offered in an AVOD free service, will make it the indispensable streaming product for Spanish speakers in the U.S. and Latin America," said Rafael Urbina, EVP and GM of ViX. "Our linear programming includes exclusive channels dedicated to original content created for ViX. Importantly, most of our content was produced in Spanish, not just translated into it, and more than 50% of the ViX offering is exclusive to our service. Also, we couldn't be more excited about ViX being the digital destination of the FIFA World Cup Qatar 2022 in Mexico, starting on April 1st with the draw."
With more than 40,000 hours of content in the AVOD tier, ViX users will be able to stream original programming and top live sports and news, free of charge, in the first broadcast-quality ad-supported offering for the Spanish-speaking world. Additionally, the AVOD tier curates a massive offering of multi-genre entertainment content allowing users to easily discover and rediscover their favorites within the familiar interface of an electronic programming guide (EPG).
From Televisa's mega-hits and classic novelas to iconic content from some of the world's best producers, including scripted and unscripted series; blockbuster movies; children's programming; live newscasts from multiple worldwide sources; and a broad live soccer offering. ViX offers content for the whole family.
EXCLUSIVE ROSTER OF MULTI-GENRE CHANNELS CURATED BY ViX
ViX offers over 100 varied virtual live linear (VLL) channels with a wide variety of content, including news, sports, movies, novelas, series and kids' channels, and many more.
Novelas: From classics like "Marimar" and "Rebelde" to mega-hits such as "Teresa" and "Amores Verdaderos," with superstars such as Thalía, Angelique Boyer, Sebastián Rulli, Gabriel Soto and many more, ViX has it all.
Movies: Top-performing movies from leading Hollywood studios, such as Lionsgate, MGM and Disney, indie movies and Latin American films, all available in Spanish.
Children's Programming: A collection of children's channels, including "Moonbug Kids" featuring megahits "Cocomelon" and "Blippi," as well as a dedicated channel "ViX Junior" featuring pre-school hits such as "Strawberry Shortcake," "Sunny Bunnies" and "Franklin" and a "Pinkfong Baby Shark" channel for parents to play and sing-along with their kids.
MORE NEWS CONTENT
"Noticias Univision 24/7" (available in the U.S. and Latin America, excluding Mexico)
New Original Shows
"Janiot PM". Premiering on Sunday, April 3 at 8 p.m. ET and hosted by renowned international news anchor Patricia Janiot, this program will take viewers beyond the headlines with high-profile interviews, context and analysis of the main issues affecting the U.S. and Latin America.
"Línea de Fuego" (Firing Line Squad). Host Luis Carlos Vélez and a panel of Univision Noticias contributors, along with invited guests from both sides of the political spectrum analyze and debate the day's hottest headlines. The new program streams daily, Monday through Friday at 10 p.m. ET, with a focus on the latest and most pressing issues of the day, including national and international politics, climate change, healthcare, social justice, financial education, and gender equality.
"Sin Rollo Extra". Univision personalities and special guests discuss the hottest and most trending topics in a round table format. The host Carlos Calderón, together with five panelists, dive into the most controversial news of the day, sharing their own uncensored opinions in a fun, conversational way. Throughout the entire hour, panelists discuss the headlines, images and statements that everyone is talking about. The show, which is an extension of "Despierta América's" popular segment with the same name, streams live Monday through Friday at 12 p.m. ET.
N+ Media. N+ features Mexico's first news streaming channel, N+ Media, with exclusive 24/7 programming that includes breaking news, documentaries, investigative journalism, analysis, technology, opinion, and pop culture, as well as the best young and up-and-coming talent in journalism and anchors with great experience and recognition. N+ Media will be available in the U.S, Mexico and the rest of Spanish-speaking Latin America where ViX is available.
International News Channels. A collection of live news channels from Latin America and Europe, including "ATV+" from Peru, "TN23" from Guatemala and "Euro News," the number one international news channel in Europe, will also be available at launch.
MORE SPORTS
"Zona TUDN" in the U.S. and Mexico. The new 24/7 sports channel will become the super fanáticos´ destination for all sports, featuring extended coverage for premium events, talk shows, analysis, commentary and exclusive interviews. New original "Zona TUDN" shows include:
"TUDN News". The hub for all things sports news, analysts, developments and insights; the first-of-its-kind show on a Spanish-language streaming service, hosted daily by Valeria Marin and Memo Shutz Monday through Friday at 10 p.m. ET.
"Tiro Libre" (Free Kick). A relaxed and authentic discussion-based show that addresses soccer. Hosted by Alex de la Rosa, the show airs Monday through Friday.
"TUDN Picks".  Hosted by Alfredo Tame and featuring a select group of betting experts or tipsters, the first ever live-sports betting show in Spanish airs Monday through Friday at 7 p.m. ET.
ViX features live games of some of the top leagues and tournaments in the world. The extensive soccer offering available on ViX (AVOD tier) includes:
United States
Nearly 1,000 free live games, including access to over 500 matches from top South American leagues, including Brasileirão Championship, Argentina's Liga Profesional de Fútbol, Colombian Primera División and Perú Liga 1, for a limited time only.
Exclusive coverage of more than 75 games from Mexican Liga de Expansión, and Liga Femenil MX.
Premium access to select UEFA Champions League, Liga MX, and U.S. Women's National Soccer team matches.
Mexico
In Mexico ViX will be the digital destination of the FIFA World Cup Qatar 2022.

Live streaming of the draw on April 1 in "Zona TUDN", featuring Adriana Monsalve, Andrés Vaca, Hristo Stoichkov, Julio Ibáñez, Paco Villa, Rafa Márquez and Toño de Valdés and Javier Zanetti live from Doha.
Live simulcast of at least 30 matches.
Exclusive content and in-depth analysis, by our team of experts, within the "Zona TUDN" channel.

Exclusive Mexican Liga de Expansión and Liga Femenil MX matches.
MORE MUSIC CONTENT
"Uforia con Bad Bunny: El Evento Que Revolucionó La Música En El 2020" (Uforia with Bad Bunny: The Event that Revolutionized the Music in 2020). Premiering on March 31, this special takes viewers behind the scenes of Uforia's live music event with Bad Bunny that took place in NYC on September 20, 2020. At the height of the pandemic, this epic journey brought one of the biggest artists on the planet to a stage like no other, overcoming many challenges to bring a live concert to the homes of music fans in NYC and around the globe. This special tells the story of how Uforia pulled off the biggest secret show of all time and gave over 10 million fans an unforgettable live stream experience that resonated worldwide. With the help of the City of New York, NYPD, Harlem Hospital and the ingenuity of countless creative individuals, Uforia conceptualized and built a moving stage atop a customized truck that traveled through the streets of the Bronx and Spanish Harlem delivering a live music spectacle unlike anything ever attempted before. Now, for the first time, ViX reveals all the incredible effort it took to bring this event to life.
MORE ENTERTAINMENT PROGRAMMING
"Detrás de Cámaras" (Behind the Scenes). This show takes viewers behind-the-scenes of TelevisaUnivision's most successful reality shows. The first edition of "Detrás de Cámaras" features a firsthand look at the intimate moments the audience doesn't get to see during the production of "Tu Cara Me Suena". From backstage footage, participant interviews, confessionals, exclusive recordings and other never-before seen moments from the show, "Detrás de Cámaras" is hosted by Rafael Araneda and streams after each episode of "Tu Cara Me Suena," Sundays at 10 p.m. ET.
"Lo Más ViXto". Hosted by "Despierta América's¨ own Jomari Goyso and the winner of "Nuestra Belleza Latina" 2021 Sirey Morán, this magazine-style show is the definitive source for what to watch on ViX. During each episode, users will learn more about new programs and content offerings coming to ViX and previews of the top series, movies, novelas and specials on the service.
ViX is available today in the United States, Mexico, Argentina, Bolivia, Chile, Colombia, Costa Rica, Dominican Republic, Ecuador, El Salvador, Guatemala, Honduras, Nicaragua, Panama, Paraguay, Peru, Uruguay, and Venezuela.
For more information visit vix.com.
###
Click here to download images.  
CONTACTS:
United States and Latin America
Tatiana Oviedo, toviedo@univision.net
Mexico
Sandra Oropeza, sandra@vix.com
###               
ViX, el Mayor Servicio Gratuito de Streaming en Español, Se Lanza Hoy en Estados Unidos y América LatinaEl nivel gratuito AVOD ya está disponible con más de 100 canales de streaming y 40,000 horas de contenido en español de entretenimiento, deportes y noticias en vivo
Entre lo más destacado del nuevo servicio está el canal de deportes 24/7 "Zona TUDN", partidos de fútbol en vivo, un especial de música sobre la superestrella internacional Bad Bunny y programas originales de noticias en vivo
MIAMI, FL –31 DE MARZO DE 2022– TelevisaUnivision Inc., la compañía líder en el mundo de medios y contenido en español, anunció que ViX, el servicio de streaming con más contenido de entretenimiento, noticias y deportes en español del mundo, ya está disponible para todos los usuarios en Estados Unidos, México y la mayoría de los países hispanohablantes de América Latina. El nivel gratuito de video on demand con publicidad (AVOD) está disponible en todas las principales plataformas móviles, televisores conectados y vía web en vix.com. ViX es un servicio de dos niveles en una sola aplicación, compuesto por un producto gratuito AVOD, lanzado hoy, y una opción con suscripción (SVOD), ViX+, que se lanzará en el segundo semestre de 2022 con 10,000 horas adicionales en su primer año.
A partir de hoy, ViX está disponible gratis en Apple iOS y tvOS, celulares Android y Android TV, Amazon Fire TV, dispositivos Roku, televisores inteligentes Samsung y vía web en vix.com.
"Hoy empieza una nueva era para el streaming en español con el lanzamiento de ViX, y sumando otro paso gigante a la transformación de la nueva TelevisaUnivision: cientos de millones de hispanohablantes en Estados Unidos y la mayoría de los países latinoamericanos tendrán una plataforma de streaming especialmente hecha para y por hispanohablantes", dijo Pierluigi Gazzolo, President y Chief Transformation Officer de TelevisaUnivision. "Nos sentimos muy orgullosos de poder ofrecer este fabuloso contenido con una experiencia similar a la de señal abierta, en una gran variedad degéneros, con el formato de canales tradicionales y también on demand. Todo presentado con publicidad, y lo más importante… es gratis".
"El nivel con publicidad de ViX es la manera ideal de que los usuarios conozcan nuestra marca, nuestro contenido y nuestra visión. Esta excelente colección de programación de noticias y deportes en vivo, y entretenimiento para toda la familia, ofrecida en un servicio gratuito de AVOD, la hará el producto indispensable de streaming para los hispanohablantes en Estados Unidos y Latinoamérica", dijo Rafael Urbina, vicepresidente ejecutivo y gerente general de ViX. "Nuestra programación incluye canales exclusivos dedicados a contenido original que fue creado para ViX. Cabe destacar que la mayor parte de nuestro contenido fue producido en español, no simplemente traducido, y más del 50% de la oferta de ViX es exclusiva para nuestro servicio. Además, estamos muy entusiasmados de que ViX sea el destino digital en México de la Copa Mundial 2022 en Qatar, empezando con el sorteo el 1 de abril".
Con más de 40,000 horas de contenido en el nivel de AVOD, los usuarios de ViX podrán ver gratis programación original y destacados programas deportivos y noticieros en vivo, en el primer servicio con publicidad y calidad de señal abierta para el mundo hispanohablante. Además, el nivel de AVOD ofrece una enorme cantidad de contenido de entretenimiento multi-género especialmente seleccionado, lo que permite que los usuarios descubran y redescubran sus contenidos favoritos en una interfaz familiar de guía electrónica de programación (EPG).
Desde grandes éxitos y telenovelas clásicas de Televisa hasta contenido emblemático de algunos de los mejores productores del mundo, que incluye series con y sin guion; películas taquilleras; programación infantil; noticias en vivo provenientes de múltiples fuentes de alrededor del mundo; y una gran variedad de fútbol en vivo, ViX ofrece contenido para toda la familia.
CANALES EXCLUSIVOS DE VARIADOS GÉNEROS, ESPECIALMENTE CURADOS PARA ViX
ViX ofrece más de 100 canales tradicionales y virtuales en vivo (VLL) diferentes con una gran variedad de contenido que incluye noticias, deportes, películas, telenovelas, series, canales para niños y mucho más.
Telenovelas: Desde clásicas como "Marimar" y "Rebelde" hasta mega éxitos como "Teresa" y "Amores verdaderos", con superestrellas como Thalía, Angelique Boyer, Sebastián Rulli, Gabriel Soto y muchos más, ViX lo tiene todo.
Películas: Populares películas de destacados estudios de Hollywood como Lionsgate, MGM y Disney, films independientes y latinoamericanos, todo disponible en español.
Programación infantil: Una colección de canales para niños, entre ellos "Moonbug Kids" con los megaéxitos "Cocomelon" y "Blippi", además de un canal especial, "ViX Junior", con éxitos de nivel preescolar como "Rosita Fresita", "Sunny Bunnies" y "Franklin", y un canal "Pinkfong Baby Shark" para que los padres jueguen y canten con sus hijos.
MÁS CONTENIDO DE NOTICIAS
"Noticias Univision 24/7" (disponible en Estados Unidos y Latinoamérica, excepto México)
Nuevos programas originales
"Janiot PM". Este programa se estrenará el domingo 3 de abril a las 8 p.m. hora del Este de Estados Unidos. estará conducido por la renombrada presentadora de noticias internacionales Patricia Janiot, y llevará a los televidentes más allá de los titulares con entrevistas a personalidades de alto perfil, contexto y análisis de los principales temas de interés que afectan a Estados Unidos y Latinoamérica.
"Línea de fuego". El conductor Luis Carlos Vélez y un panel de contribuidores de Univision Noticias, además de invitados de ambos lados del espectro político, analizan y debaten los titulares más comentados del día. El nuevo programa se transmite de lunes a viernes a las 10 p.m. hora del Este de Estados Unidos. con un foco en los asuntos más notables del día, entre ellos política nacional e internacional, cambio climático, salud, justicia social, información financiera e igualdad de género.
"Sin rollo extra". Personalidades de Univision e invitados especiales tratan los temas más candentes y comentados en un formato de mesa redonda. El conductor Carlos Calderón y cinco panelistas explorarán las noticias más polémicas del día y darán su opinión sin censura de manera divertida y coloquial. Durante toda la hora, los panelistas conversarán sobre los titulares, las imágenes y las declaraciones de las que todos hablan. El programa, que es una extensión del popular segmento del mismo nombre en "Despierta América", se transmite en vivo de lunes a viernes a las 12 p.m. hora del Este de Estados Unidos.
N+ Media. N+ presenta el primer canal de noticias por streaming de México, N+ Media, con programación exclusiva 24/7 que incluye noticias de última hora, documentales, periodismo de investigación, análisis, tecnología, opinión y cultura pop, además del mejor talento joven y emergente del periodismo y renombrados periodistas. N+ Media estará en Estados Unidos, México y los demás países hispanohablantes de Latinoamérica donde ViX está disponible.
Canales internacionales de noticias. Una colección de canales de noticias en vivo de Latinoamérica y Europa, entre ellos "ATV+" de Perú, "TN23" de Guatemala y "Euro News", el canal número uno de noticias internacionales en Europa, también estarán disponibles al momento del lanzamiento.
MÁS DEPORTES
"Zona TUDN" en Estados Unidos y México. El nuevo canal deportivo 24/7 pasará a ser el destino de los superfanáticos de los deportes con extensa cobertura de eventos premium, programas de debate, análisis, comentario y entrevistas exclusivas. Los nuevos programas originales de "Zona TUDN" incluyen:
" TUDN News" en Estados Unidos y México. El punto central para todo lo relacionado a las noticias, los analistas, los sucesos y la perspectiva deportiva; el primer programa de su tipo en un servicio de streamingen español lo conducirán Valeria Marín y Memo Shutz de lunes a viernes a las 10 p.m. hora del Este de Estados Unidos.
"Tiro libre". Un programa relajado y auténtico de debate sobre el fútbol. Conducido por Alex de la Rosa, el show se transmitirá de lunes a viernes.
"TUDN Picks". Conducido por Alfredo Tame y con un grupo selecto de expertos es el primer programa deportivo en vivo y en español dedicado a las apuestas y que se emitirá de lunes a viernes a las 7 p.m. hora del Este de Estados Unidos.
ViX presenta partidos en vivo de varios de los más destacados torneos y ligas del mundo. El extenso contenido de fútbol que estará disponible en ViX (nivel de AVOD) incluye:
Estados Unidos
Casi 1,000 partidos gratuitos en vivo y acceso a más de 500 partidos de las más destacadas ligas de Sudamérica, entre ellas el Campeonato Brasilero, la Liga Profesional de Fútbol de Argentina, la Primera División de Colombia y la Liga 1 de Perú, por un tiempo limitado.
Cobertura exclusiva de más de 75 partidos de la Liga de Expansión de México y la Liga Femenil MX.
Acceso premium a partidos selectos de UEFA Champions League, la Liga MX y la Selección Nacional Femenil de Estados Unidos
México
En México ViX será el destino digital de la Copa Mundial de la FIFA Qatar 2022

Transmisión en vivo en "Zona TUDN" del sorteo del 1 de abril, con Adriana Monsalve, Andrés Vaca, Hristo Stoichkov, Julio Ibáñez, Paco Villa, Rafa Márquez, Toño de Valdés y Javier Zanetti en vivo desde Doha.
Transmisión simultánea en vivo de al menos 30 partidos.
Contenido exclusivo y análisis exhaustivo por parte de nuestro equipo de expertos en el canal "Zona TUDN".

Exclusivos partidos de la Liga de Expansión de México y Liga Femenil MX.
MÁS CONTENIDO DE MÚSICA
"Uforia con Bad Bunny: el evento que revolucionó la música en el 2020". Este especial, que se estrena hoy 31 de marzo, lleva a los televidentes detrás del escenario de un evento musical en vivo de Uforia con Bad Bunny ocurrido el 20 de septiembre de 2020 en la ciudad de Nueva York. En el peor momento de la pandemia, este evento épico llevó al escenario a uno de los más grandes artistas del planeta de una manera sin precedente, tras superar los muchos desafíos de llevar un concierto en vivo a los hogares de los fans de la música en NYC y todo el mundo. Este especial cuenta la historia de cómo Uforia logró guardar el mayor secreto de todos los tiempos y ofreció a más de 10 millones de fans una experiencia inolvidable que repercutió en todo el mundo. Con la ayuda de la ciudad de Nueva York, su departamento de policía y Harlem Hospital, además del ingenio de innumerables personas creativas, Uforia diseñó y construyó un escenario sobre un camión especialmente adaptado y recorrió las calles del Bronx y Spanish Harlem para ofrecer un espectáculo musical en vivo, algo que nunca se había intentado. Ahora, por primera vez, ViX deja ver el enorme esfuerzo que fue necesario para montar este evento. 
MÁS PROGRAMACIÓN DE ENTRETENIMIENTO
"Detrás de cámaras". Este show lleva a los televidentes detrás de cámaras de los más exitosos reality shows de TelevisaUnivision. La primera edición de "Detrás de cámaras" ofrece un vistazo directo de los momentos íntimos que la audiencia no llega a ver durante la producción de "Tu cara me suena". Con tomas detrás de cámaras, entrevistas a los participantes, confesiones, grabaciones exclusivas y otros momentos nunca vistos del show, "Detrás de cámaras" es conducido por Rafael Araneda y se transmite después de cada episodio de "Tu cara me suena", los domingos a las 10 p.m. Este de Estados Unidos.
"Lo más ViXto". Conducido por Jomari Goyso de "Despierta América" y Sirey Morán, ganadora de "Nuestra belleza latina" de 2021, este magacín es la fuente más informada sobre lo que se debe ver en ViX. Durante cada episodio, los usuarios conocerán más detalles sobre los nuevos programas y contenido que se ofrecerá en ViX, y ven avances de populares series, películas, telenovelas y especiales en el servicio.
ViX está disponible hoy en Estados Unidos, México, Argentina, Bolivia, Chile, Colombia, Costa Rica, Ecuador, El Salvador, Guatemala, Honduras, Nicaragua, Panamá, Paraguay, Perú, República Dominicana, Uruguay y Venezuela.
Para más información visiten vix.com.
###  
Hagan clic aquí para bajar imágenes.
CONTACTOS:
Estados Unidos y Latinoamérica
Tatiana Oviedo, toviedo@univision.net
México
Sandra Oropeza, sandra@vix.com
###