The Spanish-Language media giant helps curb the spread of misinformation among the Latino community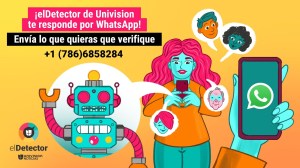 MIAMI – MARCH 29, 2022 – Univision News, the award-winning news division of TelevisaUnivision, the leading Spanish-language media and content company in the world, and the most trusted source of news for U.S. Hispanics, has now launched its fact-checking platform, "elDetector", on WhatsApp to help connect users with verified, trustworthy information. Univision News is the latest addition to WhatsApp's global fact-checking program, which currently comprises more than 50 fact-checking organizations, certified by the International Fact-Checking Network (IFCN) and use the WhatsApp Business App or the Business API.
"TelevisaUnivision's elDetector has allowed us to strengthen our public service journalism. It helps us verify and explain data on COVID-19 and vaccines when our community needs it most," said Leopoldo Gomez, President of Univision News. "As the main source of news and information for the Hispanic community, partnering with WhatsApp, an app popular with U.S. Latinos, was critical to continue fulfilling our commitment of informing and empowering our audience through quality, trusted journalism."
Misinformation is of particular concern among Spanish speakers in the U.S. Spanish language misinformation is not removed as quickly as English language misinformation from social media platforms. Also, A Nielsen report last year found that websites and apps are more popular with Latinos in the U.S. than other groups, which make them more susceptible both to exposure to misinformation and to share and amplify it.
To access TelevisaUnivision's elDetector on WhatsApp, users can add its number: +1-786-685-8284 to their contacts and message the information they would like verified. elDetector's chatbot will respond and help users assess the veracity of the information.
"TelevisaUnivision is recognized for providing critical reporting and information to Spanish-speaking audiences in the U.S., and we are confident that its fact-checking team will provide WhatsApp users who want to double-check the accuracy of something they're seeing with an equally important service on our platform," said Karishma Shah, Integrity Partnerships, WhatsApp.
Since the beginning of the pandemic, Univision News has expanded its coverage throughout the day and on every platform. It produced special programming for its flagship newscasts and newsmagazines and launched partnerships to reach Latino communities. Univision News published digital specials such as "Scars of the Pandemic" and held town halls with Dr. Fauci and other public health authorities. It also launched a tool that allows users to find their closest vaccination site using Vaccine Finder data.
Additionally, Univision News has partnered with the Bilingual Journalism Program at the Craig Newmark Graduate School of Journalism at CUNY on the "elDetector" to train a new generation of fact-checkers. Students and Univision News journalists will collaborate to identify and manage misinformation within the Latino community.
"This partnership will offer our students the opportunity to train and collaborate with Spanish-language journalists on how to identify and curb Spanish-language misinformation," said Carmen Graciela Diaz, Director of the Bilingual Journalism Program at the Newmark Journalism School. "We are proud of this partnership with Univision News and the students in our Advanced Reporting on Latino Communities class led by professors Adriana Gallardo and Initi Pacheco are eager to serve as Spanish language fact checkers for our community."
The automated chatbot was built on the WhatsApp for Business platform with support from Meedan, a technology partner.
ADDITIONAL INFORMATION:
Follow @eldetectorunivision on Instagram, Facebook and Tiktok, and @eldetectoruni on Twitter, or visit elDetector. Visit corporate.univision.com/newco for more information on TelevisaUnivision, and follow @UCIPRTeam on Twitter and Instagram.
CONTACT: Jose Zamora, josezamora@univision.net.
###
Univision Noticias Lanza Servicio de Verificación de Datos por WhatsApp
El gigante de los medios de comunicación en español ayuda a frenar la propagación de desinformación entre la comunidad hispana
MIAMI – 29 DE MARZO DE 2022 – Univision Noticias, la galardonada división de noticias de TelevisaUnivision, la compañía de contenido y medios en español líder en el mundo, y la fuente de noticias en la que más confían los hispanos de EE.UU., lanzó hoy su plataforma de verificación de datos, "elDetector" en WhatsApp para ayudar a conectar a los usuarios con información verificada y confiable de una forma más rápida y eficaz. Univision Noticias se incorpora así al programa global de verificación de datos de WhatsApp, que actualmente comprende más de 50 organizaciones de verificación de datos, certificadas por la Red Internacional de Verificación de Datos (IFCN, por sus siglas en inglés) que utilizan la aplicación WhatsApp Business o la interfaz de programación de aplicaciones(API) empresarial.
"ElDetector de Univision Noticias ha reforzado nuestro periodismo de servicio público. Hemos podido verificar y explicar datos sobre el covid-19 y las vacunas cuando nuestra comunidad más lo ha necesitado", dijo Leopoldo Gómez, presidente de Univision Noticias. "Como la principal fuente de noticias e información para la comunidad hispana, hemos creado esta importante colaboración con WhatsApp para seguir cumpliendo nuestro compromiso de informar y empoderar a nuestra audiencia a través de periodismo de calidad", agregó Gómez.
La difusión de información errónea es particularmente preocupante entre los hispanohablantes en EE.UU. La desinformación en español no se elimina tan rápido como la información errónea en inglés de las plataformas de redes sociales. Además, un informe de Nielsen del año pasado encontró que los sitios web y las aplicaciones móviles son más populares entre los latinos en EE.UU. que entre otros grupos, lo que los hace más susceptibles tanto a estar expuestos a la desinformación, como a compartirla y amplificarla.
Para acceder a elDetector de TelevisaUnivision en WhatsApp, los usuarios pueden agregar el número: +1-786-685-8284 a sus contactos y enviar un mensaje con la información que desean verificar. El chatbot de elDetector responderá y ayudará a los usuarios a evaluar la veracidad de la información.
"TelevisaUnivision es reconocida por proporcionar reportajes e información vital para las audiencias de habla hispana en los Estados Unidos, y estamos seguros de que su equipo de verificación de datos proporcionará a los usuarios de WhatsApp un servicio igualmente importante en nuestra plataforma", dijo Karishma Shah, miembro del equipo de Integridad y Alianzas de WhatsApp.
Desde el inicio de la pandemia, Univision Noticias ha ampliado su cobertura a lo largo del día y en todas las plataformas. Produjo programación especial para sus principales noticieros y revistas de noticias y lanzó alianzaspara llegar a las comunidades latinas. Univision Noticias publicó especiales digitales como "Cicatrices de la pandemia", realizó foros públicos con el Dr. Fauci y otras autoridades y expertos en temas de salud pública. También lanzó una herramienta que permite a los usuarios encontrar el centro de vacunación más cercanoutilizando los datos de Vaccine Finder.
Además, Univision Noticias se asoció con el Programa de Periodismo Bilingüe de la Escuela Craig Newmark de CUNY para capacitar a una nueva generación de verificadores de datos junto al equipo de "elDetector". Los estudiantes y los periodistas de Univision Noticias colaborarán para identificar y combatir la desinformación dentro de la comunidad hispana.
"Esta alianza permitirá que los estudiantes reciban entrenamiento y colaboren con elDetector para aprender a identificar y atajar la desinformación en español", expresó Carmen Graciela Díaz, directora de la especialización de Periodismo Bilingüe en la Escuela Newmark de Periodismo de CUNY. "Es un orgullo colaborar con Univision Noticias en la formación de fact-checkers en español en EE.UU. desde nuestra clase de Reportaje Avanzado sobre Comunidades Latinas, liderada por los profesores Adriana Gallardo e Inti Pacheco", indicó Díaz.
El chatbot de elDetector se creó en la plataforma WhatsApp for Business con el apoyo técnico de Meedan.
INFORMACIÓN ADICIONAL:
Sigue a @eldetectorunivision en Instagram, Facebook y Tiktok, y @eldetectoruni en Twitter, o visite elDetector. Visite corporate.univision.com/newco para obtener más información sobre TelevisaUnivision y siga a @UCIPRTeam en Twitter e Instagram.
CONTACTO: Jose Zamora, josezamora@univision.net.
 ###