The Home of Soccer Continues Its Unparalleled Multiplatform Coverage from the Road to Qatar with Decisive Matches US vs. Panama (3/27) and Mexico vs. El Salvador (3/30)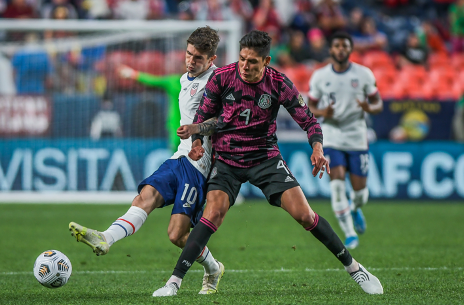 MIAMI – MARCH 18, 2022 – TUDN, the undisputed Home of Soccer, will bring fanáticos thrilling action from the Road to Qatar as the U.S. Men's National Team (USMNT) and Mexican National Team (El Tri) vie for a coveted ticket to this year's FIFA World Cup. The multiplatform coverage includes the awaited Clash of Giants, where El Tri will host USMNT (Thursday, 3/24 at 9 p.m. ET on Univision and TUDN).
After three hard-fought matches in U.S. soil during 2021, it's time for USMNT to visit the iconic Estadio Azteca to take on El Tri. The historic matchup will mark the final faceoff between the Concacaf giants for World Cup seed until qualifying play begins for the 2030 World Cup. Currently, both teams have 21 points in the standing table and a victory could be decisive.
Continuing with its unparalleled coverage from the Road to Qatar, on matchday TUDN will be live from Estadio Azteca with the popular shows Línea de Cuatro and Fútbol Club broadcasting from the venue. Also, for the first time in three years, the entire team of sportscasters covering the matchup will be at the stadium. TUDN's prestigious team of sports journalists includes: 
Host: Alejandro Berry
Play by Play: Jose Luis López Salido and Pablo Ramírez.
Analyst/Commentator: Marcelo Balboa and Jesús Bracamontes.
Reporter: Gibran Araige and Gina Olguin.

TUDN will also telecast the U.S. faceoff against Panama (3/27 at 6 p.m.; UNIMÁS and TUDN) and Mexico vs. El Salvador (3/30 at 9 p.m.; Univision and TUDN). The Emmy-award winning pre-game show "Fútbol Central" will air prior to the matches providing fans the warm-ups, interviews, and lineup breakdowns.
ADDITIONAL INFORMATION:
Matches are available to stream to all authenticated TUDN subscribers via the TUDN app and TUDN.TV.
Following the matchup, the sports rivalry between both countries will continue with "Mexico vs. USA Showdown" in Combate Global's 2022 kickoff event (12 a.m. ET/PT on Univision and 12 a.m. ET/ 9 p.m. PT on TUDN).
CONTACT: Juan Yoshika jyoshika@univision.net
###
 La Selección Nacional Masculina de Estados Unidos y la de México Se Enfrentan en el Esperado Choque de Gigantes el 24 de Marzo por Univision y TUDN
 La Casa del Fútbol continúa su cobertura sin par en plataformas múltiples desde el Camino a Qatar con partidos decisivos, Estados Unidos contra Panamá (3/27) y México contra El Salvador (3/30)
 MIAMI –18 DE MARZO DE 2022– TUDN, la casa del fútbol, ofrecerá a los fanáticos emocionante acción del Camino a Qatar cuando la Selección Nacional Masculina de Estados Unidos (USMNT) y la de México (el Tri) se enfrenten por un codiciado pase a la Copa Mundial de la FIFA de este año. La cobertura en plataformas múltiples incluirá el esperado Choque de Gigantes entre el Tri y USMNT (jueves, 3/24 a las 9 p.m. Este por Univision y TUDN).
Tras tres partidos muy reñidos en territorio estadounidense durante 2021, es hora de que la selección de Estados Unidos visite el emblemático Estadio Azteca para enfrentarse al Tri. El histórico encuentro será el último encuentro de eliminatorias mundialistas entre los gigantes de la Concacaf hasta que empiecen las eliminatorias para la Copa Mundial de 2030. En este momento, cada equipo tiene 21 puntos en la tabla, y una victoria sería decisiva.
Continuando su cobertura sin par del Camino a Qatar, TUDN tendrá contenido completo durante la jornada decisiva desde el Estadio Azteca con los populares programas Línea de Cuatro y Fútbol Club, que se trasmitirán desde allí. Además, por primera vez en tres años, todo el equipo de locutores deportivos que cubrirá el encuentro estará en el estadio. El prestigioso equipo de locutores de TUDN  incluye a: 
Anfitrión: Alejandro Berry
Anunciadores: José Luis López Salido y Pablo Ramírez.
Analistas/comentaristas: Marcelo Balboa y Jesús Bracamontes.
Reporteros: Gibrán Araige y Gina Olguín.

TUDN también trasmitirá el encuentro entre Estados Unidos y Panamá (3/27 a las 6 p.m.; UNIMÁS y TUDN) y entre México y El Salvador (3/30 a las 9 p.m.; Univision y TUDN). El programa de antesala "Fútbol Central", ganador del Emmy, saldrá al aire antes de los partidos para ofrecer a los fans todo sobre el calentamiento y los jugadores, además de entrevistas.
INFORMACIÓN ADICIONAL:
Los suscritores con autenticación de TUDN podrán ver los partidos vía la aplicación de TUDN y TUDN.TV.
Después del encuentro, la rivalidad deportiva de los dos países continuará con "México contra USA Showdown" en el evento inicial de 2022 de Combate Global (12 a.m. Este/Pacífico por Univision y 12 a.m. Este/ 9 p.m. Pacífico por TUDN).
CONTACTO: Juan Yoshika jyoshika@univision.net
###