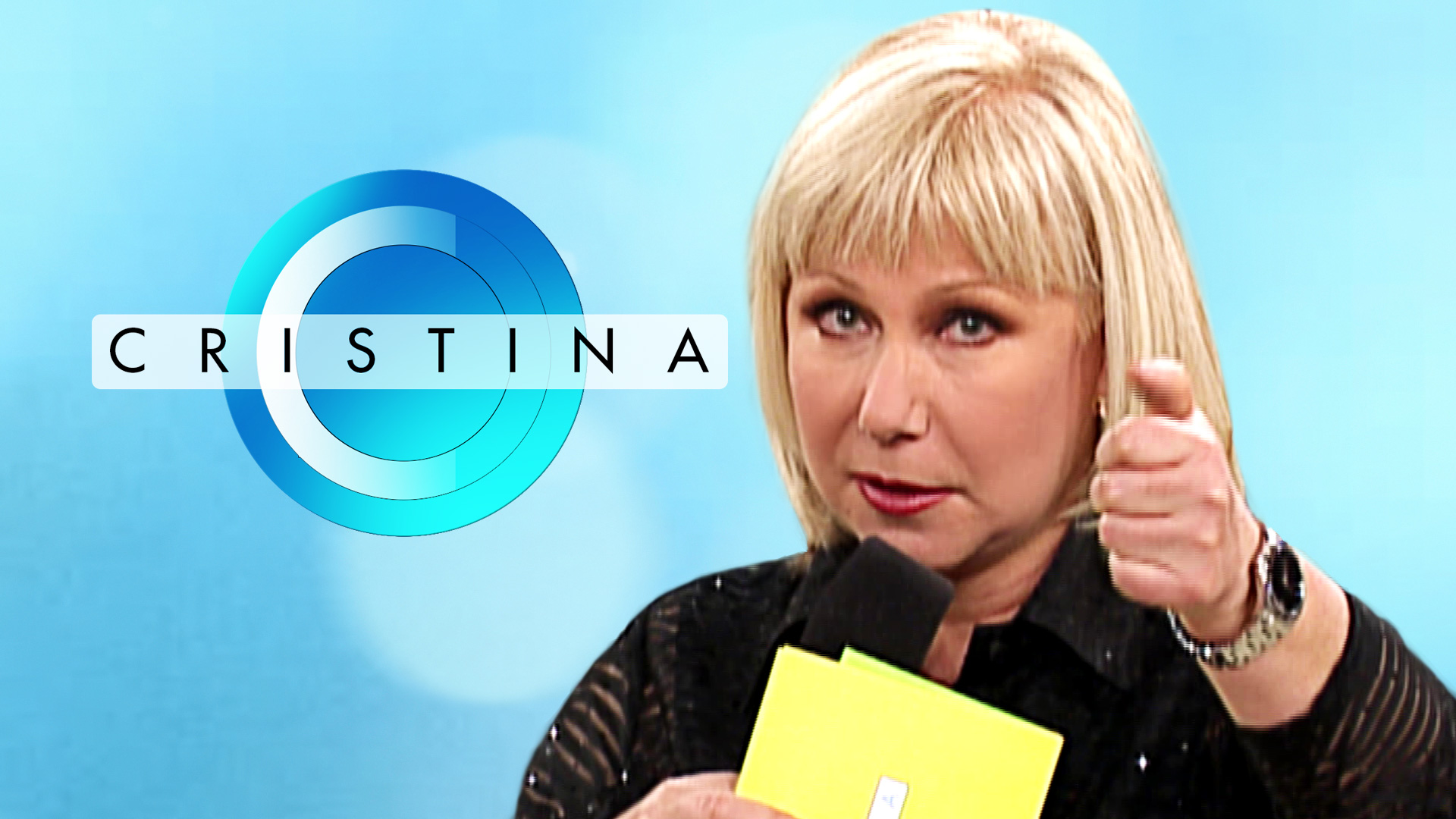 New Channel Dedicated to the Iconic Univision Talk Show "El Show de Cristina"
 Other New Channels Include: "PrendeTV Junior," "Novelas y Risas" and "Series y Suspenso"
MIAMI – APRIL 22, 2021 – PrendeTV, Univision's free, Spanish-language streaming service, today added four new channels to its premium lineup, including "Cristina" a channel dedicated exclusively to Univision's iconic "El Show de Cristina" talk show, and the network's first entertainment show to premiere on the platform. The new channel offerings also include an expansion of the children's content with the launch of "PrendeTV Junior," and the addition of new series and telenovelas on the "Series de Suspenso" and "Novelas y Risas" channels.  PrendeTV launched last month and is currently the most downloaded Spanish-language app on the Apple App Store, Google Play Store, and is among the Top 3 apps on Roku's TV En Español category.
Binge Memorable Episodes of "El Show de Cristina"
PrendeTV is the only destination offering viewers full episodes of Univision's iconic, Emmy award-winning talk show, "El Show de Cristina". During its more than 20-year run on Univision, the show became the No. 1 U.S.-produced talk show on Spanish-language television in the U.S. and reached millions of viewers worldwide. Cristina Saralegui is a beloved personality in the Hispanic community who has inspired viewers with her powerful, entertaining and always impactful show.
Renowned for its open conversations around taboos and hot-button topics still relevant today, the episodes include "Saliendo del closet después de los 30" ("Coming out as gay after 30), "Familias separadas" (Separated Families) featuring families separated at the border with Univision News anchor Jorge Ramos as a guest and more. Other memorable episodes include interviews with telenovela heartthrobs, "Los bombones de telenovelas."
Additional New Programming for the Entire Family
"PrendeTV Junior" features high-quality children's programming to spark imaginations, including "La Fauna de Fanny" (Willa's WildLife), "Harry y su Cubeta de Dinosaurios" (Harry and His Bucket Full of Dinosaurs) and "Meteor y Sus Amigos" (Meteor and the Mighty Monster Trucks).
"Novelas y Risas" spotlights laugh-out-loud novelas from Comarex and Globo, such as "El Tiempo No Para" (Time Doesn't Stop).
"Series y Suspenso" features nail-biting, suspenseful programming from Caracol, Globo and RCN, including "Inflitrados" (Undercover) and "El Laberinto" (The Labyrinth)
Home to the widest selection of the most popular Spanish-language, binge-worthy programming available to viewers in the U.S., PrendeTV now features 50 streaming channels and more than 30,000 hours of content from world-class movies and entertainment studio partners, to premier programming from Univision and Televisa's robust content libraries exclusive to PrendeTV.
PrendeTV is available free of charge across mobile and connected TV devices Amazon Fire TV, Apple (iOS and tvOS), Google (Android phones and TV devices), Roku and via the web on prende.tv.
Fans can follow @prendeTV on Instagram and Twitter or join the PrendeTV Facebook community for updates on programming and events.
For press assets, please visit: PrendeTV.com/Press.
CONTACTS:Julissa Bonfante 305.793/7082 jbonfante@univision.net
Tatiana Oviedo 305.463.4614 toviedo@univision.net
###
PrendeTV Ahora Ofrece 50 Canales Gratuitos de Streaming con más Nostalgia, Suspenso, Comedia y Programación Infantil  
Nuevo canal dedicado al emblemático talk show de Univision "El Show de Cristina"
Entre otros canales nuevos están: "PrendeTV Junior", "Novelas y Risas" y "Series y Suspenso"
MIAMI – 22 DE ABRIL DE 2021– PrendeTV, el servicio gratuito de streaming en español de Univision, agregó hoy cuatro canales a su programación de primera, entre ellos "Cristina", un canal dedicado exclusivamente al emblemático talk show de Univision "El Show de Cristina" y el primer programa de entretenimiento de la cadena que se estrenará en la plataforma. Los nuevos canales también incluirán la expansión de contenido infantil con el lanzamiento de "PrendeTV Junior", además de nuevas series y telenovelas en los canales "Series de Suspenso" y "Novelas y Risas". PrendeTV se lanzó el mes pasado y actualmente es la aplicación en español con más descargas de la App Store de Apple y Google Play Store, y figura entre las tres aplicaciones más populares de la categoría de TV en Español de Roku.
Memorables episodios de "El Show de Cristina" que no te puedes perder
PrendeTV es el único destino que ofrece a los televidentes episodios completos del emblemático talk show de Univision "El Show de Cristina", ganador del premio Emmy. Durante sus más de 20 años en Univision, el programa ocupó el primer lugar entre los talk shows producidos en Estados Unidos en la televisión en español del país y tuvo una sintonía de millones de televidentes en todo el mundo. La célebre Cristina Saralegui es muy popular en la comunidad hispana y ha inspirado a los televidentes con su enérgico, entretenido y siempre impactante show.
Entre sus episodios, conocidos por sus conversaciones abiertas sobre tabús y temas candentes que aún tienen relevancia, están "Saliendo del closet después de los 30″ y "Familias separadas" sobre aquellas a ambos lados de la frontera, con el presentador Jorge Ramos de Univision Noticias como invitado. Entre otros episodios memorables está "Los bombones de telenovelas" con entrevistas a galanes de la televisión. 
Nueva programación adicional para toda la familia
"PrendeTV Junior" presenta programación infantil de alta calidad para estimular la imaginación, incluidos "La fauna de Fanny", "Harry y su cubeta de dinosaurios" y "Meteor y sus amigos".
"Novelas y Risas" incluye novelas de Comarex y Globo que provocan carcajadas, como "El tiempo no para".
"Series y Suspenso" ofrece programación para comerse las uñas y llena de suspenso de Caracol, Globo y RCN, incluidos "Inflitrados" y "El laberinto".
PrendeTV, el destino de la más extensa selección de la programación más popular en español que amerita maratones para los televidentes en Estados Unidos ahora tiene 50 canales de streaming y más de 30,000 horas de contenido de destacados estudios de películas y entretenimiento, como también programación de primera de las robustas videotecas de contenido de Univision y Televisa, exclusivas a PrendeTV.
PrendeTV está disponible gratis en dispositivos móviles y televisores conectados de Amazon Fire TV, Apple (iOs y tvOS), Google (teléfonos y dispositivos de televisión de Android), Roku e internet en prende.tv.
Los fans pueden seguir @PrendeTV en Instagram y Twitter o unirse a la comunidad de Facebook de PrendeTV  para la última información sobre programación y eventos.
Para obtener materiales de prensa, por favor, visiten: PrendeTV.com/Press.
CONTACTOS:
Julissa Bonfante 305.793/7082 jbonfante@univision.net
Tatiana Oviedo 305.463.4614 toviedo@univision.net
###