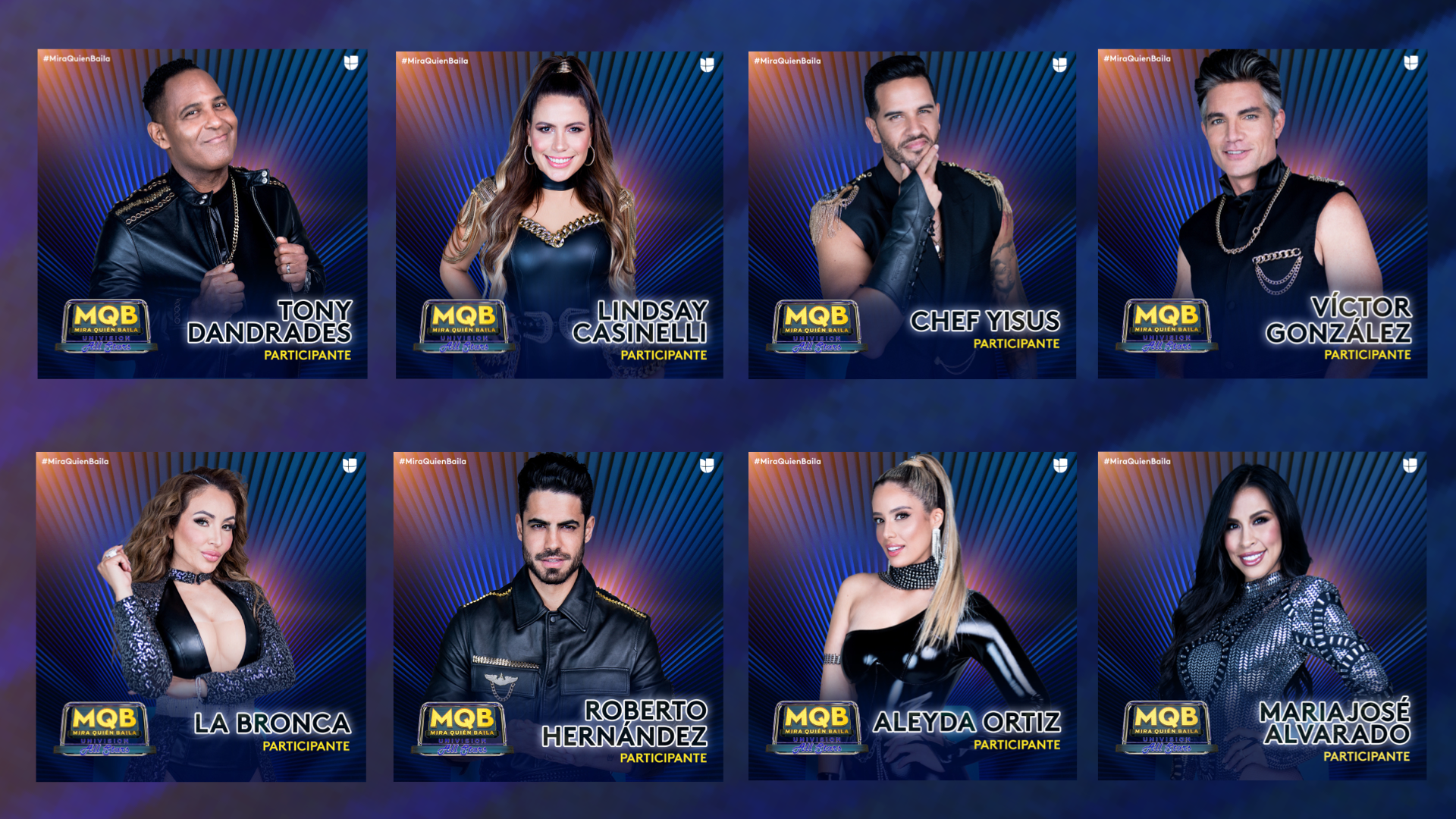 The Premiere Features a Duel Round That Will Create a Friendly Rivalry on the Dancefloor
The Celebrities Reveal the Designated Charities They Will Represent During the Season
MIAMI – MARCH 10, 2021 – The dancefloor is ready for the grand premiere of "Mira Quién Baila Univision All Stars," a special edition of Univision's megahit dance competition that this year celebrates its 10th anniversary. Presenting for the first time a cast made up entirely of Univision personalities, the show will continue to feature sensational dance numbers as the participant stars compete for their designated charity. "Mira Quien Baila Univision All Stars" premieres this Sunday, March 14, at 8 p.m./ 7 CT on Univision.
The show will open with a spectacular musical number that includes the eight celebrities participating in this special edition of the show. Following their first joint performance, the competition will kick off with a duel round that will create a friendly rivalry on the dancefloor. The duels are:
Tony Dandrades Chef Yisus, dancing salsa.
Mariajosé Alvarado La Bronca, dancing regional Mexican music.
Roberto Hernández Víctor González, dancing quickstep.
Lindsay Casinelli Aleyda Ortiz, dancing tango.
The star actress and singer Patricia Manterola makes her debut as a judge and joins creative director and professional dancer Casper Smart and former Miss Universe and winner of the fifth season of "Mira Quién Baila" Dayanara Torres. The judges, who will play a crucial role in this year's competition, will evaluate technique, evolution, and the stars' storytelling abilities through their dance numbers. Acclaimed choreographer and dancer Toni Costa returns as mentor to the stars.
Univision's beloved personality Borja Voces will join the show for the first time as a host, alongside popular TV host and actress Chiquinquirá Delgado. Former Miss Puerto Rico and current "Mira Quién Baila" title-holder Kiara Liz will bring fans all the action from backstage.
The designated organizations the celebrities will represent are:
"Mira Quién Baila All Stars" is a co-production of Univision and Endemol Shine Boomdog.
Visit corporate.univision.com/newco for more information on Univision and follow @UnivisionPRTeam on Twitter and Instagram.
CONTACT: Jenisei Couso 305-471-1692 jcouso@univision.net
###
¡
A Bailar! La Popular Competencia "Mira Quién Baila Univision All Stars" Empieza el Domingo a las 8 p.m./ 7 Centro
El estreno incluirá una ronda de duelos que generará rivalidades amistosas en la pista de baile
Las celebridades revelan las obras benéficas que han designado y representarán durante la temporada
MIAMI –10 DE MARZO DE 2021– La pista de baile está lista para el gran estreno de "Mira Quién Baila Univision All Stars", una edición especial de la sumamente exitosa competencia de baile de Univision. Por primera vez en sus 10 años, el show presentará un elenco conformado por personalidades de Univision y seguirá ofreciendo sensacionales números de baile cuando las estrellas participantes compitan por la obra benéfica que han designado. "Mira Quién Baila Univision All Stars" se estrenará este domingo, 14 de marzo a las 8 p.m./ 7 Centro por Univision.
El show empezará con un espectacular número musical que incluirá a las ocho celebridades que participan en esta edición especial del programa. Después de su primera actuación juntos, la competencia empezará con una ronda duelos que generará rivalidad amistosa en la pista de baile. Los duelos son:
Tony Dandrades bailará salsa contra Chef Yisus.
Mariajosé Alvarado bailará música regional mexicana contra La Bronca.
Roberto Hernández bailará el quickstep contra Víctor González.
Lindsay Casinelli bailará tango contra Aleyda Ortiz.
La estelar actriz y cantante Patricia Manterola hará su debut como miembro del jurado y se unirá al director creativo y bailarín profesional Casper Smart y la ex Miss Universo Dayanara Torres, ganadora de la quinta temporada de "Mira Quién Baila". Los miembros del jurado, quienes desempeñarán un papel crucial en la competencia de este año, evaluarán la técnica, evolución y capacidad narrativa de las estrellas en los números de baile. El aclamado coreógrafo y bailarín Toni Costa volverá como asesor de las estrellas.
Borja Voces, querida personalidad de Univision, se unirá al programa por primera vez como conductor, junto con la popular conductora y actriz de televisión Chiquinquirá Delgado. Kiara Liz, ex Miss Puerto Rico y actual campeona de "Mira Quién Baila", ofrecerá a los fans toda la acción desde detrás del escenario.
Las entidades designadas que las celebridades representarán son:
"Mira Quién Baila All Stars" es una producción conjunta de Univision y Endemol Shine Boomdog.
Visiten corporate.univision.com/newco para más información sobre Univision, y sigan @UnivisionPRTeam en Twitter e Instagram.
CONTACTO: Jenisei Couso 305-471-1692 jcouso@univision.net
###