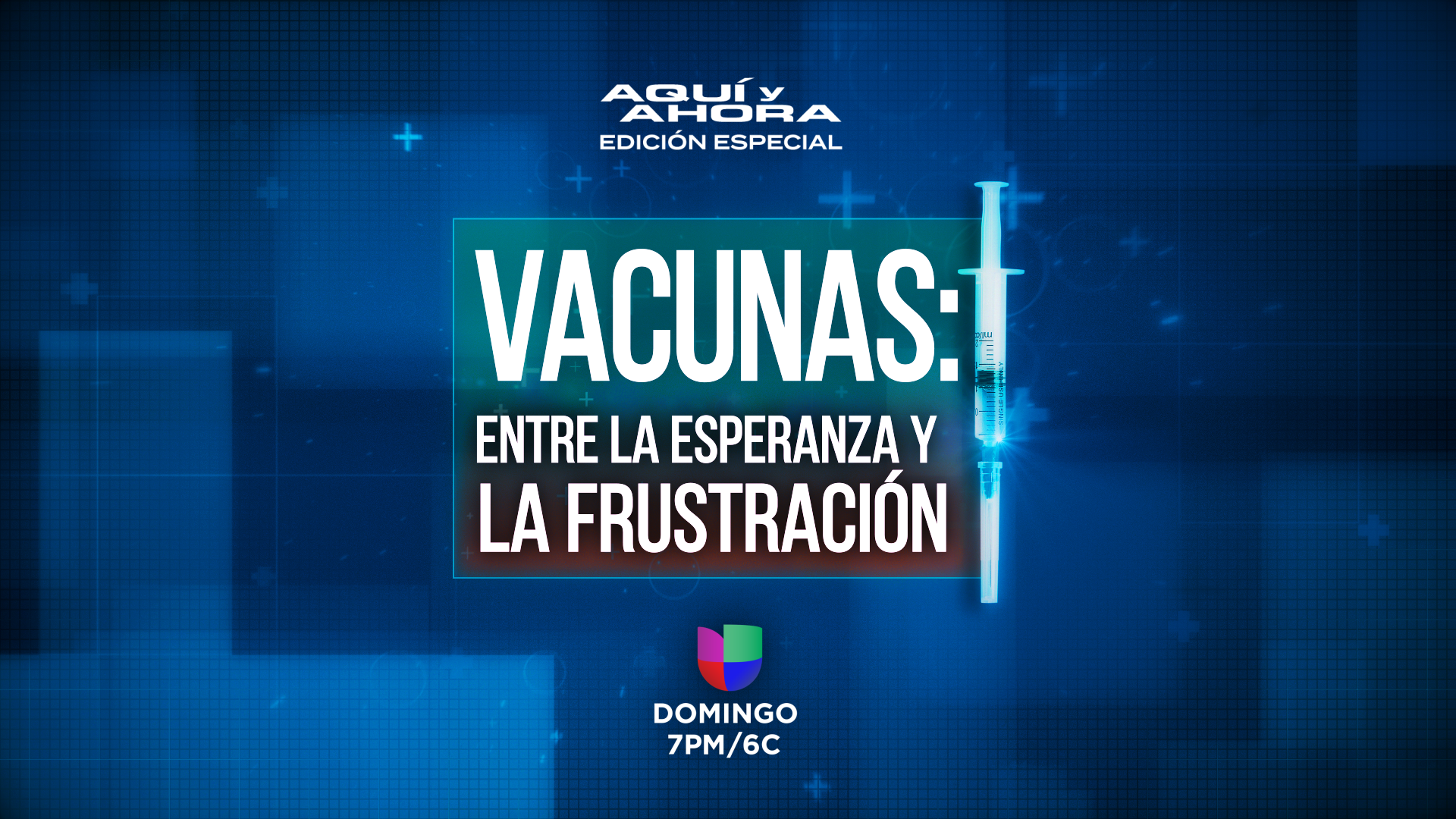 Sunday, February 14, 2021 at 7 p.m. ET / PT (6 p.m. CT)
MIAMI – FEBRUARY 11, 2021 – Univision News announces "Vaccines: Between Hope and Frustration," an "Aquí y Ahora" special Town Hall with the Director of the National Institute of Allergy and Infectious Diseases (NIAID) and Chief Medical Adviser to President Biden, Dr. Anthony Fauci. The special will focus on COVID-19 vaccines and their distribution. The special will be held on Sunday, February 14, 2021 at 7 p.m. ET / PT (6 p.m. CT) on Univision supported by The Chan Zuckerberg Initiative, CZI.
In a moment when U.S. vaccination efforts are lagging and new strains of the virus are starting to spread throughout the country, "Aquí y Ahora" monitors and reports on the first phase of the COVID-19 vaccine distribution and on how Hispanics, who have been disproportionately hit by the COVID-19 crisis, are falling behind in vaccination rates.
The special tells the stories of and gives voice to farm workers in California, exposing the difficulties they are facing in accessing to the vaccine. The challenges of the elderly to schedule vaccination appointments, and the risk of infection being faced by essential workers in the food and construction industries. The special also looks into the COVID-19 illegal vaccine market and the dangers of the clandestine business.
Dr. Fauci and a panel of distinguished experts will respond to the Hispanic community's questions, including what is the health status of those who have already received the vaccine? How long will it take for everyone in the U.S. to be vaccinated? How and when will farm workers have access to the vaccine? What are the dangers of getting the vaccine illegally?
The "Aquí y Ahora" special town hall is part of Univision's commitment to continue providing the Hispanic community reliable and trustworthy information that can help them navigate and better understand the pandemic and the vaccination process.
HOSTS
CORRESPONDENTS
DATE AND TIME
Sunday, February 14, 2021 at 7 p.m. ET / 6 p.m. CT / 10 p.m. PT.
WHERE TO WATCH
Univision Network, UnivisionNoticias.com, Univision Noticias on Facebook, Univision News on YouTube, @UniNoticias on Twitter and using the hashtag #AquíyAhora
Visit corporate.univision.com/newco for more information on Univision and follow @UnivisionPRTeam on Twitter and Instagram.
CONTACT:  Sandra Ramos 305.894.8563 sandraramos@univision.net
###
Univision Noticias Presenta Foro con el Dr. Anthony Fauci "Vacunas: entre la esperanza y la frustración"
Domingo 14 de febrero de 2021 a las 7 p.m. ET / PT (6 p.m. CT)
MIAMI – 11 DE FEBRERO DE 2021 – Univision Noticias anuncia "Vacunas: Entre la esperanza y la frustración", un foro especial de "Aquí y Ahora" con el Director del Instituto Nacional de Alergias y Enfermedades Infecciosas (NIAID) y Asesor Médico en Jefe del Presidente Biden, Dr. Anthony Fauci. El especial se centrará en las vacunas contra el COVID-19 y su distribución. El especial se llevará a cabo el domingo 14 de febrero de 2021 a las 7 p.m. ET / PT (6 p.m. CT) en la Cadena Univision con el apoyo de The Chan Zuckerberg Initiative, CZI.
En un momento en el que los esfuerzos de vacunación en Estados Unidos se están retrasando y nuevas cepas del virus están comenzando a extenderse por todo el país, "Aquí y Ahora" monitorea e informa sobre la primera fase de la distribución de la vacuna contra el COVID-19 y sobre cómo los hispanos, que han sido afectados de manera desproporcionada por la pandemia se están quedando atrás en las tasas de vacunación.
El especial narra las historias y da voz a los trabajadores agrícolas de California, exponiendo las dificultades que tienen para conseguir acceso a la vacuna. Los desafíos de los ancianos para programar citas de vacunación y el riesgo de infección que enfrentan los trabajadores esenciales en las industrias de alimentos y la construcción. El especial también analiza el mercado ilegal de la vacuna contra COVID-19 y los peligros que representa el negocio clandestino.
El Dr. Fauci y un panel de distinguidos expertos responderán las preguntas de la comunidad hispana, incluyendo: ¿cuál es el estado de salud de quienes ya han recibido la vacuna? ¿Cuánto tiempo tardará en vacunarse toda la población de EEUU? ¿Cómo y cuándo tendrán acceso los trabajadores agrícolas a la vacuna? ¿Cuáles son los peligros de recibir la vacuna ilegalmente?
El foro especial de "Aquí y Ahora" es parte del compromiso de Univision de continuar brindando información confiable y fidedigna a la comunidad hispana, para que sus miembros puedan navegar y comprender la pandemia y el proceso de vacunación.
Presentadoras de Univision Noticias
Corresponsales 
FECHA Y HORA
Domingo, 14 de febrero de 2021 a las 7 p.m. ET / PT (6 p.m. CT).
DÓNDE VER EL FORO
Candea Univision, UnivisionNoticias.com, y Univision Noticias  en Facebook, Univision Noticias en YouTube, @UniNoticias en Twitter y con la etiqueta #AquíyAhora.
Visiten corporate.univision.com/newco para más información sobre Univision, y sigan @UnivisionPRTeam en Twitter e Instagram.
CONTACTO:  Sandra Ramos 305.894.8563 sandraramos@univision.net
###