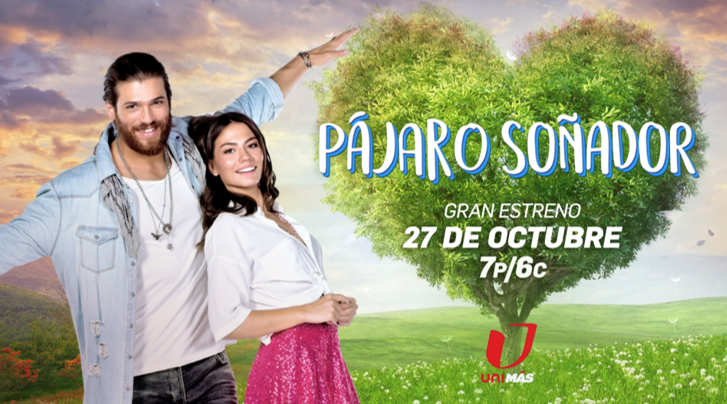 The International Hit Series Will Air Monday through Friday at 7 p.m. ET/PT (6 p.m. CT)
WHAT: "Pájaro Soñador" (Daydreamer), the first Turkish romantic comedy to come to the U.S., premieres Tuesday, October 27 at 7 p.m. ET/PT (6 p.m. CT) on UniMás. The fun-filled story of unexpected love between a charming young lady and an adventurous photographer will broadcast Monday through Friday at the same timeslot.
This high-quality production featuring astonishing international locations and talented, attractive actors will win the audience over with its fresh, extravagant stories that everyone will be able to identify with.  In a lighthearted way, "Pájaro Soñador" tells the story of Sanem (Demet Özdemir), an aspiring writer who is forced by her parents to choose between an arranged marriage and finding the right job. When she finds a job at an advertising agency, she soon falls in love with her boss, Can (Can Yaman). As romance blossoms, they embark upon an adventure that will transform their lives and the lives of those around them.
Other renowned actors that are part of the cast include Sevcan Yasar and Birand Tunca, who have played roles that resonated and became very popular in Turkey.
"Pájaro Soñador," the love story
Daydreamer, Sanem, is a natural and cheerful girl who helps at her father's grocery store. She dreams of becoming a writer and wants to live in the Galapagos. It is only when a young man named Zebercet asks her hand in marriage, that she finds the motivation she needed to get a job and avoid marrying him. Her family pushes her to make up her mind, telling her that if she can't find a decent job, they will give their permission to her prospective groom "Zebercet" to try to win her over. Sanem will find a job at one of Turkey's biggest advertising agencies where her older sister Leyla works an executive assistant and launches into a tumultuous world of love and adventure.
Aziz, the owner of the advertising agency has two sons, Emre who is the youngest and Can, his eldest son. Emre wants to take over the business, but his father considers that Can is better fitted for the job, and names him manager of the agency. Can handsome, free-spirited, adventurous, creative, with tons of charisma, and self-confidence, has what his father is seeking for the business. But Can loves his current job, taking photos in remote places of the world. He doesn't like living in Istanbul, but he finally agrees to take over the business when he learns that his father is having health problems. He knows that it would be hard for him to get settled in the city, but he wants to please his father. Emre doesn't like the idea that his brother would run the business because he believes that he deserves this position and plans to make his brother fail.
At the agency, Can falls victim to Sanem's charms and she cannot help falling in love with him. When their worlds collide, she will introduce Can to something he has never felt before: love.
WHEN AND WHERE: Monday to Friday at 7 p.m. ET/PT (6 p.m. CT) on UniMás.
ADDITIONAL INFORMATION: Viewers can join the conversation using the hashtag #PájaroSoñadorUS and follow UniMás on Twitter via @Unimas, as well as on Facebook.com/Unimas and Instagram via @Unimas. They can also watch the program live with the Univision app, available on iOS, Android and the internet.
Click here to download photos and videos.
Visit corporate.univision.com/newco for more information about Univision, and follow @UnivisionPRTeam on Twitter and Instagram.
CONTACT: Tatiana Oviedo 305.463.4614 toviedo@univision.net
###
"Pájaro Soñador", la Primera Comedia Romántica Turca en Llegar a Estados Unidos, se Estrena el 27 de Octubre por UniMás
La exitosa serie internacional se trasmitirá de lunes a viernes a las 7 p.m. Este/Pacífico (6 p.m. Centro)
QUÉ: "Pájaro Soñador", la primera comedia romántica de origen turco en llegar a Estados Unidos se estrena el martes, 27 de octubre a las 7 p.m. ET/PT (6 p.m. CT) por UniMás. La divertida historia de un amor inesperado entre una encantadora joven y un fotógrafo aventurero se trasmitirá de lunes a viernes en el mismo horario.
Esta producción de alta calidad, imponentes locaciones internacionales y talentosos y atractivos actores cautivará al público con sus historias extravagantes y frescas con las que todos se podrán identificar. Con un toque divertido, "Pájaro Soñador" presenta la historia de Sanem (Demet Özdemir), una joven con aspiraciones de convertirse en escritora, que es obligada por sus padres a elegir entre un matrimonio concertado y encontrar un trabajo adecuado. Al buscar un nuevo trabajo en una empresa de publicidad, pronto se enamora de su jefe, Can (Can Yaman). A medida que el romance florece, se embarcan en una aventura que transformará sus vidas y las de quienes los rodean.
El elenco cuenta también con otros reconocidos actores, como Sevcan Yasar y Birand Tunca, quienes desarrollaron personajes que resonaron y se hicieron muy populares en Turquía.
"Pájaro Soñador", la historia de amor
La soñadora Sanem, es una chica natural y alegre que ayuda en la tienda de comestibles de su padre. Sueña con convertirse en escritora y quiere vivir en Galápagos. Sólo cuando el desafortunado Zebercet quiere pedirle la mano en matrimonio, encuentra la motivación que necesitaba para buscar trabajo y escapar de casarse con él. Su familia la empuja a tomar esta decisión, diciéndole que, si no puede encontrar un trabajo decente, le darán su permiso al futuro novio "Zebercet" para tratar de conquistarla. Sanem encontrará trabajo en una de las agencias de publicidad más importantes de Turquía donde Leyla, su hermana mayor es asistente ejecutiva y se lanzará a un mundo tumultuoso de amor y aventuras.
Aziz, el dueño de la agencia tiene dos hijos, Emre que es el menor y Can, su hijo mayor. Emre quiere hacerse cargo del negocio, pero su padre considera que Can está mejor preparado para el trabajo y lo nombra gerente de la agencia. Can guapo, de espíritu libre, aventurero, creativo, con mucho carisma y confianza en sí mismo, tiene lo que busca su padre para la empresa. Pero a Can le encanta el trabajo que hace actualmente, tomando fotos en lugares remotos del mundo. No le gusta vivir en Estambul, pero finalmente acepta dirigir la empresa cuando se entera de que su padre tiene problemas de salud. Sabe que le resultará difícil establecerse en la ciudad, pero quiere complacer a su padre. A Emre no le gusta la idea de que su hermano sea el gerente. Cree que se merece ese puesto más que él y planea hacer fracasar a su hermano.
Trabajando en la empresa de su padre, Can sucumbirá ante el encanto de Sanem. Sanem no podrá evitar enamorarse de él y cuando sus mundos choquen, ella le presentará a Can un sentimiento que nunca ha experimentado: el amor.
CUÁNDO Y DONDE: Lunes a viernes a las 7 p.m. Este/Pacífico (6 p.m. Centro) por UniMás.
INFORMACION ADICIONAL: Los televidentes pueden unirse a la conversación usando el hashtag #PájaroSoñadorUS y seguir a UniMás en Twitter vía @Unimas, como también en Facebook.com/Unimas e Instagram vía @Unimas. También pueden ver el programa en vivo vía la aplicación de Univision, disponible en iOS, Android e internet.
Hagan clic aquí para descargar fotos y videos.
Visiten corporate.univision.com/newco para más información sobre Univision y sigan @UnivisionPRTeam en Twitter e Instagram.
CONTACTO: Tatiana Oviedo 305.463.4614 toviedo@univision.net
###