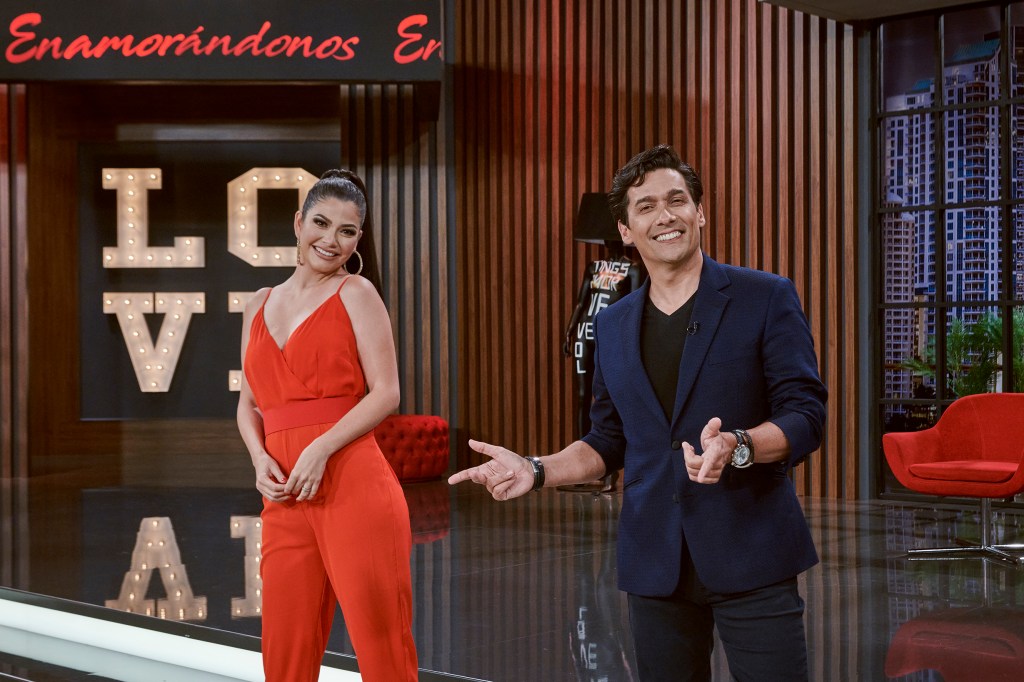 Featuring the Show's First Baby, New Engagements and More Love Stories, the Hit reality Show, Hosted by Ana Patricia Gámez and Rafael Araneda, Will Air Monday through Thursday at 8 p.m. ET/PT (7 p.m. CT) 
Migbelis Castellanos and Roberto Hernández Will Present the Best of the Week on a New Digital Show 
MIAMI – SEPTEMBER 9, 2020 – After breaking ratings records during its 2019/2020 season, "Enamorándonos"(Love is in the Air), the hit reality show dedicated to finding true love, returns on September 14 and will air Monday through Thursday at 8 p.m. ET/PT (7 p.m. CT) on UniMás. Presented by beloved hosts Ana Patricia Gámez and Rafael Araneda, "Enamorándonos" comes back with more surprises than ever. 
"'Enamorándonos' conquered the hearts of Hispanic America and made UniMás the fastest-growing broadcast network in primetime during the 2019/2020 season," said Jessica Rodriguez, president of Entertainment and CMO, Univision. "The show's return will be bigger than ever with more opportunities to find true love in the most innovative and interactive live multiplatform reality show on TV." 
The long-awaited return of "Enamorándonos" will feature: 
New participants from different cities across the U.S. and Puerto Rico who will come to the 

palco del amor

 (love stage) to find their soulmates.

 

Important announcements by couples that came together during the show including the birth of the first "Enamorándonos" baby, weddings that will take place before the end of the year and new engagements that will make the audience believe in love even more.

 

A renovated studio, featuring an expanded and more comfortable lounge area where the 18 

amorosos

(participants) will seek that special connection with their 

flechados

 (love interests) after saying "

que sí, que sí

," while the band "Los Cupidos" adds a musical touch to the fun-filled program.

 
A new digital show, hosted by Migbelis Castellanos and "Enamorándonos" love correspondent Roberto Hernández, will give the audience a sneak peek of what happens behind the scenes, as well as a recap of the most memorable moments of the week. More details will be made available in the coming weeks. 
Since its debut, "Enamorándonos" has reached a monthly average of more than 10 million viewers and reported a three-digit increase in audience. The reality show featured 118 "amorosos" and 600 "flechados" in search of true love, as well 165 dates. "Enamorándonos" matched many happy couples, two of whom are engaged, and awarded a lucky couple from the audience the wedding and honeymoon of their dreams. 
After taking a break as a safety precaution due to the global pandemic, "Enamorándonos" will continue implementing strict measures during its return and following the advice and guidance from federal and state officials and health agencies. 
Looking for your better half? 
Viewers who want to participate in the show may call (833) 266-7700 or visit EnamorandonosUSA.com/aplica and EnamorandonosUSA on Facebook and Instagram. Those who advance to the next round will have a chance to meet their love interest. Every evening, participants will have an initial chat with a wall between them to ensure that they have more than a physical attraction. If there is a connection, the wall is withdrawn and the two will move on to an in-studio café to continue their conversation. Later on, they will be asked if they are interested in going on a date outside the studio and followed by a camera. If no sparks fly between them during the date, the candidates return to the show until they finally find their soulmate, no matter how long it takes. 
Viewers can join the conversation following the hashtag #EnamorandonosUSA on Facebook and Instagram. 
Visit corporate.univision.com/newco for more information on Univision and follow @UnivisionPRTeam on Twitter and Instagram. 
 CONTACT: Tatiana Oviedo  305.463.4614 toviedo@univision.net 
### 
Suenan las Campanas de Boda en el Regreso "Enamorándonos" a UniMás el Lunes, 14 de Septiembre  
Con la primera bebé del show, nuevas pedidas de mano y más historias de amor, el exitoso reality, conducido por Ana Patricia Gámez y Rafael Araneda, se trasmitirá de lunes a jueves a las 8 p.m. Este/Pacífico (7 p.m. Centro) 
Migbelis Castellanos y Roberto Hernández presentarán lo mejor de la semana en un nuevo showdigital 
MIAMI – 9 DE SEPTIEMBRE DE 2020 – Tras romper récords de audiencia durante su temporada de 2019/2020 "Enamorándonos", el exitoso reality dedicado a encontrar el amor verdadero, regresa a partir del 14 de septiembre y se trasmitirá de lunes a jueves a las 8 p.m. Este/Pacífico (7 p.m. Centro) por UniMás. Presentado por los populares conductores Ana Patricia Gámez y Rafael Araneda, "Enamorándonos" vuelve con más sorpresas que nunca. 
"'Enamorándonos' conquistó el corazón de los hispanos en Estados Unidos e hizo de UniMás la cadena de señal abierta de más rápido crecimiento en horario estelar durante la temporada de difusión de 2019/2020", dijo Jessica Rodríguez, presidenta de Entretenimiento y directora ejecutiva de Mercadeo de Univision. "El regreso del show será mejor que nunca, con más oportunidades para encontrar el amor verdadero en el reality más innovador e interactivo de la televisión, en vivo y en plataformas múltiples" 
El muy esperado retorno de "Enamorándonos" incluirá: 
Nuevos participantes de diferentes ciudades de Estados Unidos y Puerto Rico, quienes llegarán al "palco del amor" para encontrar a su media naranja.

 

Anuncios importantes por parejas que se formaron en el

 show

, entre ellos el nacimiento de la primera bebé de "Enamorándonos", bodas que se realizarán antes de que finalice este año y nuevas pedidas de matrimonio que harán que la audiencia crea aun más en el amor.

 

Un estudio renovado con un área más amplia y cómoda, en la que los 18 "amorosos" buscarán tener esa conexión especial con sus ¨flechados" después de decir "

que sí, que sí

", mientras que la banda de "Los Cupidos" le pone el toque musical al divertido programa.

 
Un nuevo programa digital, conducido por Migbelis Castellanos y Roberto Hernández, el corresponsal del amor de"Enamorándonos", presentará lo que sucede detrás de cámaras, además de un resumen de los momentos más memorables del show cada semana. Se anunciarán más detalles en semanas próximas. 
Desde su estreno, "Enamorándonos" ha tenido un alcance mensual promedio de más de 10 millones de televidentes y reportado un incremento de tres dígitos en audiencia. El reality presentó 118 "amorosos" y 600 "flechados" en busca del amor verdadero, además de 165 citas románticas. "Enamorándonos" logró flechar a muchas parejas felices, entre ellas dos que se comprometieron para casarse, y regaló a unos afortunados novios del público la boda y luna de miel de sus sueños. 
Luego del receso que tomó como medida de precaución ante la pandemia mundial, "Enamorándonos" continuará implementando medidas estrictas y acatando los consejos y las recomendaciones de las autoridades federales y estatales, y las agencias de salud. 
¿En busca de tu media naranja? 
Los televidentes que deseen participar en el programa pueden contactarse llamando al 1(833)266-7700 o visitando EnamorandonosUSA.com/aplica y EnamorandonosUSA en Facebook e Instagram. Quienes avancen a la siguiente ronda tendrán la oportunidad de conocer a la persona que les interesa. Cada noche, los participantes entablan una conversación inicial detrás de una pared que los separa para asegurar que la atracción no solo sea física. Si hay una conexión, la pared se retira y los dos van a un café en el estudio para continuar la conversación. Luego se les pregunta si están interesados en salir en una cita romántica fuera del estudio, seguidos por una cámara. Si no hay atracción entre ellos en la cita, los candidatos regresan al programa hasta que por fin encuentren a su pareja ideal, sin importar el tiempo que tome. 
Los televidentes pueden participar en la conversación usando el hashtag #EnamorandonosUSA en Facebook e Instagram. 
Visiten corporate.univision.com/newco para más información sobre Univision, y sigan @UnivisionPRTeam en Twitter e Instagram. 
CONTACTO: Tatiana Oviedo 305.463.4614 toviedo@univision.net 
###