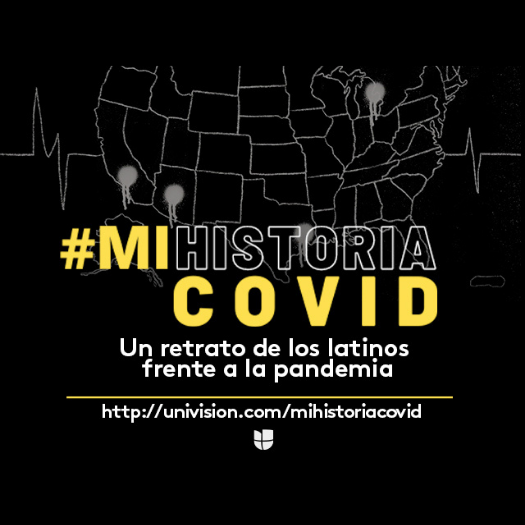 WHAT: Univision Local Digital launches "#MiHistoriaCOVID," a digital documentary series that shines a light on Latino front-line workers during the COVID-19 pandemic, as one in three Hispanics in the United States has caught the virus.
Each episode will feature the story of a Latino essential worker and honor their solidarity and courage. From doctors, pharmacy staff, law enforcement workers and firefighters to delivery persons, street sweepers, telecommunications workers, farmworkers, funeral home staff, public transportation employees and more, "#MiHistoriaCOVID" is a tribute to the resiliency of the Hispanic community and the human spirit during a once-in-a-lifetime public health crisis.
WHO: The first episode highlights the story of Michael Chaires, a young Latino living in Texas and separated from his family in Los Angeles.  His father is an essential worker that has tested positive for COVID-19.
WHEN: Now available on Univision.com/mihistoriacovid, with new episodes premiering every Thursday through November 5. Each episode will be available on Univision NOW a week after its premiere.
ADDITIONAL INFO: "#MiHistoriaCOVID" was commissioned by Univision through a grant from the International Center of Journalists and Facebook. A trailer for the series can be found here.
Visit corporate.univision.com/newco for more information on Univision, and follow @UnivisionPRTeam on Twitter and Instagram.
CONTACT:  Julissa Bonfante, 305-894-8635, jbonfante@univision.net
###
Medios Locales Digitales de Univision Destacan a los Trabajadores Latinos que Están en la Primera Línea con el Lanzamiento de "#MiHistoriaCOVID"
QUÉ: Medios Locales Digitales de Univision presentan "#MiHistoriaCOVID", una serie de documentales digitales que destacan a los latinos que están en la primera línea durante la pandemia del COVID-19, ya que 1 de cada 3 personas infectadas en Estados Unidos es hispana.
Cada episodio presentará la historia de un latino o latina que desempeña un trabajo esencial y aplaudirá su solidaridad y valentía. Desde médicos, personal de farmacias, agentes de la ley y bomberos hasta repartidores, barrenderos, empleados de empresas de telecomunicaciones, campesinos, personal de funerarias, trabajadores de transporte público y otros, "#MiHistoriaCOVID" es un homenaje a la resiliencia de la comunidad hispana y el espíritu humano durante una crisis de salud pública única en la vida.
QUIÉN: El primer episodio presenta la historia de Michael Chaires, un joven latino que vive en Texas y está separado de su familia en Los Ángeles.  Su padre es un trabajador que se ha contagiado del COVID-19.
CUÁNDO: Ya está disponible en Univision.com/mihistoriacovid. Se estrenarán nuevos episodios todos los jueves hasta el 5 de noviembre. Cada episodio estará disponible en Univision NOW una semana después de su debut.
INFORMACIÓN ADICIONAL: "#MiHistoriaCOVID" fue realizado por Univision con una subvención del the International Center of Journalists y Facebook. Se puede ver un avance de la serie aquí.
Visiten corporate.univision.com/newco para más información sobre Univision y sigan @UnivisionPRTeam en Twitter e Instagram.
CONTACTO: Julissa Bonfante, 305-894-8635, jbonfante@univision.net
###