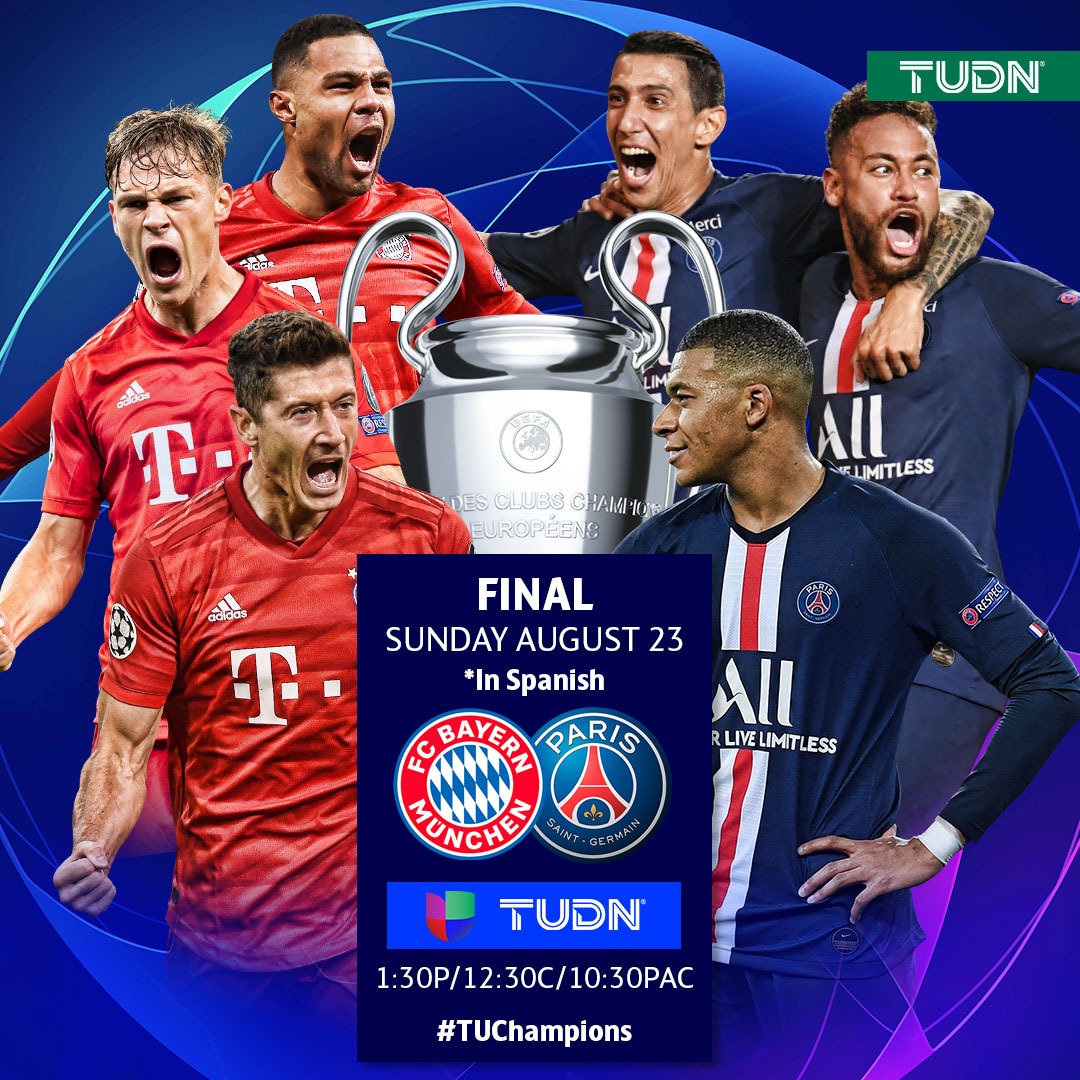 Univision's TUDN Brings Wall-to-Wall Coverage of the UEFA Champions League 2019-20 Finale Featuring Paris Saint-Germain and Bayern München on Sunday, August 23
TUDN's Comprehensive Coverage Gets Underway at 10 a.m. ET with Encores of the UCL Semis, Followed by LIVE Pre-Game Programming Including "Misión Europa" and Emmy-Award Winning "Fútbol Central"
Paris Saint-Germain and Bayern München Will Clash at 1:30 p.m. ET in Dramatic Final on Univision and TUDN
TUDN to Provide Immediate Post-game Coverage With a Special Edition of "República Deportiva"
MIAMI – AUGUST 21, 2020 – Univision's TUDN, the undisputed Home of Soccer in the U.S., is ready to bring fanáticos more than 10 hours of comprehensive pre and post-game coverage of the UEFA Champions League 2019-20 finale on Sunday, August 23, featuring Paris Saint-Germain (PSG) vs. Bayern München. The action kicks off at 10 a.m. ET as TUDN sets the stage for the day with encore editions of the Semi-Final round beginning with PSG-RB Leipzig, followed by Bayern vs. Lyon. TUDN's all-day coverage will then go live at 12 p.m. ET with TUDN's flagship program "Misión Europa" before shifting to Univision at 1:30 p.m. ET for the Emmy-award winning pre-game show "Fútbol Central" and TUDN's telecast of the 65th edition of Europe's premier club football tournament final from Lisboa, Portugal on Univision and TUDN.
A true clash of titans will take place at the Estádio Da Luz, when Bayern and PSG meet in the anticipated matchup. The French come to the finale after defeating RB Leipzig by 3-0 in the semifinals and with world-class stars Neymar Jr and Kylian Mbappé hungry to lead the team to their first Champions League trophy. Meanwhile, Bayern has won every match in the tournament and has scored a total of 42 goals in this edition. Robert Lewandowski, the prolific Polish star, will lead the German attack and has 15 goals in his personal account.
Immediately following the final whistle, Univision will air a special post-game edition of "República Deportiva" with the latest reaction and commentary from the match. TUDN's exclusive Spanish-language coverage of the matchup includes Diego Balado, Luis Omar Tapia and Paco Villa doing the play by play during the game. The studio hosts are Alejandro Berry, Lindsay Casinelli, Tony Cherchi with Daniel Chanona as the sideline reporter bringing the latest from Europe.
ADDITIONAL INFORMATION
The match is available digitally to all authenticated TUDN subscribers via the TUDN app and TUDN.TV. It will also air across the country on the TUDN Radio network. Audio coverage is also available via the TUDN and Uforia apps.
Visit corporate.univision.com/newco/TUDN for more information on TUDN, and follow @UnivisionPRTeam on Twitter and Instagram.
CONTACTS:
Tatiana Oviedo  305.463.4614 toviedo@univision.net
Kevin Sornatale 212.455.5259 ksornatale@univision.net
###
TUDN de Univision Ofrece Cubertura Integral de la Final de la UEFA Champions League 2019-20 entre Paris Saint-Germain y Bayern München el Domingo, 23 de Agosto
La cobertura completa en vivo por TUDN empezará a las 10 p.m. Este con repeticiones de los partidos de semifinales de la Champions, seguidas por programas EN VIVO antes del partido, incluidos "Misión Europa" y "Fútbol Central", ganador del Emmy
La dramática final entre Paris Saint-Germain y Bayern München empieza a la 1:30 p.m. por Univision y TUDN
TUDN ofrecerá cobertura inmediatamente después del partido con una edición especial de "República Deportiva"
MIAMI – 21 DE AGOSTO DE 2020– TUDN de Univision, el destino incuestionable del fútbol en Estados Unidos, está listo para ofrecer a los fanáticos más de 10 horas de cobertura integral antes y después de la final de la UEFA Champions League 2019-20 el domingo, 23 de agosto entre Paris Saint-Germain (PSG) y Bayern München. La acción empieza a las 10 a.m. Este, cuando TUDN prepare el terreno para el día con la repetición de la ronda semifinal, con PSG contra RB Leipzig y luego Bayern contra Lyon. La cobertura de todo el día por TUDN empezará en vivo a las 12 p.m. Este, con el destacado programa "Misión Europa", antes de pasar a Univision a la 1:30 p.m. Este, para el programa de antesala "Fútbol Central", ganador del Emmy, y la trasmisión de la 65ª edición de la final del principal torneo de clubes futbolísticos de Europa, desde Lisboa, Portugal, por Univision y TUDN.
Un verdadero enfrentamiento de titanes tendrá lugar en el Estádio Da Luz, cuando Bayern y PSG se encuentren en el muy esperado partido. Los franceses llegarán a la final tras derrotar a RB Leipzig 3-0 en las semifinales y con Neymar Jr y Kylian Mbappé, estrellas de renombre internacional, deseosos de dirigir a su equipo hasta su primer trofeo de Champions League. Mientras tanto, Bayern ha ganado cada partido del torneo y anotado un total de 42 goles en esta edición. Robert Lewandowski, prolífica estrella goleadora polaca, encabezará la ofensiva alemana con 15 goles en su cuenta personal.
Inmediatamente después del pitido final, Univision trasmitirá una edición especial de "República Deportiva" con la más reciente reacción y comentarios sobre el partido. La cobertura exclusiva en español por TUDN del encuentro incluirá a Diego Balado, Luis Omar Tapia y Paco Villa, quienes anunciarán cada jugada del partido. Los conductores en estudio serán Alejandro Berry, Lindsay Casinelli y Tony Cherchi, con Daniel Chanona como reportero al borde de la cancha, quien ofrecerá lo último desde Europa.
INFORMACIÓN ADICIONAL
El partido se ofrecerá en medios digitales a todos los suscriptores con autenticación de TUDN vía la aplicación de TUDN y TUDN.TV. También se difundirá en todo el país por la cadena TUDN Radio. Además, se ofrecerá cobertura de audio vía las aplicaciones de TUDN y Uforia.
Visiten corporate.univision.com/newco/TUDN para más información sobre TUDN y sigan @UnivisionPRTeam en Twitter e Instagram.
CONTACTOS:
Tatiana Oviedo 305.463.4614 toviedo@univision.net
Kevin Sornatale 212.455.5259 ksornatale@univision.net