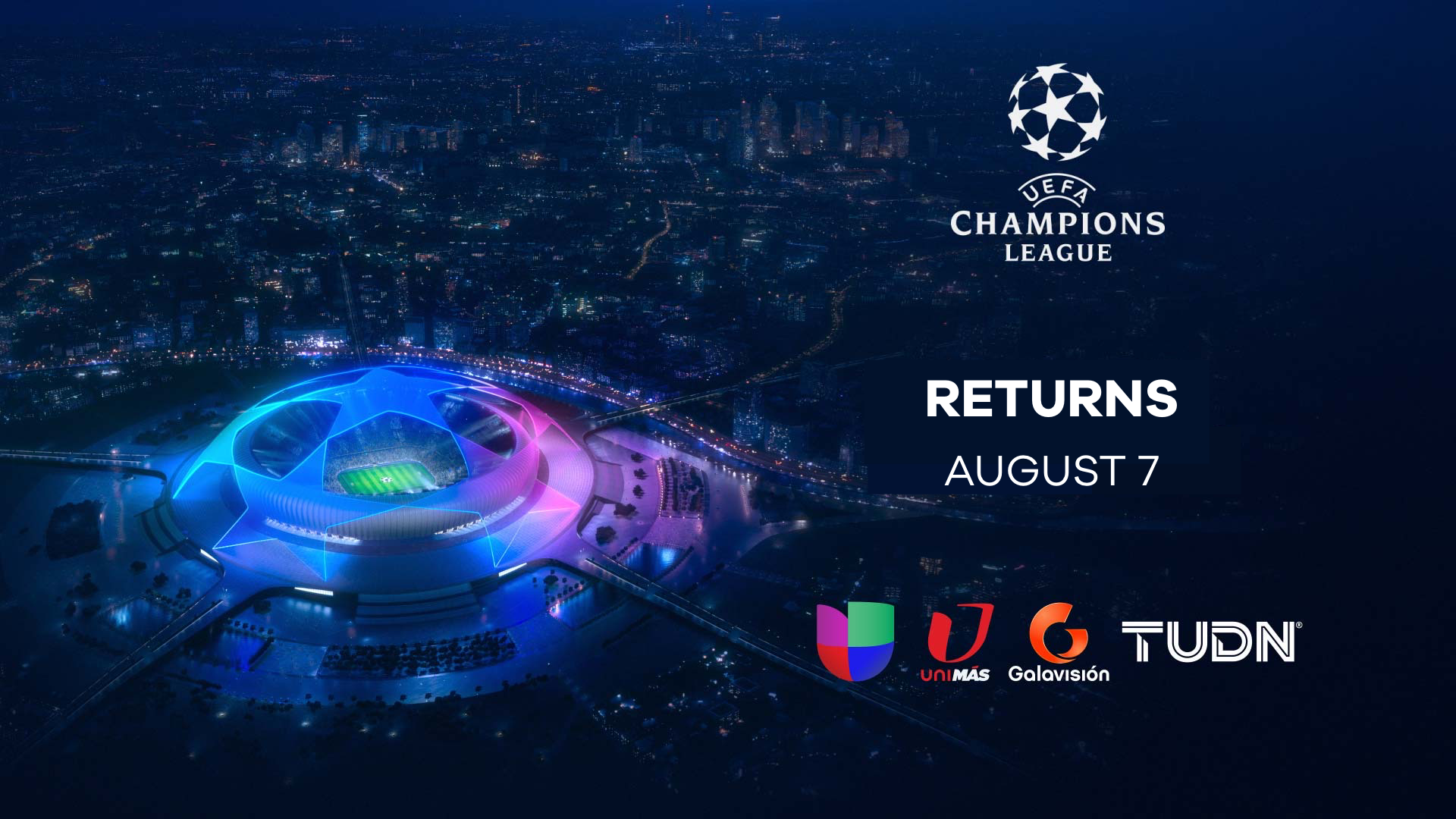 All 11 Remaining Matches From the Restart of Soccer's Most Prestigious Club Competition Will Be Distributed on Univision's Linear Networks Beginning August 7 
World's Top Teams Barcelona, Bayern, Chelsea, Juventus, Manchester City and Real Madrid Vie for a Spot in the Quarter-finals
MIAMI – JULY 30, 2020 – As the exclusive Spanish-language broadcaster, TUDN, the undisputed Home of Soccer, will bring live comprehensive coverage of the concluding chapter of the UEFA Champions League 2019-20 season. Soccer fanáticos will be able to follow all the action and drama as Europe's top clubs face off for the coveted title on Univision's networks – Univision, UniMás, Galavisión and TUDN – and streamed on the TUDN app and TUDN.TV. Matches also available via TUDN Radio.
Featuring the greatest soccer stars in the world including living legends Lionel Messi and Cristiano Ronaldo, as well as up-and-coming stars "Chucky" Lozano and Christian Pulisic, TUDN's coverage picks up right where the season left off with the concluding matches of the Round of 16's second leg on Friday, August 7 and Saturday, August 8. Following the matchups, Europe's top eight clubs will then move to Portugal where the battle for the Ol' Big Ears gets heated with a single-match-elimination knockout phase. The Quarter-Finals will take place from August 12 to August 15; the Semi-Finals on August 18 and 19 and the grand finale on August 23 at the Estádio da Luz.
Emmy-winning "Fútbol Central" pre-game show will precede all UEFA Champions League matches, while TUDN's flagship program "Misión Europa" will provide highlights and post-game analysis. TUDN's team of sportscasters includes UEFA Champions League winner and Ballon D'or 1994 Hristo Stoichkov, legendary Real Madrid and Inter de Milan striker Iván Zamorano, iconic UEFA Champions League commentators Luis Omar Tapia and Diego Balado. Coverage also includes European soccer experts Marc Crosas and Jose Hernández and hosts Alejandro Berry, Lindsay Casinelli, Tony Cherchi and Adriana Monsalve.
Coverage details are as follows:
ADDITIONAL INFORMATION
Matches airing on Univision, UniMás, Galavisión and TUDN are available digitally to all authenticated TUDN subscribers via the TUDN app and TUDN.TV.
UEFA Champions League matches will also air across the country on the TUDN Radio network. Audio coverage is also available via the TUDN and Uforia apps.
CONTACTS:
Tatiana Oviedo 305.463.4614 toviedo@univision.net
Kevin Sornatale 212.455.5259 ksornatale@univision.net
###
TUDN de Univision Presenta el Regreso de la UEFA Champions League 2019-20 en Televisión de Señal Abierta y Cable
Los 11 partidos que quedan tras el reinicio de la competencia más prestigiosa de clubes de fútbol se distribuirán por las cadenas de Univision a partir del 7 de agosto
Destacados equipos del mundo, Barcelona, Bayern, Chelsea, Juventus, Manchester City y Real Madrid, competirán por un lugar en los cuartos de final
MIAMI –30 DE JULIO DE 2020– Como su difusora exclusiva en español, TUDN, el destino incuestionable del fútbol, ofrecerá cobertura integral en vivo del último capítulo de la temporada 2019-20 de la UEFA Champions League. Los fanáticos del fútbol podrán seguir toda la acción y el drama cuando los más destacados clubes europeos se enfrenten por el codiciado campeonato en las cadenas de Univision –Univision, UniMás, Galavisión y TUDN– como también por internet en la aplicación de TUDN y TUDN.TV. Los partidos también estarán disponibles vía TUDN Radio.
La cobertura de TUDN, con las más grandes estrellas del fútbol en el mundo, entre ellas los legendarios Lionel Messi y Cristiano Ronaldo, además de las nuevas estrellas "Chucky" Lozano y Christian Pulisic, empezará donde se quedó la temporada, con los últimos partidos de la vuelta de los octavos de final el viernes, 7 de agosto y sábado, 8 de agosto. Después de los encuentros, los ocho destacados clubes europeos se trasladarán a Portugal donde la lucha por la Orejona se volverá más reñida en la fase de eliminación directa. Los cuartos de final tendrán lugar del 12 al 15 de agosto; las semifinales serán el 18 y 19 de agosto, y la gran final, el 23 de agosto en el Estádio da Luz.
El programa de antesala "Fútbol Central", ganador del Emmy, se trasmitirá antes de todos los partidos de la UEFA Champions League, mientras que el destacado programa "Misión Europa" de TUDN ofrecerá momentos culminantes y análisis después de los partidos. El equipo de locutores deportivos de TUDN incluirá a Hristo Stoichkov, ganador de la Champions League de UEFA y Ballon D'or en 1994; Iván Zamorano, legendario goleador de Real Madrid e Inter de Milán; y Luis Omar Tapia y Diego Balado, emblemáticos comentaristas de la Champions League de UEFA. La cobertura también incluirá a los expertos en fútbol europeo Marc Crosas y José Hernández, y a los conductores Alejandro Berry, Lindsay Casinelli, Tony Cherchi y Adriana Monsalve.
El horario de trasmisión es el siguiente:
INFORMACIÓN ADICIONAL
Los partidos que se trasmitirán por Univision, UniMás, Galavisión y TUDN estarán disponibles en medios digitales a todos los suscritores de TUDN con autenticación vía la aplicación de TUDN y TUDN.TV.
También se trasmitirán los partidos de la Champions League de UEFA en todo el país por la red de TUDN Radio. Además, habrá cobertura con audio vía las aplicaciones de TUDN y Uforia.
Visiten corporate.univision.com/newco/TUDN para más información sobre TUDN y sigan @UnivisionPRTeam en Twitter e Instagram.
CONTACTOS:
Tatiana Oviedo 305.463.4614 toviedo@univision.net
Kevin Sornatale 212.455.5259 ksornatale@univision.net
###