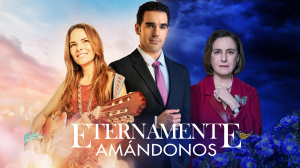 Will Paula and Rogelio be able to overcome the challenges and finally be able to enjoy their love?
Click here to download promotional assets
Miami, FL. – November 6, 2023 –Univision announced that the passionate love story ETERNAMENTE AMÁNDONOS, starring Alejandra Robles Gil, Marcus Ornellas, and Diana Bracho, will air its highly anticipated final episode on November 10 at 8p/7c. In this episode, audiences will learn the outcome of this intricate cycle, which includes betrayals, intrigue, and the unbreakable bonds that unite and sometimes separate families forever.
ETERNAMENTE AMÁNDONOS tells the story of Paula Bernal, a young woman who works singing in bars in Mexico City. There she meets Rogelio Iturbide, a modern man with whom she falls in love. The couple decides to get married and move to Morelia, Rogelio's hometown.
In Morelia, Paula meets Martina Rangel, Rogelio's mother, a traditional and powerful woman known as "The Monarch of Morelia." Martina is against Rogelio's modern point of view and, feeling threatened by Paula's influence over her son, declares war on her new daughter-in-law.
In the highly anticipated final episode, "The Monarch of Morelia" faces a difficult health challenge that could put her life in jeopardy, while fate puts Paula to the test once again. Will Paula and Rogelio's love be stronger than the obstacles? This and more will be revealed to viewers in the finale of this drama that has kept everyone on the edge of their seats.
Visit  TelevisaUnivision.com for more information on TelevisaUnivision and follow us on X and Instagram.
CONTACTS:  
Laura Paez lpaez@televisaunivision.com
Mauricio Ginestra mginestra@televisaunivision.com
###
ETERNAMENTE AMÁNDONOS de Univision, anuncia su esperado capítulo final el próximo 10 de Noviembre a las 8p/7c
¿Podrán Paula y Rogelio superar todos los retos y finalmente disfrutar de su amor?
Haz clic aqui para descargar material promocional
Miami, FL. – 6 de Noviembre del 2023 – Univision anunció hoy que la apasionante historia de amor ETERNAMENTE AMÁNDONOS, protagonizada por Alejandra Robles Gil, Marcus Ornellas y Diana Bracho, llegará a su esperado episodio final el próximo 10 de noviembre a las 8p/7c. En este episodio, la audiencia conocerá el desenlace de este intrincado ciclo, que incluyó traiciones, intrigas y los inquebrantables lazos que unen y a veces separan a las familias para siempre.
ETERNAMENTE AMÁNDONOS contó la historia de Paula Bernal, una joven apasionada por la música que trabaja cantando en bares de la Ciudad de México. Allí conoce a Rogelio Iturbide, un hombre moderno con el que se enamora. La pareja decide casarse y mudarse a Morelia, la ciudad natal de Rogelio.
En Morelia, Paula conoce a Martina Rangel, la madre de Rogelio, una mujer tradicional y poderosa que es conocida como "La Monarca de Morelia". Martina está en contra del punto de vista moderno de Rogelio y, al sentirse amenazada por la influencia de Paula sobre su hijo, le declara la guerra a su nueva nuera.
En el esperado episodio final, "La Monarca de Morelia" se enfrenta a un difícil reto de salud que podría poner su vida en juego, mientras que el destino pondrá a Paula a prueba una vez más. ¿El amor de Paula y Rogelio será más fuerte que los obstáculos? Esto y más lo sabrá la audiencia en el final de este drama que mantuvo a todos en vilo.
Visita televisaunivision.com para obtener más información sobre TelevisaUnivision y síguenos en X e Instagram.
CONTACTOS: 
Laura Paez lpaez@televisaunivision.com
Bettina Humphreys bhumpreys@televisaunivision.com