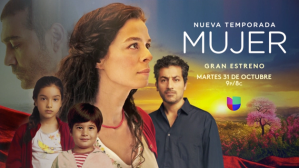 Click here to download press materials
Miami, FL. – October 12, 2023 – Univision announced today that after a successful first season, the Turkish drama MUJER will return to the screen on Tuesday, October 31st at 9p/8c. With an outstanding cast led by Özge Özpirinçci, Seray Kaya, Caner Cindoruk, and Feyyaz Duman breathing life into a touching story filled with intrigue, mysteries, betrayals, and a powerful message of love amidst adversity, this second season promises to answer the lingering questions that fans were left with in the previous installment.
The audience will witness Arif (Feyyaz Duman) falling even more in love with Bahar (Özge Özpirinçci), but he knows that she is profoundly hurt. Bahar has endured a great deal in recent months: she lost her husband, discovered he had a mistress, and that his mistress was her sister. Arif wants to be with her, but he understands he must wait until she's ready.
These events will lead us to wonder: What will happen to Arif if Bahar decides to give Sarp another chance when she discovers he's alive? The answer to this and much more will be revealed this season.
Visit televisaunivision.com for more information about TelevisaUnivision and follow us on X and Instagram.
CONTACTS: 
Laura Paez lpaez@televisaunivision.com
Mauricio Ginestra mginestra@televisaunivision.com
###
Univision anuncia el esperado regreso de MUJER en su segunda temporada el próximo 31 de octubre
Haz clic aquí para descargar material promocional
Miami, FL. – 12 de octubre, 2023 – Univision anunció hoy que, después de una exitosa primera temporada, el drama turco MUJER regresará a la pantalla el martes 31 de octubre a las 9p/8c. Con un elenco estelar encabezado por Özge Özpirinçci, Seray Kaya, Caner Cindoruk y Feyyaz Duman, quienes dan vida a una conmovedora historia llena de intrigas, misterios, traiciones y un poderoso mensaje de amor en medio de la adversidad, esta segunda temporada promete responder las preguntas pendientes que quedaron sin resolver en la entrega anterior.
La audiencia verá cómo Arif (Feyyaz Duman) se enamora aún más de Bahar (Özge Özpirinçci), pero él sabe que ella está profundamente herida. Bahar ha sufrido mucho en los últimos meses: perdió a su esposo, descubrió que tenía una amante y que esa amante era su hermana. Arif quiere estar con ella, pero entiende que debe esperar hasta que esté lista.
Estos eventos nos llevan a preguntarnos: ¿Qué pasará con Arif si Bahar decide darle otra oportunidad a Sarp cuando descubra que está vivo? La respuesta a esta y muchas más preguntas se revelará en esta temporada.
Visita televisaunivision.com para obtener más información sobre TelevisaUnivision y síguenos en X el Instagram.
CONTACTOS: 
Laura Paez lpaez@televisaunivision.com
Mauricio Ginestra mginestra@televisaunivision.com