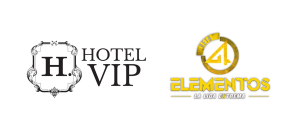 On Monday, October 23rd at 10p/9c, the thrilling finale of HOTEL VIP will leave us on the edge of our seats! Which celebrity will take home the grand prize?
RETO 4 ELEMENTOS, LA LIGA EXTREMA premieres on October 24th at 10p/9c with its most intense season yet
Click here to download promotional material
Miami, FL. – October 12, 2023 – UNIMÁS announced that the last week of October will be filled with adrenaline and emotions, starting on Monday, October 23rd at 10p/9c with the electrifying finale of HOTEL VIP. In the highly anticipated final night, audiences will discover who will be the last celebrities to remain in the hotel and which 2 will face off in the last duel. The winner of the duel will be the last celebrity to leave the hotel and will be the one who takes the grand prize. Adding to the excitement, former participating celebrities will be attending as spectators.
On Tuesday, October 24th, at 10p/9c, RETO 4 ELEMENTOS is back for a fourth edition with LA LIGA EXTREMA featuring returning hosts Montserrat Olivier, Adrián Di Monte, and presenter José Figueroa. This season promises to be the most spectacular and extreme one yet. The very best of the best will be participating: the most experienced and daring champions from previous seasons, determined to ensure that each encounter is truly breathtaking.
RETO 4 ELEMENTOS, LA LIGA EXTREMA, in addition to the usual excitement, brings several new elements. These include "The Sacrifice," where one man and one woman from "The Village" will be at risk of elimination, and the "Power Bracelet," which will be awarded once per cycle, granting its bearer special powers and responsibilities.
For more information, visit  televisaunivision.com and follow us on X and Instagram.
CONTACTS: 
Mauricio Ginestra mginestra@televisaunivision.com
Laura Paez lpaez@televisaunivision.com
###
Sintoniza UNIMÁS para una dosis de adrenalina con el final de HOTEL VIP y el estreno de RETO 4 ELEMENTOS, LA LIGA EXTREMA
El lunes 23 de octubre a las 10p/9c, el final de HOTEL VIP nos dejará sin palabras ¿Cuál de los famosos se llevará el gran premio? 

RETO 4 ELEMENTOS, LA LIGA EXTREMA estrena el 24 de octubre a las 10p/9c con la temporada más intensa hasta el momento
Haz clic aquí para descargar material promocional
Miami, FL. – octubre 12, 2023 – UNIMÁS anunció que la última semana de octubre estará llena de mucha adrenalina y emociones, comenzando el lunes 23 de octubre a las 10p/9c con el electrizante desenlace de HOTEL VIP. En la muy esperada noche final, el público descubrirá quiénes serán los últimos famosos que quedarán en el hotel y cuáles 2 se enfrentarán en el último duelo, donde exparticipantes famosos asistirán como espectadores. El ganador del duelo será el último famoso en salir del hotel y quien se llevará el gran premio.
El martes 24 de octubre, a las 10p/9c será el regreso de RETO CUATRO ELEMENTOS en su cuarta entrega, llamada LA LIGA EXTREMA y conducida por Montserrat Olivier, Adrián Di Monte, y el presentador José Figueroa. Esta temporada promete ser la más extrema de todas, en donde participará lo mejor de lo mejor; los campeones más experimentados e intrépidos de temporadas anteriores, decididos a asegurar que cada encuentro sea verdaderamente impresionante.
RETO CUATRO ELEMENTOS, LA LIGA EXTREMA además de la acostumbrada emoción, trae diferentes novedades como "El Sacrificio", en donde un hombre y una mujer de "La Aldea" estarán en riesgo de ser eliminados, y el "Brazalete de Poder", que será uno por ciclo y le dará a su portador poderes especiales y responsabilidades.
Para más información, visita televisaunivision.com y síguenos en X e Instagram.
CONTACTOS: 
Mauricio Ginestra mginestra@televisaunivision.com
Laura Paez lpaez@televisaunivision.com