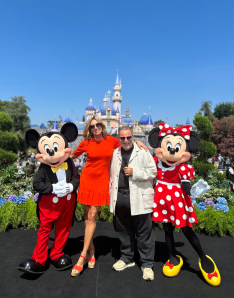 The quarter-century festivities included two days of fun and laughter with iconic Disney characters and special guests Eugenio Derbez and Melissa Marty
Click here to download photo gallery
Miami, FL. – September 18, 2023 – Univision's EL GORDO Y LA FLACA celebrated its 25th anniversary at Disneyland Resort on September 14 and 15. Beloved show hosts Lili Estefan and Raúl De Molina returned to the "Happiest Place on Earth" after 10 years for this special occasion, celebrating with fans and followers, as well as iconic Disney characters Mickey Mouse, Minnie Mouse, Donald Duck, Daisy Duck, and Miguel from the Disney and Pixar Academy Award-winning film COCO.
TV's funniest couple kicked off the celebration at Disneyland with Sleeping Beauty Castle as their backdrop, then headed to Paradise Gardens in Disney California Adventure Park for a magical celebration of Mexico's Independence Day with music by two-time GRAMMY® award-winning group Mariachi Divas. Over the two days,Lili Estefan and Raúl De Molina hosted special guests and celebrities Melissa Marty and Eugenio Derbez, who gave a sneak peek of his latest film RADICAL, which will be released in U.S. theaters on November 3.
EL GORDO Y LA FLACA symbolizes the trajectory and continuity of Latino entertainment on television in the United States and show hostsLili Estefan and Raúl De Molina have become familiar faces in Hispanic homes across the nation. Univision's hit entertainment news show is celebrating 25 uninterrupted years on-air with the original hosts, and non-stop success. During its time on air, the weekday program has kept viewers up to speed on everything that's happening in the world of entertainment, presenting numerous exclusive interviews, and A-list stars on set.
On the road to this special milestone, EL GORDO Y LA FLACA has taken over New York City and San Juan, Puerto Rico. The celebration will culminate "back home" in Miami on September 21 with an unforgettable afternoon full of special surprises.
Join the conversation on social media by following the hashtag #ElGordoYLaFlaca on Facebook, Instagram, and X. For more information visit Univision.com/ElGordoYLaFlaca.
To learn more about TelevisaUnivision, visit televisaunivision.comand follow us on X and Instagram.
CONTACTS: 
Laura Paez lpaez@televisaunivision.com
Bettina Humphreys bhumphreys@televisaunivision.com
###
EL GORDO Y LA FLACA de Univision llega a Disneyland Resort para una celebración temprana del 25 aniversario del programa
Las festividades del cuarto de siglo incluyeron dos días de diversión y risas con icónicos personajes de Disney e invitados especiales Eugenio Derbez y Melissa Marty
Haga clic aquí para descargar la galería de fotos
Miami, FL. – 18 de septiembre de 2023 – EL GORDO Y LA FLACAde Univision celebró su 25 aniversario en Disneyland Resort el 14 y 15 de septiembre. Los queridos presentadores del programa, Lili Estefan y Raúl De Molina, regresaron al "Lugar más feliz del mundo" después de 10 años para esta ocasión especial, celebrando con fans y seguidores, así como con los icónicos personajes de Disney Mickey Mouse, Minnie Mouse, Donald Duck, Daisy Duck y Miguel de la película ganadora del Oscar de Disney y Pixar COCO.
La pareja más divertida de la televisión inició las celebraciones en Disneyland con el Castillo de la Bella Durmiente como telón de fondo, y luego se dirigió a Paradise Gardens en Disney California Adventure Park para una celebración mágica de el Día de la Independencia de México con música del grupo ganador de dos premios GRAMMY® Mariachi Divas. A lo largo de los dos días, Lili Estefan y Raúl De Molina recibieron como invitados especiales a las celebridades Melissa Marty y Eugenio Derbez, quien ofreció un adelanto de su última película, RADICAL, que se estrenará en los cines de Estados Unidos el 3 de noviembre.
EL GORDO Y LA FLACA simboliza la trayectoria y continuidad del entretenimiento latino en la televisión de los Estados Unidos, y los presentadores del programa, Lili Estefan y Raúl De Molina, se han convertido en rostros familiares en los hogares hispanos de todo el país. El exitoso programa de noticias de entretenimiento de Univisionestá celebrando 25 años ininterrumpidos en el aire con los presentadores originales y un éxito continuo. Durante su tiempo en el aire, el programa de lunes a viernes ha mantenido a los espectadores al día de todo lo que sucede en el mundo del entretenimiento, presentando numerosas entrevistas exclusivas y estrellas de primera categoría en el set.
En el camino a este hito especial, EL GORDO Y LA FLACA ha conquistado la ciudad de Nueva York y San Juan, Puerto Rico. La celebración culminará "en casa" en Miami el 21 de septiembre con una tarde inolvidable llena de sorpresas especiales.
Únete a la conversación en las redes sociales siguiendo #ElGordoYLaFlaca en Facebook, Instagram y X. Para obtener más información, visite Univision.com/ElGordoYLaFlaca.
Visite televisaunivision.com para obtener más información sobre TelevisaUnivision y síguenos en X e Instagram.
CONTACTOS: 
Laura Paez lpaez@televisaunivision.com
Bettina Humphreys bhumphreys@televisaunivision.com