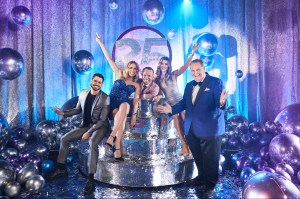 Click here for official photos and for a trip down memory lane
Miami, FL. – September 13, 2023 – September marks EL GORDO Y LA FLACA's 25th anniversary month, and as a part of their celebratory tour, the most successful Hispanic TV entertainment pop culture news show hosted by Lili Estefan and Raúl De Molina will go live from Disneyland Resort in Anaheim, CA on September 14 and 15 at 4 p.m. ET/PT, returning to the Happiest Place on Earth for the first time in 10 years.
The fiesta will also commemorate Mexican Independence Day with music by Mariachi Divas, the two-time GRAMMY® Award-winning musical group, Mickey Mouse, and many more surprises for fans to enjoy. EL GORDO Y LA FLACA will also get to share with their audience in Plaza de la Familia, an immersive celebration of the everlasting bonds of family and the spirit of Día de Los Muertos, now through November 2, 2023.
On this special occasion, the iconic Univision program will have Mexican actor, director, and comedian Eugenio Derbez as a special guest. He will give the audience a sneak peek of RADICAL, his latest film which follows a teacher in a Mexican border town, as he tries a radical new method to unlock his students' potential. Additionally, Puerto Rican actress and beauty queen Melissa Marty will return to the show for this important milestone.
EL GORDO Y LA FLACA has already taken over New York City and San Juan, Puerto Rico on the road to their anniversary. The celebration will culminate 'back home' in Miami with an unforgettable afternoon on September 21. More details to be announced at a later date.
Join the conversation on social media by following the hashtag #ElGordoYLaFlaca on Facebook, Instagram, and X. For more information visit Univision.com/ElGordoYLaFlaca.
To learn more about TelevisaUnivision, visit televisaunivision.com and follow us on X and Instagram.
CONTACTS: 
Laura Paez lpaez@televisaunivision.com
Bettina Humphreys bhumphreys@televisaunivision.com
###
EL GORDO Y LA FLACA de Univision viaja a Disneyland Resort en California para una celebración única de sus 25 años al aire el 14 y 15 de septiembre
Haz clic aquí para fotos oficiales y para un viaje por el camino de la memoria
Miami, FL. – 13 de septiembre de 2023 – El mes de septiembre marca el mes del 25 aniversario de EL GORDO Y LA FLACA, y como parte de su gira de celebración, el programa de noticias de entretenimiento más exitoso de la televisión hispana, presentado por Lili Estefan y Raúl De Molina, se transmitirá desde Disneyland Resort en Anaheim, CA, el 14 y 15 de septiembre a las 4 p.m. ET/PT, regresando al lugar más feliz de la Tierra por primera vez en 10 años.
La fiesta también conmemorará el Día de la Independencia de México con música de Mariachi Divas, el grupo musical ganador de dos premios GRAMMY®, Mickey Mouse y muchas más sorpresas para que los fans disfruten. EL GORDO Y LA FLACA también compartirá con su audiencia Plaza de la Familia, una celebración inmersiva de los lazos familiares eternos y el espíritu del Día de los Muertos, que se lleva a cabo desde ahora hasta el 2 de noviembre de 2023.
En esta ocasión especial, el icónico programa de Univision contará con la presencia del reconocido actor, director y comediante mexicano Eugenio Derbez como invitado especial. Él le dará a la audiencia un adelanto de RADICAL, su película por estrenar que sigue a un maestro en una ciudad fronteriza mexicana, mientras intenta un nuevo método radical para desbloquear el potencial de sus estudiantes. Además, la actriz y reina de belleza puertorriqueña Melissa Marty regresará al programa para este importante hito.
EL GORDO Y LA FLACA ya ha conquistado Nueva York y San Juan, Puerto Rico, en el camino a su aniversario. La celebración continuará "en casa" con una tarde inolvidable en Miami el 21 de septiembre. Se anunciarán más detalles en una fecha posterior.
Únete a la conversación en las redes sociales siguiendo #ElGordoYLaFlaca en Facebook, Instagram y X. Para obtener más información, visite Univision.com/ElGordoYLaFlaca.
Visite televisaunivision.com para obtener más información sobre TelevisaUnivision y síguenos en X e Instagram.
CONTACTOS:  
Laura Paez lpaez@televisaunivision.com
Bettina Humphreys bhumphreys@televisaunivision.com