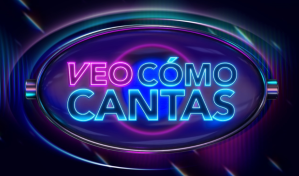 Two lucky contestants will battle it out to receive up to $25,000 in the star-studded gala
Click here to download promotional material 
Miami, FL. – September 8, 2023 – Univision's VEO CÓMO CANTASreturns to brighten up the "Domingos en Familia" programming block on Sunday, September 10th at 7pm/6c. This episode of the fun guessing show will feature star power with actor Alexis Ayala and singer-songwriter Paty Cantú as special guests.
Alexis Ayala will provide "extra advice" to contestants in the returning segment of the "Golden Microphone." On the other hand, Paty Cantú will offer her vocal talents to sing the final duet with the "supposed" singer who reaches the final round, where up to $25,000 will remain in play.
Audiences can join the conversation on social media by following the hashtag #VeoComoCantas on Instagram and X.
Visit televisaunivision.com for more information and follow us on  X and Instagram.
CONTACTS: 
Mauricio Ginestra mginestra@televisaunivision.com
Laura Páez lpaez@televisaunivision.com
###
El actor Alexis Ayala y la cantautora Paty Cantú llegan a VEO CÓMO CANTAS el 10 de septiembre a las 7p/6c
Dos afortunados concursantes estarán en la batalla por ganar hasta $25 mil dólares en una gala repleta de estrellas
Haz clic aquí para descargar material promocional 
Miami, FL. – 8 de septiembre de 2023 – VEO CÓMO CANTAS de Univision regresa a alegrar el bloque de "Domingos en Familia" el próximo 10 de septiembre a las 7p/6c. En este episodio del divertido guessing show musical lloverán estrellas con la participación del actor Alexis Ayala y la cantautora Paty Cantú.  
Alexis Ayala será el encargado de brindar una "asesoría extra" a los concursantes en el regreso del segmento "Micrófono Dorado". Por otra parte, Paty Cantú brindará sus talentos vocales para entonar el dueto final con el "supuesto" cantante que llegue a la ronda definitiva, en donde continuarán en juego hasta $25 mil dólares.
La audiencia puede unirse a la conversación en las redes sociales siguiendo el hashtag #VeoComoCantas en Instagram y X.
Visita televisaunivision.com para obtener más información sobre TelevisaUnivision y síguenos en X e Instagram.
CONTACTOS: 
Mauricio Ginestra mginestra@televisaunivision.com
Laura Páez lpaez@televisaunivision.com