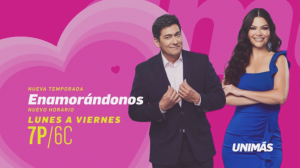 The grand premiere will be preceded by a special called ENAMORÁNDONOS: EL GRAN REGRESO, which will air on UNIMÁS, Univision and Galavisión on Sunday, August 20  
 Click here to download promotional assets 
MIAMI, FL. – AUGUST 16, 2023 – UNIMÁS announced that Monday, August 21 will be the long-awaited return of ENAMORÁNDONOS in its primetime block with a new schedule at 7p/6c that comes "RECARGADO" (RECHARGED) with new dynamics to find love, new "amorosos," and many surprises. 
ENAMORÁNDONOS: RECARGADO, hosted by Rafael Araneda and Ana Patricia Gámez, along with Migbelis Castellanos and Pietro from the renovated bar, returns for a fifth season where everything will take an unexpected turn, with new elements that will help our lovers in search of their soul mate. Now the families will serve as cupids, nominating a loved one to participate in a blind date with a sweetheart of their choice. There will be second chances for those who wish to rekindle an old romance or receive a "Que no, que no" (no, no) after the door to love opens.  This season also introduces new "amorosos," palco members from different parts of the country ready to find what many have already achieved on the show: true love. 
The premiere of ENAMORÁNDONOS: RECARGADO will be preceded by a special called ENAMORÁNDONOS: EL GRAN REGRESO, which will air on UNIMÁS, Univision and Galavisión the day before, on Sunday, August 20 at 9p/8c. Audiences will be able to learn more about this new season of the show that arrives "supercharged" with new ideas while enjoying stellar moments including a special performance by the Pop group Piso 21, and much more. 
Each episode of the new season of ENAMORÁNDONOS will be available to stream on ViX three days after its premiere on UNIMÁS. 
Those interested in finding their soul mate in the show can sign up on the Enamorandonosusa.com/aplica website, by calling +1 786-266-9900, or 1 (833) 266-7700.  They can also do so by visiting EnamorandonosUSA on Facebook and Instagram. Join the conversation using the hashtag #EnamorandonosUSA. 
Visit televisaunivision.com for more information and follow us on Twitter and Instagram.      
CONTACTS:   
Laura Paez lpaez@televisaunivision.com 
Mauricio Ginestra mginestra@televisaunivision.com 
###
ENAMÓRANDONOS vuelve RECARGADO a UNIMÁS en un nuevo horario y con más oportunidades para encontrar el amor el lunes, 21 de agosto a las 7p/6c 
El gran estreno será precedido por un especial llamado ENAMORÁNDONOS: EL GRAN REGRESO, que se transmitirá en UNIMÁS, Univision y Galavisión este domingo 20 de agosto  
Haz clic para descargar material promocional  
Miami, FL. – 16 de agosto de 2023 – UNIMÁS anunció que el próximo lunes 21 de agosto en su bloque de primetime será el esperado regreso de ENAMORÁNDONOS en su nuevo horario de las 7p/6c y llega RECARGADO con nuevas dinámicas para encontrar el amor, nuevos amorosos y muchas sorpresas.  
ENAMORÁNDONOS: RECARGADO, presentado por Rafael Araneda y Ana Patricia Gámez, junto a Migbelis Castellanos y Pietro desde el renovado bar, vuelve en una quinta temporada donde todo dará un giro inesperado con nuevos componentes que ayudarán a nuestros amorosos en búsqueda de su media naranja. Ahora las familias servirán de cupidos nominando a un ser querido para que participe en una cita a ciegas con un amoroso/a escogido por ellos. Habrá segundas oportunidades para los que deseen revivir un viejo romance o reciban un "que no, que no" después de que se abra la puerta del amor.  Esta temporada también presenta nuevos miembros del palco de diferentes partes del país listos para encontrar lo que muchos ya han conseguido en el programa: el amor verdadero.  
El estreno de ENAMORÁNDONOS: RECARGADO será precedido por un especial llamado ENAMORÁNDONOS: EL GRAN REGRESO, que se transmitirá en UNIMÁS, Univision y Galavisión un día antes, el domingo 20 de agosto a partir de las 9p/8c. Aquí la audiencia podrá conocer mucho más sobre esta etapa del show que llega "recargado" de novedosas ideas y donde podrán disfrutar de una presentación muy especial del grupo musical Piso 21 y mucho más.    
Cada emisión de la nueva temporada de ENAMORÁNDONOS estará disponible en ViX tres días después de salir al aire por UNIMÁS. 
Los interesados en encontrar a su alma gemela en el programa pueden inscribirse a través del sitio web Enamorandonosusa.com/aplica, llamando al +1 786-266-9900, o al 1 (833) 266-7700.  También pueden hacerlo visitando EnamorandonosUSA en Facebook e Instagram. Participa en la conversación usando el hashtag #EnamorandonosUSA. 
Visita televisaunivision.com para obtener más información sobre TelevisaUnivision y síguenos en Twitter e Instagram.     
CONTACTOS:  
Laura Paez lpaez@televisaunivision.com 
Mauricio Ginestra mginestra@televisaunivision.com