Mexican pop group Camila to make a comeback as a trio on PREMIOS JUVENTUD stage
Jenni Rivera will be remembered by her daughters Chiquis, Jacqie, and Jenicka in a special rendition of Pedacito de Mi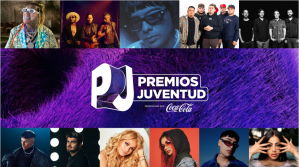 Click there to download promotional material 
MIAMI, FL. – JULY 11, 2023 – Univision's PREMIOS JUVENTUD (The Youth Awards) just turned up the heat of its 20th edition with a newly confirmed group of A-list performers. The milestone celebration of the annual awards show will feature the reunion of popular balada trio Camila, an unforgettable collaboration from trap and dembow sensations 6ix9ine and Yailin La Más Viral, a nostalgic performance by 90s rock band Hoobastank delivering the Latin version of their iconic hit The Reason alongside Venezuelan rising star Moly. The evening will also deliver the first live performance of La Chica Dorada Paulina Rubio's most recent single Propiedad Privada. This year, under the theme "Exprésate a tu Manera" (Express Yourself Authentically,) PREMIOS JUVENTUD will air LIVE from the historic Coliseo de Puerto Rico José Miguel Agrelot, on July 20 at 7p/6c.
Newly confirmed performers include:
Rapper 6ix9ine and Dominican dancer and singer Yailin La Más Viralwill take the PJ stage for the first time with their highly anticipated hit Pa Ti.  
Seven-time winners of PREMIOS JUVENTUD Camila return as a trio to deliver an unforgettable performance of their greatest hits Mientes, Todo Cambio, and Fugitivos.  
Urban heavyweight composer and producer Chencho Corleone will get the crowd moving with Hora de Salir and Cigarrilo. This year, Corleone has 3 nods.
Regional Mexican hitmakers Fuerza Regida will make their PJ debut with Sabor Fresa. The group has 5 nominations.
Alternative rock band Hoobastank and salsa singer-songwriter Moly will take the audience on a trip down memory lane with a special rendition of Hoobastank's The Reason. The track which launched them to stardom is celebrating 20 years.
Popular Argentine urban figures Khea and Tiago PZK will hype up the night with Por Amarte Así and Asqueroso. This year, Tiago PZK is up for "Male Artist on the Rise" and "Best Urban Mix."
The queen of pop Paulina Rubio will delight the paupowers with the TV debut of her most recent success Propiedad Privada.
Mexican American rapper Snow Tha Product will join the Abeja Reinaherself Chiquis for the extraordinary worldwide premiere of Ni Muerta. Chiquis has 2 nominations, and Snow Tha Product is up for "New Generation – Female Artist."
Late Mexican music phenomenon Jenni Rivera will be remembered by her daughters Chiquis, Jacqie, and Jenicka in an emotional homage and celebration of her legacy with a performance of Pedacito De Mi, from the recently released album Misión Cumplida from the never-before-heard tracks that were unfinished by the Diva de la Banda.
Tickets for PREMIOS JUVENTUD 2023 are available at PremiosJuventud.com.
Join the conversation on social media using the hashtag #PremiosJuventud on Instagram, Facebook, Twitter and TikTok. Visit PremiosJuventud.com for more information.
Visit televisaunivision.com for more information and follow the TelevisaUnivision PR Team on Twitter and Instagram.
CONTACTS:   
TelevisaUnivision
Laura Paez lpaez@televisaunivision.com
Bettina Humphreys bhumphreys@televisaunivision.com 
Media Room Agency 
Paola Marin Paola@mediaroomline.com
Linda Carta 22starsagency@gmail.com
###
6ix9ine, Hoobastank, Paulina Rubio y Yailin La Más Viral
entre los artistas confirmados que se presentarán en
PREMIOS JUVENTUD el 20 de juli
El grupo mexicano Camila regresa al escenario de PREMIOS JUVENTUD como trio
Jenni Rivera será recordada por sus hijas Chiquis, Jacqie y Jenicka en una presentación especial de Pedacito De Mí
Haz clic aquí para descargar material promocional 
Miami, FL. – 11 de julio de 2023 – PREMIOS JUVENTUD de Univision subió la temperatura de la vigésima edición con la suma de más artistas de primer nivel. La fiesta más hot del verano contará con la reunión del popular trío de baladas Camila, una colaboración inolvidable de las sensaciones del trap y dembow 6ix9ine y Yailin La Más Viral y una actuación nostálgica de la banda de rock de los 90s Hoobastank que interpretará la versión latina de su icónico éxito The Reason junto a la estrella emergente venezolana Moly. La velada también ofrecerá la primera presentación en vivo del sencillo más reciente de la chica dorada Paulina Rubio, Propiedad Privada. Este año, bajo el lema "Exprésate a tu manera", PREMIOS JUVENTUD se transmitirá EN VIVO desde el histórico Coliseo de Puerto Rico José Miguel Agrelot el 20 de julio a las 7p/6c.
Entre los artistas confirmados figuran:
El rapero 6ix9ine y la cantante y bailarina dominicana Yailin La Más Viral tomarán el escenario de PJ por primera vez con su anticipado éxito Pa Ti. 

El grupo siete veces ganador de PREMIOS JUVENTUD Camila regresa como trio para ofrecer una interpretación inolvidable de sus grandes éxitos Mientes, Todo Cambió y Fugitivos. 

El compositor y productor de música urbana Chencho Corleone hará que el público se mueva con Hora De Salir y Cigarrilo. Este año, Corleone tiene 3 nominaciones.

Los creadores de éxitos del regional mexicano Fuerza Regida harán su debut en PJ con Sabor Fresa. El grupo cuenta con 5 nominaciones.

La banda de rock alternativo Hoobastank y el cantautor de salsa Moly llevarán a la audiencia en un viaje por los recuerdos con una interpretación especial de The Reason de Hoobastank. El tema que los lanzó al estrellato, que también celebra 20 años.

Las figuras argentinas del género urbano Khea y Tiago PZK encenderán la noche con Por Amarte Así y Asqueroso. Este año, Tiago PZK está nominado a "Artista Masculino on the Rise" y "Mejor Mezcla Urbana".

La reina del pop Paulina Rubio deleitará a los paupowers con el debut televisivo de su más reciente éxito Propiedad Privada.  

La rapera mexicoamericana Snow Tha Product se unirá a la mismísima Abeja Reina Chiquis para el estreno mundial de su colaboración Ni Muerta. Chiquis tiene 2 nominaciones y Snow Tha Product está nominada a "Nueva Generación Femenina".
Durante la ceremonia, Chiquis, Jacqie y Jenicka recordarán a su madre Jenni Rivera en un emotivo homenaje y celebración de su legado con la interpretación de Pedacito De Mí. Una canción del álbum recientemente lanzado Misión Cumplida de temas inéditos que quedaron inconclusos por la Diva de la Banda.   
Los boletos para PREMIOS JUVENTUD están disponibles en PremiosJuventud.com.
Únete a la conversación en las redes sociales usando el hashtag #PremiosJuventud en Instagram, Facebook, Twitter y TikTok. Visita PremiosJuventud.com para más información.
Visita televisaunivision.com para obtener más información y sigue a TelevisaUnivision PR Team en Twitter e Instagram.
CONTACTOS:    
TelevisaUnivision
Laura Paez lpaez@televisaunivision.com
Bettina Humphreys bhumphreys@televisaunivision.com 
Media Room Agency 
Paola Marin Paola@mediaroomline.com
Linda Carta 22starsagency@gmail.com
###