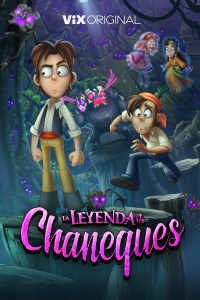 Download assets here
Miami – July 6, 2023 – ViX, the world's leading Spanish-language streaming service, announced today that the original animated film LA LEYENDA DE LOS CHANEQUES will premiere on July 14 on the service's Premium plan. The ViX exclusive film is directed by Eduardo Núñez Aguilera and produced by Fernando De Fuentes S. and José Carlos García de Letona of Ánima Estudios.
The cast that voices the main characters in the seventh installment of the Legends saga includes Benny Emmanuel (Leo), Emilio Treviño (Nando), Paola Ramones (Moribunda) and Lalo España (Evaristo).
WHEN: Friday, July 14
WHERE: ViX, within the Premium plan
Five years after giving up his powers and being separated from his friends, Leo San Juan has started a new life trying to concentrate on family and the bakery, away from danger and adventure. However, Leo knows that his plans are rarely fulfilled, and this time is no exception: while traveling with his brother Nando in Veracruz, things start to get weird, and from the depths of the jungle of the Tuxtlas an ancient curse has returned and only Leo can face it. This time Leo has no powers, no friends, no time, and apparently no chance.
ViX offers more than 75,000 hours of on-demand content and more than 100 streaming channels, all in Spanish. The app offers two levels of access, one free with ads and one premium with subscription, in the U.S., Mexico and most Spanish-speaking countries in Latin America, on all major mobile platforms, connected TV devices and online at vix.com.
Join the conversation using the hashtag #ViX and follow ViX on Instagram, Twitter, Facebook and TikTok.
Visit TelevisaUnivision.com for more information about TelevisaUnivision and follow us on Twitter and Instagram.
CONTACTS:
United States and Latin America:
Paulina Lebolo | plebolo@televisaunivision.com
Mexico:
Mónica Romero | mcromerou@televisaunivision.com
###
La nueva película animada original de ViX, LA LEYENDA DE LOS CHANEQUES, estrena el 14 de julio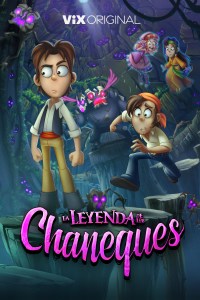 Descarga el póster oficial y trailer de la película aquí
MIAMI – 6 de julio, 2023 – ViX, el servicio de streaming en español líder en el mundo, anunció hoy que la película animada original LA LEYENDA DE LOS CHANEQUES se estrenará el 14 de julio dentro del plan Premium del servicio.  La película exclusiva de ViX está dirigida por Eduardo Núñez Aguilera y producida por Fernando De Fuentes S. y José Carlos García de Letona de Ánima Estudios.
Dentro del reparto que da voz a los personajes principales de la séptima entrega de la saga de las Leyendas están Benny Emmanuel (Leo), Emilio Treviño (Nando), Paola Ramones (Moribunda) y Lalo España es (Evaristo).
CUÁNDO: viernes, 14 de julio
DÓNDE: ViX, dentro del plan Premium
Cinco años después de haber renunciado a sus poderes y haberse separado de sus amigos, Leo San Juan ha iniciado una nueva vida tratando de concentrarse en la familia y en la panadería, alejándose del peligro y de las aventuras. Sin embargo, Leo sabe que rara vez se cumplen sus planes y esta vez no es la excepción: estando de viaje con su hermano Nando en Veracruz, las cosas empiezan a ponerse raras, y es que desde lo más profundo de la selva de los Tuxtlas una antigua maldición ha regresado y sólo Leo puede enfrentarla. Esta vez Leo no tiene poderes, no tiene amigos, no tiene tiempo y, al parecer, no tiene oportunidad.
ViX ofrece más de 75,000 horas de contenido on demand y más de 100 canales de streaming, todos en español. La aplicación ofrece dos niveles de acceso, uno gratuito con anuncios y otro premium con suscripción, en Estados Unidos, México y la mayoría de los países hispanohablantes de Latinoamérica, en todas las principales plataformas móviles, dispositivos de televisor conectado y en internet en vix.com.
Participa en la conversación usando el hashtag #ViX y sigue a ViX en Instagram, Twitter, Facebook and TikTok.
Visita TelevisaUnivision.com para más información sobre TelevisaUnivision y síguenos en Twitter e Instagram.
CONTACTOS:
Estados Unidos y América Latina:
Paulina Lebolo  | plebolo@televisaunivision.com
México:
Mónica Romero | mcromerou@televisaunivision.com
###