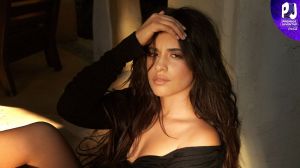 Click here to download promotional assets 
MIAMI, FL. – JULY 6, 2023 – Univision's PREMIOS JUVENTUD will honor Cuban-Mexican multi-platinum GRAMMY® nominated recording artist Camila Cabello as an "Agent of Change" at this year's 20th edition. The chart-topping star will receive the prestigious recognition for her commitment to the betterment of youth around the world during the milestone ceremony that will air LIVE from the Coliseo de Puerto Rico José Miguel Agrelot on July 20 at 7p/6c.
For the past six years, the awards show has not only celebrated music, fashion, and pop culture in general but has been committed to spotlighting change makers, both artists and the youth who are using their platforms for the common good. At just 26 years of age, Cabello has used her powerful voice to make a difference and has given back through her work with charities such as Global Citizen, This is About Humanity, Protect our Kids, The Voter Fund, Women of Worth, Save the Children, The Miami Freedom Project, and more. Previous "Agent of Change" honorees include Jesse & Joy, Maluma, Daddy Yankee, J Balvin, Kany Garcia, Jenni Rivera Foundation, Ricky Martin, Becky G, Pitbull, Juanpa Zurita, and Wisin y Yandel.
"I am honored and incredibly excited to receive this esteemed recognition. I can't wait to see you all on July 20th for an unforgettable show," expressed Cabello.
Her contributions thus far help promote a greener planet through sustainability, generate mental health awareness, and provide resources to frontline workers and those in need. Cabello also advocates for gender equity, protects the LGBTQ+ community, and funds early education for underserved children. Most recently, the multi-faceted artist has supplied humanitarian aid on both sides of the border.
Immensely proud of her Latin heritage, Cabello incorporates elements of her culture into her music. Her powerful voice has earned her two Latin GRAMMY®awards, five American Music Awards, and one Billboard Music Award. In 2021, Cabello became the first Hispanic woman to receive a Diamond certification by the RIAA for her global hit Havana.
Tickets for PREMIOS JUVENTUD 2023 are available at PremiosJuventud.com.
Join the conversation on social media using the hashtag #PremiosJuventud on Instagram, Facebook, Twitter and TikTok. Visit PremiosJuventud.com for more information.
Visit televisaunivision.com for more information and follow the TelevisaUnivision PR Team on Twitter and Instagram.
CONTACTS:   
TelevisaUnivision
Laura Paez lpaez@televisaunivision.com
Bettina Humphreys bhumphreys@televisaunivision.com 
Media Room Agency 
Paola Marin Paola@mediaroomline.com
Linda Carta 22starsagency@gmail.com
###
La super estrella internacional Camila Cabello recibirá el reconocimiento "Agente de Cambio" durante PREMIOS JUVENTUD
Haz clic aquí para descargar material promocional 
Miami, FL. – 6 de julio de 2023 – PREMIOS JUVENTUD de Univision honrará a la cantante cubano-mexicana Camila Cabello como "Agente de cambio" en la vigésima edición que se celebrará este año. La estrella que encabeza las listas más importantes de la industria recibirá el prestigioso reconocimiento por su compromiso a mejorar la vida de la juventud en el mundo durante la histórica ceremonia que se transmitirá EN VIVO desde el Coliseo de Puerto Rico José Miguel Agrelot el 20 de julio a las 7p/6c.
Durante los últimos seis años, la entrega de premios no solo ha celebrado la música, la moda y la cultura pop en general, sino que se ha comprometido a destacar a los agentes de cambio, tanto artistas como jóvenes latinos que usan su plataforma para el bien común. Con solo 26 años, Cabello ha usado su poderosa voz para marcar la diferencia y ha retribuido a la comunidad a través de su trabajo con organizaciones benéficas como Global Citizen, This is About Humanity, Protect our Kids, The Voter Fund, Women of Worth, Save the Children, The Miami Freedom Project, entre otras. Anteriormente han recibido el reconocimiento de "Agente de Cambio": Jesse & Joy, Maluma, Daddy Yankee, J Balvin, Kany Garcia, Jenni Rivera Foundation, Ricky Martin, Becky G, Pitbull, Juanpa Zurita, y Wisin y Yandel. 
"Me siento honrada e increíblemente orgullosa de recibir este estimado reconocimiento. Estoy muy emocionada de verlos a todos el 20 de julio para un espectáculo inolvidable", expresó Cabello.
Sus contribuciones hasta el momento han ayudado a promover un planeta más ecológico a través de la sostenibilidad, a generar conciencia sobre la salud mental y brindar recursos a los trabajadores de primera línea y a los necesitados. Cabello también aboga por la equidad de género, la protección de la comunidad LGBTQ+ y el financiamiento de la educación temprana para niños desatendidos. Más recientemente, la artista multifacética ha brindado ayuda humanitaria en ambos lados de la frontera.
Cabello está sumamente orgullosa de su herencia latina e incorpora elementos de su cultura en su música. Su poderosa voz le ha valido dos premios Latin GRAMMY®, cinco American Music Awards y un Billboard Music Award. En 2021, Cabello se convirtió en la primera mujer hispana en recibir una certificación Diamante de la RIAA por su éxito mundial Havana.
Los boletos para PREMIOS JUVENTUD 2023 están disponibles en PremiosJuventud.com.
Únete a la conversación en las redes sociales usando el hashtag #PremiosJuventud en Instagram, Facebook, Twitter y TikTok. Visita PremiosJuventud.com para obtener más información.
Visita televisaunivision.com para obtener más información y sigue al TelevisaUnivision PR Team en Twitter e Instagram.
CONTACTOS:    
TelevisaUnivision
Laura Paez lpaez@televisaunivision.com
Bettina Humphreys bhumphreys@televisaunivision.com 
Media Room Agency 
Paola Marin Paola@mediaroomline.com
Linda Carta 22starsagency@gmail.com