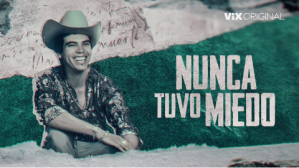 MIAMI, June 30, 2o23 – ViX, the leading Spanish-language streaming service in the world, announced today that the documentary series NUNCA TUVO MIEDO, which provides an intimate look at the life of legendary Chalino Sánchez and his impact on Mexican music, is exclusively premiering on ViX today, June 30. With testimonies from family members and those who knew him closely, this original ViX docuseries explores the history and legacy of a man who transformed the corrido genre and left a lasting impact on northern Mexico and southern United States.
NUNCA TUVO MIEDO chronicles the life of Chalino Sánchez from his humble beginnings to his tragic death that launched him to posthumous fame. Through the narrative of those who knew him and witnessed his life, the documentary series sheds light on the events that shaped his career and his impact on regional Mexican music. The voice of Chalino Sánchez's loved ones will transport us through his triumphs, struggles and his darker side, providing a unique and moving perspective.
In addition to Chalino Sánchez's story, NUNCA TUVO MIEDO dedicates a special episode to Adán Chalino Sánchez, the singer's son who also achieved success in the music world before his tragic death at the age of 18. This moving episode portrays the influence and legacy of the Sánchez family in regional Mexican music.
NUNCA TUVO MIEDO is produced by Pacha films.
ViX service offers more than 75,000 hours of on-demand content, and over 100 streaming channels all in Spanish. The app is available with two access tiers, one free with ads and one premium plan with a subscription, in the U.S., Mexico, and most of Spanish-speaking Latin America, across all major mobile platforms, connected TV devices and via web on vix.com.
Click HERE to download the official poster of NUNCA TUVE MIEDO.
Join the conversation using the hashtags #ViX and #NuncaTuvoMiedo and follow ViX on Instagram,Twitter,Facebookand TikTok.
Visit televisaunivision.com for more information on TelevisaUnivision and follow us on Twitter and Instagram.
CONTACTS:
United States and Latin America
Daniela Cuesta, dcuesta@televisaunivision.com 
Mexico
Sandra Oropeza, soropezag@televisaunivision.com
###
 NUNCA TUVO MIEDO la Docuserie que Revela la Vida y Legado de Chalino Sánchez, el Ícono del Corrido, se Estrena en Exclusiva Hoy en ViX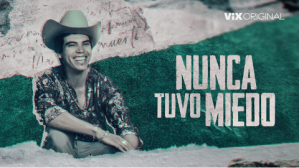 MIAMI, 30 De junio, 2023 – ViX, el servicio de streaming en español líder en el mundo, anunció hoy que la serie documental NUNCA TUVO MIEDO, que brinda una mirada íntima a la vida del legendario Chalino Sánchez y su impacto en la música mexicana, se estrena en exclusiva en ViX hoy 30 de junio. Con testimonios de familiares, y aquellos que lo conocieron de cerca, esta docuserie original de ViX explora la historia y el legado de un hombre que transformó el género del corrido y dejó un impacto duradero en el norte de México y el sur de los Estados Unidos.
NUNCA TUVO MIEDO narra la vida de Chalino Sánchez desde sus inicios humildes hasta su trágico fallecimiento, que lo lanzó a la fama póstuma. A través de la narrativa de aquellos que lo conocieron y fueron testigos de su vida, la serie documental arroja luz sobre los eventos que moldearon su carrera y su impacto en la música regional mexicana. La voz de los seres queridos de Chalino Sánchez nos transportará a través de sus triunfos, luchas y su lado más oscuro, brindando una perspectiva única y conmovedora.
Además de la historia de Chalino Sánchez, NUNCA TUVO MIEDO dedica un episodio especial a Adán Chalino Sánchez, el hijo del cantante, quien también alcanzó el éxito en el mundo de la música antes de su trágica muerte a la edad de 18 años. Este episodio conmovedor retrata la influencia y el legado de la familia Sánchez en la música regional mexicana.
NUNCA TUVO MIEDO es producida por Pacha films.
ViX ofrece más de 75,000 horas de contenido on demand y más de 100 canales de streaming, todos en español. La aplicación ofrece dos niveles de acceso, uno gratuito con anuncios y otro premium con suscripción, en Estados Unidos, México y la mayoría de los países hispanohablantes de Latinoamérica, en todas las principales plataformas móviles, dispositivos de televisor conectado y en internet en vix.com.
Haz clic aquí para descargar el póster oficial de NUNCA TUVE MIEDO.
Participa en la conversación usando los hashtags #ViX y #NuncaTuvoMiedo, y sigue a ViX en Instagram, Twitter, Facebook y TikTok.
Visita TelevisaUnivision.com para más información sobre TelevisaUnivision y síguenos en Twitter e Instagram.
CONTACTOS:
Estados Unidos y Latinoamérica
Daniela Cuesta, dcuesta@televisaunivision.com 
México
Sandra Oropeza, soropezag@televisaunivision.com
###