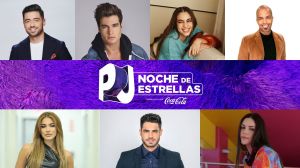 The dynamic red carpet and pre-show will be hosted by Borja Voces, Danilo Carrera, Ela Velden, José Figueroa, Migbelis Castellanos, Roberto Hernández,
and Yayis Villareal
NOCHE DE ESTRELLAS will air on Univision and stream on ViX on Thursday, July 20 at 7p/6c from Puerto Rico
Click here to download promotional material 
MIAMI, FL. – JUNE 20, 2023 – Univision announced today that the highly anticipated 20th-anniversary celebration of PREMIOS JUVENTUD will kick off with the popular red carpet and pre-show NOCHE DE ESTRELLAS at 7p/6c from the Coliseo de Puerto Rico José Miguel Agrelot. This special carpet edition will be hosted by beloved Univision News anchor Borja Voces, heartthrob actor from Univision's EL AMOR INVENCIBLE, Danilo Carrera, ViX's original series SENDA PROHIBIDA star Ela Velden, charismatic UniMás personality Migbelis Castellanos, and EL GORDO Y FLACA correspondent Roberto Hernández. In addition, Puerto Rican TV presenter José Figueroa and fashion and beauty expert Yayis Villareal will have a special participation. Yayis will deliver a can't-miss commentary on all the celebrity looks on the red carpet inspired by the theme "Exprésate a tu Manera" (Express Yourself Authentically).
This year's re-designed red carpet will feature an "Hora Loca" theme to set the tone for the rest of the evening with a party-like atmosphere featuring a fan pit, exclusive interviews in a VIP lounge, a bar, special activations, and a DJ playing fan-favorite tracks to get the attending crowd and talent hyped before the main event. Additionally, the first Agent of Change recognition of the night will also be revealed during NOCHE DE ESTRELLAS.
Fans can enjoy a behind-the-scenes experience of the carpet on a livestream hosted by Alejandra Jaramillo and Arana Lemus that will simulcast onUnivision and PREMIOS JUVENTUD's social media platforms: YouTube, TikTok, Instagram, Facebook, and PremiosJuventud.com.
To purchase tickets for PREMIOS JUVENTUD 2023, visit PremiosJuventud.com.
Join the conversation on social media using the hashtag #PremiosJuventud on Instagram, Facebook, Twitter and TikTok. Visit PremiosJuventud.com for more information.
Visit televisaunivision.com for more information and follow the TelevisaUnivision PR Team on Twitter and Instagram.
CONTACTS:     
TelevisaUnivision  
Laura Paez lpaez@televisaunivision.com
Bettina Humphreys bhumphreys@televisaunivision.com 
Media Room Agency 
Paola Marin Paola@mediaroomline.com
Linda Carta 22starsagency@gmail.com
###
Univision anuncia los anfitriones de NOCHE DE ESTRELLAS y una fiesta sinigual para la antesala al 20 aniversario de PREMIOS JUVENTUD
Borja Voces, Danilo Carrera, Ela Velden, José Figueroa, Migbelis Castellanos, Roberto Hernández, y Yayis Villareal conducirán la alfombra roja
La audiencia podrá disfrutar de NOCHE DE ESTRELLAS  a través de Univision y ViX, el jueves 20 de julio a las 7p/6c desde Puerto Rico
Haz clic aquí para descargar material de prensa
Miami, FL. – 20 de junio de 2023 – Univision anunció hoy que la esperada celebración del 20 aniversario de  PREMIOS JUVENTUD  comenzará a las 7p/6c con la dinámica alfombra y show de antesala  NOCHE DE ESTRELLAS  desde el Coliseo de Puerto Rico José Miguel Agrelot. El pre-show será conducido por el reconocido presentador de noticias  Borja Voces, el actor de la novela de Univision EL AMOR INVENCIBLE Danilo Carrera, la actriz de la serie original de  ViX  SENDA PROHIBIDA, Ela Velden, la carismática presentadora de UniMás, Migbelis Castellanos y el corresponsal de  EL GORDO Y LA FLACA, Roberto Hernández, quien conducirá la alfombra por tercera vez. Además, esta edición del esperado programa contará con la participación especial del presentador de televisión puertorriqueño  José Figueroa y la experta en moda y belleza  Yayis Villareal, quien será la encargada de transmitirle minuto a minuto a la audiencia todas las tendencias que las celebridades estarán desfilando en la alfombra inspiradas por la temática "Exprésate a tu Manera". 
Este año la nueva y rediseñada alfombra roja contará con una divertida fiesta al estilo "Hora Loca" que marcará la pauta para el resto de la noche con un ambiente de celebración y diversión para todos los fans de la música. NOCHE DE ESTRELLAS  incluirá entrevistas exclusivas en un VIP Lounge, una barra, activaciones especiales e incluso tendrá un DJ que será el encargado de animar al público y a los artistas antes del gran espectáculo.  El programa de antesala también contará con la entrega del primer reconocimiento de Agente de Cambio de la noche.
Las presentadoras  Alejandra Jaramillo  y  Arana Lemus  les brindarán a los fans una experiencia exclusiva detrás de cámaras de la fiesta más hot del verano en vivo en las plataformas digitales y las redes sociales de Univision  y  PREMIOS JUVENTUD.  La transmisión estará disponible de manera simultánea en YouTube, TikTok, Instagram, Facebook, y PremiosJuventud.com.
Los boletos para el evento ya están a la venta a través de PremiosJuventud.com.
Únete a la conversación en las redes sociales siguiendo el hashtag #PremiosJuventud en Instagram, Facebook, Twitter y TikTok. Para obtener más información visita PremiosJuventud.com.
Visita televisaunivision.com para obtener más información sobre TelevisaUnivision y síguenos en Twitter e Instagram.
CONTACTOS:     
TelevisaUnivision  
Laura Paez lpaez@televisaunivision.com
Bettina Humphreys bhumphreys@televisaunivision.com 
Media Room Agency 
Paola Marin Paola@mediaroomline.com
Linda Carta 22starsagency@gmail.com