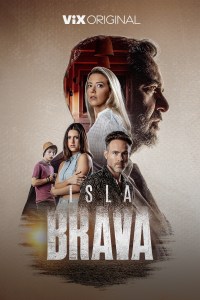 Click here to download the preview of episodes 3 & 4
MIAMI – MAY 25, 2023 – ISLA BRAVA, the new ViX Original thriller, drops two new episodes today. The series stars Fernanda Castillo as Lucía, Erik Hayser as Bruno and Flavio Medina as Alfredo along with Bárbara López as Pilar, Karena Flores as Mora and Juan Pablo Fuentes as Thiago.
The series is a passion-filled story of love, betrayal and mystery. Lucía is a woman who wants to tell her husband that she's having an affair with his brother but finds out that he is missing. She is then accused of his disappearance and must prove her innocence while uncovering what really happened. As she delves deeper into the mystery, she discovers a web of lies and secrets involving her husband, her lover, and the mysterious island where they all live.
Don't miss out on the two new episodes this Thursday, May 25.
In the third and fourth episode, Detective Pilar's investigations are narrowing the circle to Alfredo's close ties as the appearance of a charred corpse on the beach gives rise to many speculations. Four months before, it is discovered how the relationship between Lucía and Bruno began and Mora's dark bond with her father is revealed. Just as Lucía makes a discovery at Bruno's house that changes everything, Detective Pilar brings to light the strange death of Bruno's wife. Three months before these events, Alfredo gives the secretary of tourism one of his daughter's friends as a gift in order to achieve his political goals.
WHEN:  Thursday, May 25
WHERE:  ViX (on the Premium tier)
The ViX Original series is directed by director Pitipol Ybarra and is an original story by Emmy Award nominated Esther Feldman, and produced by Spanish production house Onza Américas.
ViX service offers more than 75,000 hours of on-demand content, and over 100 streaming channels all in Spanish. The app is available with two access tiers, one free with ads and one premium plan with a subscription, in the U.S., Mexico, and most of Spanish-speaking Latin America, across all major mobile platforms, connected TV devices and via web on vix.com.
Join the conversation using the hashtags #ViX #IslaBrava and follow ViX on Instagram, Twitter, Facebook and TikTok.
Visit televisaunivision.com for more information about TelevisaUnivision and follow us on Twitter and Instagram.
CONTACTS: 
United States and Latin America
Casandra Blanco, cmblanco@televisaunivision.com
Mexico
Sandra Oropeza, soropezagonzalez@televisaunivision.com
###
ISLA BRAVA mantiene a todos en suspenso con dos nuevos episodios el 25 de mayo solo en ViX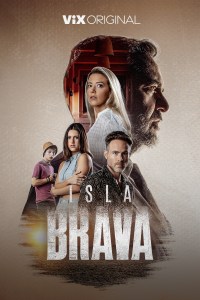 Haz clic aquí para descargar un avance del tercer y cuarto episodio
MIAMI – 25 DE MAYO DE 2023– ISLA BRAVA, la nueva serie original de suspenso de ViX, estrenará dos episodios nuevos hoy. Protagonizan la serie Fernanda Castillo como Lucía, Erik Hayser como Bruno y Flavio Medina como Alfredo, además de Bárbara López como Pilar, Karena Flores como Mora y Juan Pablo Fuentes como Thiago.
La serie ofrece una apasionada historia de amor, traición y misterio. Lucía quiere revelarle a su esposo su amorío con el hermano de este, pero se entera de que ha desaparecido. Cuando la acusan de estar detrás de ello, debe probar su inocencia a la vez que averigua que es lo que ha sucedido en realidad. Al investigar el misterio a fondo, descubre una serie de mentiras y secretos sobre su esposo, su amante y la misteriosa isla donde todos viven.
No te pierdas los dos nuevos episodios este jueves, 25 de mayo.
En el tercer y cuarto episodio, la investigación por la detective Pilar limita las posibilidades a los más allegados a Alfredo, y un cadáver quemado que apareció en una playa da rienda suelta a especulación. Cuatro meses más tarde, se descubre cómo empezó la relación entre Lucía y Bruno, y se revela el tenebroso vínculo entre Mora y su padre. Justo después de que Lucía descubre algo en casa de Bruno que cambia todo, la detective Pilar arroja luz sobre la extraña muerte de la esposa de Bruno. Tres meses antes de estos sucesos, Alfredo le regala al secretario de turismo una de las amigas de su hija para lograr sus objetivos políticos.
CUÁNDO:  jueves, 25 de mayo
DÓNDE:  ViX (en el nivel Prémium)
La serie original de ViX está dirigida por Pitipol Ybarra y es una creación original de Esther Feldman, ganadora del premio Emmy, y una producción de Onza Américas de España.
El servicio ViX ofrece más de 75,000 horas de contenido on demand y más de 100 canales de streaming, todos en español. La aplicación ofrece dos niveles de acceso, uno gratuito con anuncios y otro prémium con suscripción, en Estados Unidos, México y la mayoría de los países hispanohablantes de Latinoamérica, en todas las principales plataformas móviles, dispositivos de televisor conectado y en internet en vix.com.
Participa en la conversación usando los hashtags #ViX e #IslaBrava y sigue a ViX en Instagram, Twitter, Facebook y TikTok.
Visita televisaunivision.com para más información sobre TelevisaUnivision y síguenos en Twitter e Instagram.
CONTACTOS: 
Estados Unidos y Latinoamérica
Casandra Blanco, cmblanco@televisaunivision.com
México
Sandra Oropeza, soropezagonzalez@televisaunivision.com
###