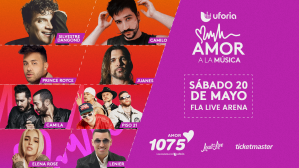 This year's live music experience will also include Camila, Elena Rose, Lenier, and Piso 21
Fans can purchase tickets at Ticketmaster.com
Click here to download promotional assets
MIAMI, FL. – MAY 15, 2023 – Uforia kicks of its 2023 Uforia Music Series with the return of AMOR A LA MÚSICA on Saturday, May 20 at the FLA Live Arena in Sunrise, FL. The highly anticipated concert will be a first for fans and artists alike as Colombian pop music royalty Camilo, Juanes, and Silvestre Dangond share the same stage for the first time, as well as bachata icon Prince Royce giving Latin pop enthusiasts a once in a lifetime experience. Concertgoers will also be able to enjoy other acts such as: successful pop rock act Camila, singer songwriter Elena Rose, cubaton marvel Lenier, and popular group Piso 21. This lineup symbolizes what the Amor 107.5 FM listeners know and love, showcasing a variety of genres ranging from pop, rock, tropical to vallenato, and more.
Uforia Music Series features the hottest Latin superstars and emerging artists from different music genres such as pop, urban, tropical, and Regional Mexican. This year's Uforia Music Series of concerts will return to cities such as New York, Dallas, and Houston.
The Uforia Amor 107.5FM station in Miami is the go-to radio station for adult contemporary Spanish-language music offering the best events and featuring the most beloved on-air talent in South Florida. Javier Romero, Danny Cruz, DJ Vela, Alberto Sardiñas, José Antonio, and Roxana will join concertgoers as they celebrate this unique and memorable event.
The event is a co-production of Uforia and Loud and Live. Fans interested in attending Uforia AMOR A LA MÚSICA  can purchase tickets at Ticketmaster.com.
Enhancing the fan experience, Estrella Insurance, Goya, PunCana.com, and Nip/Tuck have all signed on to Uforia AMOR A LA MÚSICA as brand partners.
For media outlets interested in covering the concert, please reach out to bhumphreys@televisaunivision.com by Wednesday, May 17th for consideration.
Visit corporate.televisaunivision.com for more information on TelevisaUnivision and follow @UnivisionPRTeam on Twitter and Instagram.
CONTACTS:    
Laura Paez lpaez@televisaunivision.com
Bettina Humphreys bhumphreys@televisaunivision.com 
###
Por primera vez Silvestre Dangond, Camilo, Juanes y Prince Royce comparten un mismo escenario en Uforia AMOR A LA MÚSICA este sabado, 20 de mayo en FLA Live Arena
Entre las estrellas que se presentarán este año también figuran Camila, Elena Rose, Lenier y Piso 21
Fans pueden adquirir boletos en Ticketmaster.com
Haz clic aquí pata descargar material promocional
Miami, FL. – 15 de mayo de 2023 – Las experiencias musicales de Uforia arrancan con el regreso de AMOR A LA MÚSICA el sábado 20 de mayo en FLA Live Arena en Sunrise, FL. El concierto contará con la participación de Camilo, Juanes y Silvestre Dangond por primera vez juntos sobre un mismo escenario, y también con el icono de la bachata Prince Royce, brindándole al público una experiencia inolvidable. Fans también podrán disfrutar del exitoso grupo de pop rock Camila, la cantautora Elena Rose, la figura del cubaton Lenier y el popular grupo Piso 21. Este lineup representa lo que los oyentes de Amor 107.5 FM quieren escuchar, con una gran variedad de géneros como pop, rock, tropical y vallenato entre otros.
Los conciertos de Uforia presenta las superestrellas latinas más populares y artistas emergentes de diferentes géneros musicales como pop, urbano, tropical y regional mexicano. Los Uforia Music Series de este año regresarán a ciudades como Nueva York, Dallas y Houston.
La estación Uforia Amor 107.5FM en Miami es la estación de radio de referencia para la música contemporánea en español para adultos, ofrece los mejores eventos y el talento más popular del sur de la Florida. Javier Romero, Danny Cruz, DJ Vela, Alberto Sardiñas, José Antonio y Roxana se unirán a los fans del concierto para celebrar este evento único y memorable.
Este evento es una coproducción de Uforia y Loud and Live. Fans interesados en asistir a Uforia AMOR A LA MÚSICA  pueden adquirir boletos en Ticketmaster.com.
Para mejorar aún más la experiencia de los fanáticos, Estrella Insurance, Goya, PunCana.com y Nip/Tuck se han unido a Uforia AMOR A LA MÚSICA como socios de marca.
Los medios de prensa interesados en cubrir el concierto pueden confirmar su asistencia a bhumphreys@televisaunivision.com antes del miércoles, 17 de mayo.
Visita corporate.televisaunivision.com para obtener más información sobre TelevisaUnivision y sigue a @UnivisionPRTeam en Twitter e Instagram.
CONTACTOS: 
Laura Paez lpaez@televisaunivision.com
Bettina Humphreys bhumphreys@televisaunivision.com