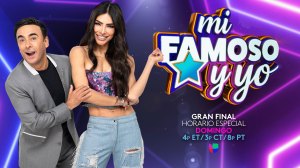 MI FAMOSO Y YO reveals final winner this Sunday at 4p/3c 
Special guests Alejandra Espinoza and Carlos Rivera to join DE NOCHE PERO SIN SUEÑO at 11p/10c 
Click here to download promotional material 
MIAMI, FL. – MAY 5, 2023 – Univision is set to deliver a Sunday of grand finales on May 7. The reality talent competition MI FAMOSO Y YO will air its final episode in a new time slot, 4p/3c. After weeks of exhilarating competitions, four show finalists will put their abilities to the test one last time, and a winner will be announced. This final episode will include the special participation of Diego Schoening's daughter Fernanda Schoening, singer songwriters Edith Marquez and Pancho Barraza, as well as popular pop duo Río Roma.  
Later in the evening, actress and TV presenter Alejandra Espinoza and singer songwriter Carlos Rivera will join Adrian Uribe in the finale of the second season of DE NOCHE PERO SIN SUEÑO. The late-night show is set to air at 11p/10c and will deliver more hilarious games, candid conversations, and a modeling class for Uribe. To bid fans adieu, Rivera will perform a beautiful rendition of his hit song Sincerándome. 
Visit televisaunivision.com for more information on TelevisaUnivision and follow us on Twitter and Instagram.  
CONTACTS:   
Laura Paez lpaez@televisaunivision.com 
Bettina Humphreys bhumphreys@televisaunivision.com 
###
No se pierdan la gra

n fin

al de

 

MI

FAMOS

O Y YO

y

 DE

NOCHE

PERO SIN SUEÑO

en su

nueva franja

 horar

ia

este

domingo 7 de mayo p

or

U

nivis

ion
MI FAMOSO Y YO revelará el gran ganador de la temporada a las 4p/3c 
Alejandra Espinoza y Carlos Rivera se unen como invitados especiales en DE NOCHE PERO SIN SUEÑO a las 11p/10c 
Haz clic aquí para descargar material promocional 
 Miami, FL. – 5 de mayo de 2023 – Univision tendrá un domingo entretenido con grandes finales este 7 de mayo. El reality de competencia MI FAMOSO Y YO trasmitirá su último episodio de la temporada a las 4p/3c. Luego de semanas de una reñida competencia, cuatro finalistas pondrán a prueba sus habilidades por última vez para elegir al ganador de la temporada. Esta edición de MI FAMOSO Y YO también contará con la participación de invitados especiales como la hija de Diego Schoening, Fernanda Schoening, los cantantes Edith Marquez y Pancho Barraza, y el dúo de pop Río Roma. 
Más tarde, la actriz y presentadora Alejandra Espinoza y el cantautor Carlos Rivera se unen a Adrián Uribe en el capítulo final de la segunda temporada de DE NOCHE PERO SIN SUEÑO. El programa late-night se trasmitirá a las 11p/10c y le brindará a la audiencia una noche divertida de juegos, conversaciones sin filtro y hasta una clase de modelaje para Uribe. Para despedir a los fans, Rivera dará una inolvidable presentación de su tema Sincerándome. 
Visita televisaunivision.com  para obtener más información sobre TelevisaUnivision y síguenos en Twitter e Instagram.  
CONTACTOS: 
Laura Paez lpaez@televisaunivision.com 
Bettina Humphreys bhumphreys@televisaunivision.com