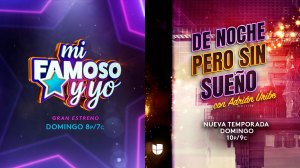 New reality competition MI FAMOSO Y YO gives talented kids a chance to make their dreams come true  
Urban sensation Maluma to debut the second season of DE NOCHE PERO SIN SUEÑO 
Click here to download promotional material 
MIAMI, FL. – MARCH 16, 2023 – Today, Univision announced updates to its programming slate of "Domingos En Familia" (Family Sundays) happening this Sunday, March 19 at 8/7c. The night will kick off with the premiere of the competition reality show MI FAMOSO Y YO (My Celebrity and I) followed by the return of the hit late night-show DE NOCHE PERO SIN SUEÑO (At Night but Not Sleepy). 
Hosted by actress Alejandra Espinoza and comedian Adal Ramones, MI FAMOSO Y YO will feature six ultra-talented kids between the ages of five and six who will each team up with a celebrity (Laura León, Mariana Echeverría, Cecilia Galliano, Edwin Luna, Diego Schoening and Lambda García) who will coach them to get one step closer to their dream. The contestants will have to face different challenges involving activities like dancing, singing, acting, and comedy to impress the judges; singer and influencer Kimberly Loaiza, singer songwriter Julión Alvarez, and heartthrob Gabriel Soto.  
To keep the night going, DE NOCHE PERO SIN SUEÑO returns with music, comedy, and the most influential stars in contemporary Latin culture. Featuring comedian and show host Adrián Uribe, the late-night show is back with global superstar Maluma as a special guest in the first episode. Throughout the season, Uribe will be joined by actors Matías Novoa, Diego Amozurrutia, and Erick Elías, influencer and philanthropist JuanPa Zurita, Latin music icons Carlos Rivera, Natalia Jiménez, Prince Royce, Ricardo Montaner, and Pepe Aguilar, among others.  
Visit televisaunivision.com for more information on TelevisaUnivision and follow us on Twitter and Instagram.  
CONTACTS:   
Laura Paez lpaez@televisaunivision.com 
Bettina Humphreys bhumphreys@televisaunivision.com 
###
"Domingos en Familia" de

Univision

llega

con programas nuevos y otros que regresan

el 19 de marzo

 
La nueva competencia reality MI FAMOSO Y YO le dará a los niños más talentosos la oportunidad de cumplir sus sueños 
DE NOCHE PERO SIN SUEÑO regresa con la sensación de la música urbana Maluma como invitado especial 
Haz clic aquí para descargar material promocional   
Miami, FL.– 16 de marzo de 2023 – Univision anunció hoy novedades en la programación de "Domingos en Familia" que tendrán lugar este domingo 19 de marzo a las 8/7c. La noche comenzará con el estreno del reality de competencia MI FAMOSO Y YO seguido por el regreso del exitoso programa late-night DE NOCHE PERO SIN SUEÑO.  
Presentado por la actriz Alejandra Espinoza y el comediante Adal Ramones, MI FAMOSO Y YO presentará a seis niños sumamente talentosos de cinco a seis años de edad, cada uno de los cuales formará equipo con una celebridad (Laura León, Mariana Echeverría, Cecilia Galliano, Edwin Luna, Diego Shoening y Lambda García) que los apadrinará para estar un paso más cerca de alcanzar sus sueños. Los concursantes deberán enfrentar diferentes desafíos que involucran actividades como baile, canto, actuación y comedia para impresionar a los jueces: la cantante y influencer Kimberly Loaiza, el cantautor Julión Álvarez y el actor Gabriel Soto.   
Para continuar, DE NOCHE PERO SIN SUEÑO regresa con música, comedia y las estrellas más influyentes de la cultura latina contemporánea. Con el comediante y presentador Adrián Uribe, el programa late-night regresa con la superestrella mundial Maluma como invitado especial en el primer episodio. A lo largo de la temporada, Uribe estará acompañado por los actores Matías Novoa, Diego Amozurrutia y Erick Elías, el influencer y filántropo JuanPa Zurita, los iconos de la música latina Carlos Rivera, Natalia Jiménez, Prince Royce, Ricardo Montaner y Pepe Aguilar, entre otros.    
Visita televisaunivision.com para obtener más información sobre TelevisaUnivision y síguenos en Twitter e Instagram.   
CONTACTOS:    
Laura Paez lpaez@televisaunivision.com  
Bettina Humphreys bhumphreys@televisaunivision.com