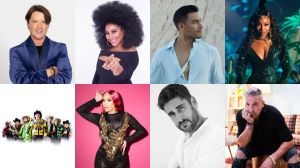 Confirmed performers include Arthur Hanlon, Aymée Nuviola, Carlos Rivera, Goyo, Grupo Firme, Ivy Queen, Melendi, and Ricardo Montaner 
Arthur Hanlon, Goyo, Ivy Queen, and Lupita Infante to celebrate women in one of the most memorable performances of the night 
Migbelis Castellanos and Arana Lemus debut as backstage hosts of the award show 
Click here to download promotional material  
MIAMI, FL. – FEBRUARY 9, 2023 – Today, Univision added even more star power to the lineup for the 35th edition of PREMIO LO NUESTRO which is set to air LIVE from Miami-Dade Arena on February 23 at 7/6c. Under the theme "El Mundo Es Lo Nuestro," this year's gala will showcase an inspiring rendition to women by Arthur Hanlon, Goyo, Ivy Queen, and Lupita Infante, a worldwide premiere by Ricardo Montaner, a first-time performance by the ultra-talented Aymée Nuviola and Melendi, as well as a trip down memory lane with urban music legend Ivy Queen performing her greatest hits. UNIMÁS personalities Migbelis Castellanos and Arana Lemus will make their debut as backstage hosts sharing a glimpse of what goes on behind-the-scenes and capturing real-time reactions of performers and winners in attendance at the annual celebration of Latin music.  
Newly confirmed acts include:  
The most renowned pianist and composer in instrumental Latin music

Arthur Hanlon

will perform

Ya Te Olvide, Without You,

and

Gotas De Lluvia

from his successful albums

Piano y Mujer I

&

II

alongside powerhouses

Ivy Queen,

Lupita Infante,

and

Goyo

in one of the most moving moments of the night. Additionally, the reggaeton female pioneer

 Ivy Queen

will give a high-energy performance of her most iconic hits. 

 

For the first time, singer-songwriter, actress, and producer

Aymée Nuviola

will be joined by

Spanish sensation

Melendi

on the PREMIO LO NUESTRO stage for a touching performance of

Pan Para Yolanda

. 

 

Mexican superstar

Carlos Rivera

will make the TV debut of his most recent release

Sincerándome

.

Rivera has 4 nominations in this edition. 

 

Eight-time PREMIO LO NUESTRO winner

Grupo Firme

will take part in

Intocable

's honorary moment as well as

delight audiences with a special performance. The Regional Mexican band stands as one of the most nominated acts of the night with 9 nods. 

 

Venezuelan singer-songwriter

Ricardo Montaner

returns to PREMIO LO NUESTRO stage to deliver a worldwide premiere. This year, Montaner's song

El Día Que Me Quieras

is up for "Pop/Ballad Song of the Year."

 
Fans can watch exclusive interviews with performing and nominated artists on PREMIO LO NUESTRO's Instagram Live happening every Thursday starting February 9 at 8/7c on the official PREMIO LO NUESTRO Instagram account hosted by Roberto Hernández.   
Tickets for PREMIO LO NUESTRO 2023 can be purchased at PremioLoNuestro.com. To apply for press credentials, click here. 
Visit televisaunivision.com for more information on TelevisaUnivision and follow us on Twitter and Instagram.  
CONTACTS:   
Laura Paez lpaez@televisaunivision.com 
Bettina Humphreys bhumphreys@televisaunivision.com 
###
Univision

suma

más

estrellas

al

lineup

de

PREMIO LO NUESTRO 2023

 

 
Los artistas confirmados incluyen a Arthur Hanlon, Aymée Nuviola, Carlos Rivera, Goyo, Grupo Firme, Ivy Queen, Melendi y Ricardo Montaner 
Arthur Hanlon, Goyo, Ivy Queen y Lupita Infante celebrarán a las mujeres en una de las presentaciones más memorables de la noche
Migbelis Castellanos y Arana Lemus debutan como backstage hosts de la ceremonia
Haz clic aquí para descargar material promocional  
Miami, FL. – 9 de febrero de 2023 – Univision sumó más estrellas al lineup para la 35ª edición de PREMIO LO NUESTRO, que se transmitirá EN VIVO desde el Miami-Dade Arena el 23 de febrero a las 7pm hora del este y 6pm hora centro. Este año bajo el lema "El mundo es lo nuestro", la gala contará con una presentación emotiva de Arthur Hanlon, Goyo, Ivy Queen y Lupita Infante como tributo a las mujeres, un estreno mundial de Ricardo Montaner, la primera presentación en PREMIO LO NUESTRO por parte de los ultra talentosos Aymée Nuviola y Melendi, así como un espectáculo por la leyenda de la música urbana Ivy Queen interpretando sus grandes éxitos. Las figuras de UNIMÁS Migbelis Castellanos y Arana Lemus debutarán como backstage hosts compartiendo en exclusiva todo lo que sucede detrás de cámaras y capturando las reacciones en tiempo real de los artistas y ganadores que asistan a la celebración anual de la música latina.  
Entre los artistas recientemente confirmados figuran:  
Arthur Hanlon

, el pianista y compositor más reconocido de la música latina instrumental, quién interpretará los éxitos,

Ya Te Olvidé, Without You

, y

Gotas De Lluvia

de sus exitosos discos

Piano Y Mujer I

&

II

junto a las potencias musicales

Ivy Queen,

Lupita Infante

, y

Goyo

en uno de los momentos más inolvidables de la noche. Además, la pionera del reggaetón

Ivy Queen

le brindará a la audiencia una interpretación llena de energía de sus grandes éxitos.  

 

Por primera vez en el escenario de PREMIO LO NUESTRO, la cantautora, actriz y productora

Aymée Nuviola

se unirá a la sensación española

Melendi

para una conmovedora interpretación de

Pan Para Yolanda

. 

 

La superestrella mexicana

Carlos Rivera

hará el debut televisivo de su más reciente lanzamiento

Sincerándome

. Rivera tiene 4 nominaciones en esta edición. 

 
El ocho veces ganador de PREMIO LO NUESTRO

Grupo Firme

, participará en el homenaje a

Intocable

y deleitará al público con una presentación especial. La banda de música regional mexicana es uno de los actos más nominados de la noche, con 9 reconocimientos. 

 

El cantante y compositor venezolano

Ricardo Montaner

regresa al escenario de PREMIO LO NUESTRO con un estreno mundial. Este año, la canción de Montaner

El Día Que Me Quieras

está nominada a "Canción Pop/Balada del Año".

 
Los fans pueden ver entrevistas exclusivas con los artistas nominados y participantes de la gala en los Instagram Live de PREMIO LO NUESTRO presentado por Roberto Hernández todos los jueves a partir del 9 de febrero a las 8 y 7 hora del centro en la cuenta oficial del PREMIO LO NUESTRO en Instagram.   
Para obtener boletos para PREMIO LO NUESTRO 2023 visita PremioLoNuestro.com. Para solicitar credenciales de prensa, haz clic aquí. 
Visita televisaunivision.com para más información sobre TelevisaUnivision y síguenos en Twitter e Instagram.  
CONTACTOS:   
Laura Paez lpaez@televisaunivision.com 
Bettina Humphreys bhumphreys@televisaunivision.com