Sara Maldonado is starring in the eighth episode of the reimagined version of the psychological thriller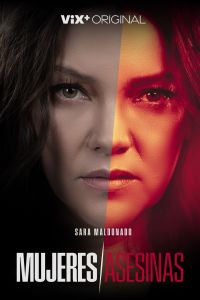 MIAMI – DECEMBER 22, 2022 – Sara Maldonado (Alejandra) is starring in the eighth episode of the psychological drama MUJERES ASESINAS (Killer Women) premiering exclusively on ViX+ this Friday, December 23.  
Alejandra, a model employee of Ferreterias Tinajero, decides to marry a great man, Fermín, a passionate cabinetmaker, who seeks to be her provider and protector at any cost. Over time, Alejandra discovers that Fermín's passion is nothing more than his unbridled jealousy. 
With stories inspired by real life, the protagonists of this series did not have simple, happy lives. After trying to improve their lives and failing, these women reached their limit and found violence as their only solution. The reboot of the award-winning anthology that became one of the most popular series on Mexican television almost 10 years ago, will showcase stories inspired by real events, with new episodes weekly. 
WHEN: Friday, December 23 
WHERE: ViX+ 
Click here to download assets. 
ViX+ offers subscribers more than 10,000 hours of premium content, including more than 70 ViX+ Originals series and movies set to debut in its first year. Subscription to ViX+ is available in the U.S., Mexico, and most of Spanish-speaking Latin America via web at vixplus.com and through ViX app on a variety of entertainment platforms and devices, including smartphones, connected TVs and digital subscription services. 
Join the conversation using the hashtags #MujeresAsesinas and #ViXplus and follow ViX+ on Instagram, Twitter, Facebook and TikTok. 
Visit televisaunivision.com for more information on TelevisaUnivision and follow us on Twitter and Instagram. 
CONTACTS:  
United States and Latin America
Casandra Blanco, cmblanco@televisaunivision.net 
Mexico
Sandra Oropeza, soropezagonzalez@televisaunivision.net 
About ViX  
ViX is the world's first large-scale streaming service to exclusively serve the Spanish-speaking world. Owned by TelevisaUnivision, ViX celebrates Latin cultures and Spanish-speaking storytellers with an unprecedented 50,000 hours of free and paid premium content across genres including movies, comedy series, novelas, drama series, and children's content, as well as live news and sports. Tapping into more than 300,000 hours of Televisa's content library and robust IP vault to create an unparalleled offering, the new global streaming service illuminates Spanish-language entertainment by pushing boundaries and igniting joy with its unparalleled content. ViX includes a free ad-supported (AVOD) tier under the brand ViX as well as a premium subscription-based (SVOD) option branded ViX+. Giving subscribers access to the broadest, most premium Spanish-language content ever offered on an SVOD service, ViX+ features more than 10,000 hours of ad-free premium entertainment programming, up to 7,000 hours of live sports, and over 70 ViX+ Original series and movies in its first year.  
About TelevisaUnivision  
As the leading Spanish-language media and content company in the world, TelevisaUnivision features the largest library of owned content and industry-leading production capabilities that power its streaming, digital and linear television offerings, as well as its radio platforms. The Company's media portfolio includes the top-rated broadcast networks Univision and UniMás in the US and Las Estrellas and Canal 5 in Mexico. TelevisaUnivision is home to 36 Spanish-language cable networks, including Galavisión and TUDN, the No. 1 Spanish-language sports network in the US and Mexico. With the most compelling portfolio of Spanish-language sports rights in the world, TelevisaUnivision has solidified its position as the Home of Soccer. TelevisaUnivision also owns and manages 59 television stations across the US and four broadcast channels in Mexico affiliated with 222 television stations, Videocine studio, and Uforia, the Home of Latin Music, which encompasses 57 owned or operated US radio stations, a live event series and a robust digital audio footprint. TelevisaUnivision is home to the global streaming services ViX and Blim TV, which altogether host over 50,000 hours of high-quality, original Spanish-language programming from distinguished producers and top talent. The company's prominent digital assets include Univision.com, Univision NOW, and several top-rated digital apps. For more information, visit televisaunivision.com.    
 ####
El octavo episodio de MUJERES ASESINAS, "La condena", se estrena el viernes 23 de diciembre en exclusiva por ViX+ 
Sara Maldonado protagoniza el octavo episodio de la nueva versión del thriller psicológico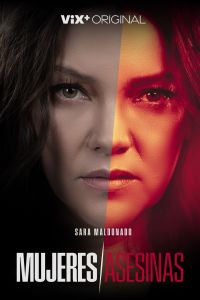 MIAMI – 22 DE DICIEMBRE DE 2022 – Sara Maldonado (Alejandra) protagoniza el octavo episodio del drama psicológico MUJERES ASESINAS que se estrena en exclusiva por ViX+ este viernes 23 de diciembre.  
Alejandra es una empleada modelo de Ferreterías Tinajero que decide casarse con un gran hombre, Fermín, un apasionado ebanista que desea ser su proveedor y protector a toda costa. Con el tiempo, Alejandra descubre que la pasión de Fermín no es más que una expresión de sus celos desenfrenados. 
Con historias inspiradas en la vida real, las protagonistas de esta serie no tuvieron una vida sencilla y feliz. Después de intentar mejorar sus vidas y fracasar, estas mujeres llegaron al límite y encontraron en la violencia su única solución. La nueva versión de la galardonada antología que se convirtió en una de las series más populares de la televisión mexicana hace casi 10 años contará con historias inspiradas en hechos reales, con nuevos episodios semanales. 
CUÁNDO: Viernes 23 de diciembre 
DÓNDE: ViX+ 
Haz clic aquí para descargar material promocional. 
ViX+ ofrece a los suscriptores más de 10.000 horas de contenido premium, incluidas más de 70 series y películas de ViX+ Originals que se estrenarán en el primer año. La suscripción a ViX+ está disponible en EE.UU., México y la mayor parte de América Latina de habla hispana a través de la web en vixplus.com y mediante la aplicación ViX en una variedad de plataformas y dispositivos de entretenimiento, incluidos teléfonos inteligentes, televisores conectados y servicios de suscripción digital. 
Únete a la conversación usando los hashtags #MujeresAsesinas y #ViXplus y sigue a ViX+ en Instagram, Twitter, Facebook y TikTok. 
Visita televisaunivision.com para obtener más información sobre TelevisaUnivision y síguenos en Twitter e Instagram. 
CONTACTOS:  
Estados Unidos y América Latina
Casandra Blanco, cmblanco@televisaunivision.net 
México
Sandra Oropeza, soropezagonzalez@televisaunivision.net