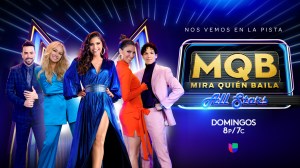 Natti Natasha Will Deliver the Opening Night Performance and Toni Costa Returns to the Reality Competition to Pay a Special Visit 
Click her to download promotional assets 
Miami, FL. – November 10, 2022 – MIRA QUIÉN BAILA ALL STARS returns this Sunday, November 13th to Univision's "Domingos en Familia" with its highly awaited semifinal episode at 8/7C. With only one week left until the grand finale, two out of the five remaining star participants will be eliminated after their performances. The night will kick off with an opening act by Dominican singer Natti Natasha performing her most recent hit Lokita, followed by an unforgettable dance performance by show judge and world-renowned ballet dancer Isaac Hernández. Viewers will also enjoy a special appearance by professional dancer Toni Costa who returns to the reality competition as an advisor for the semifinalists. Under the theme of "Musical Theater," the remaining participants will then compete to music from popular plays such as La Aventurera, Grease, Hoy No Me Puedo Levantar, The Lion King, and more, for a chance to make it to the finale.
This week, the stars will perform the following dance styles:
Ana Isabelle will move to a festive Jive.
María León will show off her best Mambo moves.
Ferdinando Valencia will demonstrate his skills in Swing.
Jorge Anzaldo will perform an expressive Viennese Waltz.
Miguel Martínez will dance to a passionate Paso Doble.
In addition to being thrilled by the show every week on Univision, ViX users will also be able to stream  DETRÁS DE CAMARAS: MIRA QUIÉN BAILA ALL STARS  where Sherlyn González brings exclusive moments not seen on the dance floor. These episodes air for free on Mondays starting at 8am ET/PT.
MIRA QUIÉN BAILA ALL STARS is a co-production of TelevisaUnivision and EndemolShine Boomdog.
ADDITIONAL INFORMATION:    
Fans can get the latest updates on MiraQuienBaila.com. Viewers can join the conversation on social media by following the hashtag #MiraQuienBaila on Facebook, Instagram and Twitter.
Visit televisaunivision.com for more information on TelevisaUnivision and follow us on Twitter and Instagram.
CONTACT: Laura Paez lpaez@televisaunivision.com
###
Los participantes de MIRA QUIÉN BAILA ALL STARS están listos para bailar en la semifinal este domingo a las 8pm hora del este por Univision
Natti Natasha protagonizará la apertura de la noche y Toni Costa regresará a la competencia reality en una visita especial  
Haz clic aquí para descargar material promocional 
Miami, Florida – 10 de noviembre de 2022 – MIRA QUIÉN BAILA ALL STARS regresa este domingo 13 de noviembre a "Domingos en Familia" de Univision con su esperada gala semifinal a las 8pm y 7pm hora del centro. Con solo una semana para la gran final, dos de las cinco estrellas participantes serán eliminadas. La noche comenzará con la cantante dominicana Natti Natasha interpretando su más reciente éxito, Lokita, seguida de una inolvidable presentación de parte del juez de la competencia y bailarín de ballet de renombre mundial Isaac Hernández. Los espectadores también disfrutarán de una visita especial del bailarín profesional Toni Costa, que volverá a la competencia reality como asesor de los semifinalistas. Bajo el tema de "teatro musical", en esta gala los participantes que restan bailarán al ritmo de la música de obras de teatro populares como La aventurera, Grease, Hoy no me puedo levantar y El rey león, entre otras, para asegurar su lugar en la gran final.
Esta semana, las estrellas interpretarán los siguientes estilos de baile:
 Ana Isabelle se moverá a un alegre jive.
María León mostrará sus mejores pasos de mambo.
Ferdinando Valencia demostrará sus dotes de baile en un swing.
Jorge Anzaldo bailará un expresivo vals vienés.
 Miguel Martínez se lucirá con un apasionado paso doble.
Además de poder disfrutar del programa todas las semanas en Univision, los usuarios de ViX también podrán ver el DETRÁS DE CAMARAS: MIRA QUIÉN BAILA ALL STARS con Sherlyn González y vivir momentos exclusivos que no se ven al aire de manera gratuita los lunes después del show a partir de las 8 a.m. hora del Este y Pacífico.
MIRA QUIÉN BAILA ALL STARS es una coproducción de TelevisaUnivision y EndemolShine Boomdog.
INFORMACIÓN ADICIONAL:    
Los fanáticos pueden obtener las últimas actualizaciones en MiraQuienBaila.com. Los espectadores pueden unirse a la conversación en las redes sociales siguiendo el hashtag #MiraQuienBaila en Facebook, Instagram y Twitter.
Visita televisaunivision.com para obtener más información sobre TelevisaUnivision y síguenos en Twittere Instagram.
CONTACTO: Laura Paez lpaez@televisaunivision.com