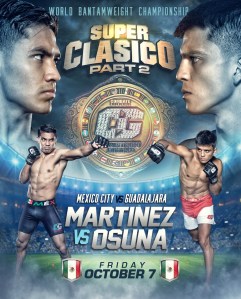 COMBATE GLOBAL ANNOUNCES WORLD CHAMPIONSHIP EVENT FOR FRIDAY, OCTOBER 7, LIVE ON UNIVISION AND TUDN
WORLD BANTAMWEIGHT CHAMPIONSHIP MAIN EVENT: DAVID "THE BLACK SPARTAN" MARTINEZ (CHAMPION) VS. AXEL OSUNA (CHALLENGER)
ALL-MEXICAN WORLD TITLE FIGHT PITS TWO OF MMA'S TOP YOUNG SENSATIONS, WITH A COMBINED 92-PLUS PERCENT FINISH RATE, AGAINST EACH OTHER
NEW YORK – October 4, 2022 – Combate Global has announced a world championship Mixed Martial Arts (MMA) event,  headlined by a bantamweight (135 pounds) title fight between reigning world champion David "The Black Spartan" Martinez (8-1) and challenger Axel Osuna (5-1), live on television on Univision (12 a.m. ET/PT) and TUDN (12 a.m. ET/9 p.m. PT) from Miami, Fla. on Friday, Oct. 7.
Together, Martinez and Osuna boast an astounding finish rate of over 92 percent, having earned all but 1 of their 13 combined victories by way of (T)KO or submission.
"Martinez vs. Osuna is a very even match of speed, power and skill," said Combate Global CEO Campbell McLaren. "I think the winner will be the one with the most heart."
Above: Reigning Combate Global World Bantamweight Champion David "The Black Spartan" Martinez (right) will risk his title against fellow Mexican finisher Axel Osuna on Friday, Oct. 7.  Photo credit: Scott Hirano/Combate Global
The 24-year-old Martinez of Mexico City, Mexico is a prolific striker with a tremendous kickboxing pedigree. He earned his coveted title by defeating three opponents – fellow Mexicans Alex "Coyote" Gonzalez and Alan "Beche" Cantu, and American star Francisco "Cisco" Rivera, Jr., respectively – in a one-night, eight-man tournament on May 29, 2021.
In his last effort, Martinez, a member of the Bonebreakers fight squad, scored a brutal first round (2:08) TKO (punches) on Chile's Arturo Vergara in a non-title fight last May 29.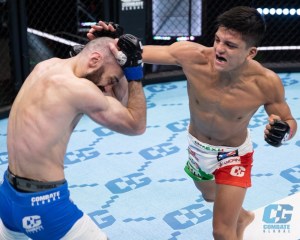 Above: Axel Osuna (right) will be the first competitor to challenge David Martinez for Martinez's coveted, 135-pound Combate Global world title.
The challenger, 25-year-old Osuna of Guadalajara, J.L., Mexico, will look to earn his first professional world title, as well as his third consecutive victory in 2022.
Thus far, Osuna has turned in a pair of third round (T)KO conquests in 2022 – the first on Combate Global's 2021 "Comeback of the Year" winner, Max "Steel" Gonzalez on May 13, and the second on David Solorzano on August 26.
Prior to entering the world of MMA, Osuna was a Golden Gloves boxing champion who amassed over 100 amateur boxing bouts.
In a featured welterweight (170 pounds) bout on the card, Marcos Lloreda (11-8) of Miami will face off with Ricardo Centeno (9-6) of Ecuador via Newark, N.J.
A women's flyweight (125 pounds) contest will see Aitana Alvarez (2-3) of San Sebastian, Spain return to La Jaula, the Combate Global competition cage, for the third time this year, when she squares off with Gillian "Valkyrie" Noll (2-2) of Post Falls, Idaho.
At featherweight (145 pounds), undefeated Yadier Del Valle (3-0) of Houston, Texas will make his much-anticipated Combate Global debut against Miguel Lugo (2-1) of Yuma, Ariz.
In a women's strawweight (115 pounds) matchup, kickboxer Damaris Olivares (0-0) of Las Palmas, Gran Canaria, Spain will make her MMA rules debut against Diana Sanchez (0-0) of Bellingham, Wash.
Additional information about Combate Global and its athletes can be found on www.CombateGlobal.com as well as on Facebook, Instagram, Twitter, and YouTube.
Visit televisaunivision.com for more information on TelevisaUnivision and follow us on Twitter and Instagram.
CONTACT:
Mike Afromowitz
Combate Global
mikea@combateglobal.com
917-566-8754
Estefania Diaz-Balart
TelevisaUnivision
ediazbalart@univision.net
305-510-7334
###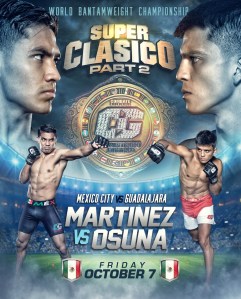 COMBATE GLOBAL ANUNCIA BATALLA POR EL CAMPEONATO MUNDIAL VIERNES 7 DE OCTUBRE, EN VIVO POR UNIVISION Y TUDN
PELEA ESTELAR POR EL CAMPEONATO MUNDIAL EN EL PESO GALLO: DAVID "EL ESPARTANO NEGRO" MARTÍNEZ (CAMPEÓN) VS. AXEL OSUNA (CONTRICANTE)
PELEA POR EL TÍTULO MUNDIAL TENDRÁ DOS ESTRELLAS JÓVENES DE MÉXICO EN LAS MMA ENFRENTADOS  CON UN 92 POR CIENTO DE ACABAR PELEAS COMBINADA 
NUEVA YORK – 4 de octubre de 2022 – Combate Global ha anunciado un evento de campeonato mundial de Artes Marciales Mixtas (MMA), encabezado por una pelea por el título de peso gallo (135 libras) entre el actual campeón mundial David "The Black Spartan" Martínez (8-1) y el retador Axel Osuna (5-1), en vivo por televisión en Univision (12 a.m. ET / PT) y TUDN (12 a.m. ET / 9 p.m. PT) desde Miami,  Fla. el viernes 7 de octubre.
Juntos, Martínez y Osuna cuentan con una asombrosa tasa de finalización de más del 92 por ciento, habiendo obtenido todas menos una de sus 13 victorias combinadas por medio de (T) KO o sumisión.
"Martínez vs. Osuna es una pelea muy pareja de velocidad, potencia y habilidad," dijo el CEO de Combate Global, Campbell McLaren.  "Creo que el ganador será el que tenga más corazón."
Arriba: El actual campeón mundial de peso gallo de Combate Global, David "The Black Spartan" Martínez (derecha) defendará su título contra su compatriota mexicano Axel Osuna el viernes 7 de octubre.  Crédito de la foto: Scott Hirano/Combate Global
Martínez, de 24 años, de la Ciudad de México, es un delantero prolífico con un tremendo conocimiento en kickboxing.  Ganó su codiciado título al derrotar a tres oponentes: los mexicanos Alex "Coyote" González y Alan "Beche" Cantú, y la estrella estadounidense Francisco "Cisco" Rivera, Jr., respectivamente, en un torneo de ocho hombres de una noche el 29 de mayo de 2021.
En su último esfuerzo, Martínez, miembro del equipo de pelea de los Bonebreakers, anotó un brutal nocaut (golpes) en el primer asalto (2:08) sobre el chileno Arturo Vergara en una pelea sin título el pasado 29 de mayo.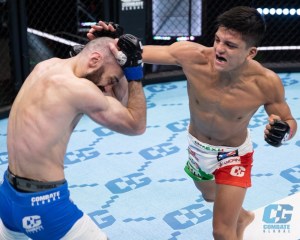 Arriba: Axel Osuna (derecha) será el primer competidor en desafiar a David Martínez por el  título mundial de Combate Global de 135 libras de Martínez.
El contricante, Osuna, de 25 años, de Guadalajara, J.L., México, buscará ganar su primer título mundial profesional, así como su tercera victoria consecutiva en 2022.
Hasta ahora, Osuna ha entregado un par de conquistas de nocaut en el tercer asalto en el 2022: el primer contra el ganador del premio "Regreso del Año" de Combate Global 2021, Max "Steel" González el 13 de mayo, y el segundo contra David Solórzano el 26 de agosto.
Antes de ingresar al mundo de las MMA, Osuna fue un campeón de boxeo de los Guantes de Oro que acumuló más de 100 combates de boxeo amateur.
En una pelea destacada en el peso welter (170 libras) en la cartelera, Marcos Lloreda (11-8) de Miami se enfrentará a Ricardo Centeno (9-6) de Ecuador representando a Newark, Nueva Jersey.
Un concurso de peso mosca femenino (125 libras) verá a Aitana Álvarez (2-3) de San Sebastián, España, regresar a La Jaula, la jaula de competencia de Combate Global, por tercera vez este año, cuando se enfrente a Gillian "Valkyrie" Noll (2-2) de Post Falls, Idaho.
En un duelo en el peso pluma (145 libras), el invicto Yadier Del Valle (3-0) de Houston, Texas hará su muy esperado debut en Combate Global contra Miguel Lugo (2-1) de Yuma, Arizona.
En un combate femenino de peso paja (115 libras), la experta en kickboxing Damaris Olivares (0-0) de Las Palmas, Gran Canaria, España hará su debut en las reglas de MMA contra Diana Sánchez (0-0) de Bellingham, Washington.
Puede encontrar información adicional de Combate Global y sus atletas visitando www.CombateGlobal.com así como seguirnos a través de la redes sociales Facebook, Instagram, Twitter y YouTube.
Visita televisaunivision.com para más información sobre TelevisaUnivision y síguenos en Twitter e Instagram.
CONTACTO:
Mike Afromowitz
Combate Global
mikea@combateglobal.com
917-566-8754
Estefania Diaz-Balart
TelevisaUnivision
ediazbalart@univision.net
305-510-7334
###