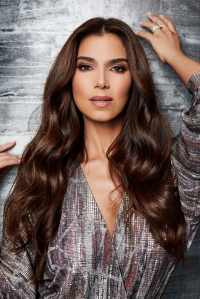 Miami, FL. – September 23, 2022 – Puerto Rican actress, model, singer, dancer and producer Roselyn Sánchez is confirmed as the third and final judge to join Univision's MIRA QUIÉN BAILA ALL STARS (Look Who's Dancing All Stars) panel of celebrity judges alongside Latin icons Paulina Rubio and Isaac Hernández. Sánchez, who is familiar with the reality dance competition having made a special appearance on the dance floor in 2013, will be co-executive producer of this tenth edition of the show. 
Sánchez made her acting debut in the American telenovela AS THE WORLD TURNS, playing the first Latino character in the series. She broke through in numerous renowned films like CHASING PAPI, BOAT TRIP, BASIC, and RUSH HOUR 2 and landed one of the leading roles in the famous Lifetime comedy drama DEVIOUS MAIDS. 
After conquering the big screen, she ventured into the world of music with her debut album Borinqueña where she collaborated with Puerto Rican artists such as Tego Calderón and Víctor Manuelle. Sánchez's single Amor Amor earned her a Latin GRAMMY® nomination for Best Music Video. The ultra-talented artist has also been the host of Latin GRAMMY® on several occasions and is the protagonist on FOX's television series FANTASY ISLAND. 
Hosted by Chiquinquirá Delgado and Mane de la Parra, the new edition of MIRA QUIÉN BAILA ALL STARS will take Family Sundays to a whole new level with the return of fan-favorite themed nights, high caliber performances, and a cast of celebrity contestants who will be announced at a later date.  
MIRA QUIÉN BAILA ALL STARS is a co-production of TelevisaUnivision and EndemolShine Boomdog.   
ADDITIONAL INFORMATION:  
Fans can get the latest updates on MiraQuienBaila.com. Viewers can join the conversation on social media by following the hashtag #MiraQuienBaila on Facebook, Instagram and Twitter. For more information visit Univision.com.  
Visit televisaunivision.com for more information on TelevisaUnivision and follow us on Twitter and Instagram.  
CONTACT: Laura Paez lpaez@univision.net  
Univision anuncia a Roselyn Sánchez como integrante del jurado estelar de MIRA QUIÉN BAILA ALL STARS  
Miami, Florida – 23 de septiembre de 2022 – La actriz, modelo, cantante, bailarina y productora puertorriqueña Roselyn Sánchez fue confirmada como la tercera y última integrante del panel de jueces célebres de MIRA QUIÉN BAILA ALL STARS de Univision, junto con los íconos latinos Paulina Rubio e Isaac Hernández. Sánchez,  quién está familiarizada con el reality de competencia de baile ya que hizo una aparición especial en la pista del programa en 2013 y será coproductora ejecutiva de esta nueva temporada.  
Sánchez hizo su debut actoral en la telenovela estadounidense AS THE WORLD TURNS, interpretando al primer personaje latino de la serie. Se abrió paso en numerosas películas de renombre como CHASING PAPI, BOAT TRIP, BASIC y RUSH HOUR 2 y consiguió uno de los papeles principales en la famosa comedia dramática de Lifetime DEVIOUS MAIDS.   
Luego de conquistar la pantalla grande, incursionó en el mundo de la música con su álbum debut Borinqueña donde colaboró con artistas puertorriqueños como Tego Calderón y Víctor Manuelle. El sencillo Amor Amor de Sánchez le valió una nominación al GRAMMY® Latino como Mejor video musical. La talentosa artista también ha sido presentadora de los GRAMMY® Latinos en varias ocasiones y actualmente es la protagonista de la serie de televisión FANTASY ISLAND de FOX. 
Presentada por Chiquinquirá Delgado y Mane de la Parra, la nueva edición de MIRA QUIÉN BAILA ALL STARS llevará los domingos familiares a un nivel completamente nuevo con el regreso de las noches temáticas, actuaciones de alto calibre y un elenco de concursantes famosos que será anunciado en una fecha posterior.   
MIRA QUIÉN BAILA ALL STARS es una coproducción de TelevisaUnivision y EndemolShine Boomdog.